By Eric Edelman
That's not to say that employers should only be interested in the economic advantages of healthy employees. If the increasing number of workplace wellness initiatives are an indication, it seems that companies are waking up to the fact that the health and wellbeing of employees are part of an overall core business strategy. After all, a wellness program should be a full management commitment that creates a culture that links good health initiatives to company goals and priorities.
And while many companies are coming on board with workplace health initiatives, such as walking clubs, in-house exercise rooms and healthy cafeteria menu options, what is sometimes overlooked is the effect work-related injuries and illnesses have not only on the individual but also on the company.
In the United States, work-related injuries and illnesses are common and preventable. Consider that each year, one in 100 workers suffer a work-related injury or illness that is severe enough to result in at least one missed day of work. These injuries and illnesses affect the employee, their families, and society in general.
Physical therapy can help explore the worker-job-environment relationship and facilitate the return to work or determine if reasonable accommodations can provide the needed support to resume work. The individual can receive physical therapy in the acute, subacute, or chronic phase of the healing process.
Work Rehabilitation Programs focus on improving function and ability to return to work through therapeutic activities and work-simulated tasks. The plan of care addresses mobility and flexibility, strength, cardiovascular and muscular endurance, safety, ergonomics and body mechanics, injury prevention, and tolerance to work requirements.
The goal of a work rehab program is to help maximize employee's functional capacity to safely, efficiently, and thoroughly complete their job requirements. Educating and training the employee to use safe and proper posture and body mechanics for various work-related tasks to avoid re-injury is another important aspect of a comprehensive program. There exist practices that go into client businesses to assess surroundings, layout of equipment, etc. and recommend ways to prevent injury or re-injury.
Pre-employment screenings are also on the rise for companies that want to ensure applicants are physically capable of performing their physical job duties in a safe manner. Depending on the tasks required for a specific job, these screenings can be tailored to the companies' needs, such as lifting boxes and carrying objects up and down stairs.
In terms of a general wellness program, the design focus should be to improve the health and overall wellbeing of employees by creating an environment that is supportive of maintaining and improving participants' health. It should identify and address specific needs and health risks of employees and offer awareness and education programs that provide pertinent information. A well- balanced workplace wellness plan might also make behavior change programs available to support employees looking to change their health lifestyles.
Collecting information on employee interest regarding various wellness issues is a good starting point to a well-rounded program. Appropriate health topics might include tobacco use, blood pressure, cholesterol management, weight control, exercise, diabetes, stress, nutrition, workplace ergonomics, indoor air quality and workplace safety. Identifying the most important issues/interests of employees can be accomplished through surveys, meetings or focus groups.
Blood pressure screenings, body composition readings, fitness and stress management seminars and flu shots are some of the measures a company wellness program may include. Some businesses offer nutrition and exercise programs facilitated by registered dieticians and certified personal trainers; others might subsidize healthy lunches or add a gym/exercise room – these are a couple of the higher- end plan varieties.
Companies with a tighter budget might offer wellness related literature to employees, swap the weekly lunch meeting pizza for lighter offerings or replace candy dishes with fruit. They could also encourage employees to catch a breath of fresh air a couple times a day with a short walk or initiate a walking club. Walking may be the lowest cost activity proven to reduce the risk of heart disease, obesity, diabetes, and some cancers
Ultimately, pre-employment screenings that ensure the safety of a potential employee and his/her ability to perform tasks can be essential to companies where physical involvement is significant. But the guarantee of safety doesn't stop there – companies that treat and prevent workers from work-related injuries not only improve employees' physical but also their psychological wellbeing, resulting in more engaged, loyal and productive employees. As such, companies can benefit from more satisfied employees, increased productivity, decreased absenteeism, potential reductions to long-term healthcare costs…and perhaps best of all, the good feeling that comes with taking the extra mile for valued staff.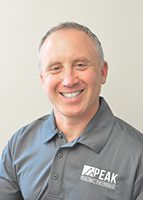 Eric Edelman PT is the owner of Peak Physical Therapy & Sports Performance with clinic locations in Norwell, Quincy, Scituate and Hanover MA. For more information please visit www.peaktherapy.com.