Volume 10
| Issue 3
| Year 2007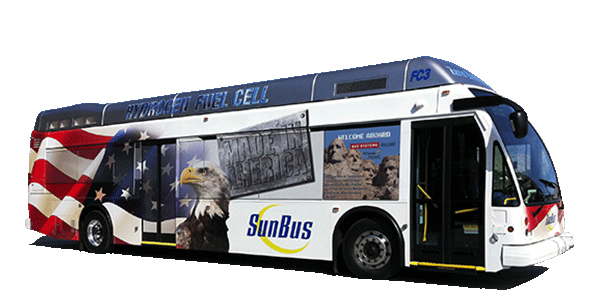 Back in 1979 during the energy crisis when public officials were looking to reduce America's dependency on foreign oil (does any of this sound familiar?), ElDorado National, a subsidiary of recreational vehicle and commercial bus manufacturer Thor, Inc., (NYSE: THO) developed a "people mover" small bus. The intended market was for use in special traffic lanes dedicated especially to vans and other types of 'shared ride' transportation. The idea was to encourage passenger pooling and eliminate the number of cars on the road, thus reducing traffic congestion, fuel consumption and pollution. "The problem was, the American public wasn't about to give up its independence, which meant getting into your own car on your own timetable at your own convenience," explains Director of Sales and Marketing Mitch Comfort. "So, unfortunately, van pooling never took off and, consequently, neither did our vehicle for that use. However, we still had a great product design, we just needed to find another commercial application. In fact, we came up with 10 different market segments: public transit, tour/charter, church activity, college activity, car rental shuttle, hospital out-patient, retirement home, corporate pooling and mobile services. By 1985, ElDorado National had become the largest single producer of commercial cutaway buses in North America, a market position we continue to hold to this day."
Such success can largely be attributed to ElDorado National's unique design, which combines high impact composite materials reinforced by steel. "This provides exceptional durability because of its high resistance to oxidation and corrosion, as well as lower repair costs," Comfort explains.
Indeed, ElDorado National buses are the vehicles of choice for many major corporations in the hotel, car rental and retirement living industries, with the largest number of vehicles serving in-demand response transit fleets throughout the United States, Canada and the Pacific Rim. Annual sales exceed $2.5 billion in the two chief segments of heavy-duty commercial buses and cutaway buses and mobility vans. It is the only company in the industry that has been consistently profitable in both segments.
The products for the two segments are manufactured in two different locations: heavy-duty buses in Riverside, Calif. and the cutaway buses and mobility vans in Salina, Kan. Both facilities are ISO 9001:2000-certified and use testing standards set by Federal Transit Authority procedures used in Altoona, Pa. to provide nine-year/350,000 miles or 12 year/500,000 miles on all vehicles.
In service since 2004, the 220,000-square-foot Riverside facility employs 308 and manufactures eight lines of commercial vehicles including the MST, MST-II, Escort RE, Escort RE-A, Transmark XHF, and latest generation low-floor buses: E-Z Rider II, and AXESS. Vehicle lengths range from 24 to 40 feet, and seated capacities can accommodate up to 49 passengers. The Kansas facility, built in 2001, measures 250,000 square feet with 310 employees; it is the largest producer of mid-sized commercial buses with nearly 30 percent market share. It makes the Aerotech, the number-one selling vehicle in its class. There are approximately 250 standard configurations of commercial cutaway buses, in a variety of lengths, floor heights, door locations, seating arrangements, chassis and engine types.
"All models are available with American with Disabilities (ADA) compliant packages," Comfort says. "This wide range of commercial products allows ElDorado National to meet the specific needs of multiple market segments, from fixed route transit to airport shuttle to tour/charter, we have the right bus for any application. We also have the largest, longest established sales/service organization throughout North America, the Caribbean and the Pacific rim."
Market Driven Trends
He emphasizes, "We are a very market driven, customer-oriented company. One part of that involves styling and aesthetic appeal. Just as important, maybe more so, are technological improvements that can save our customers money. For example, lately there's been a lot of attention on alternative fueled vehicles (AFV) to reduce our country's dependence on foreign oil, as well as to provide potentially less expensive fuel sources. ElDorado National is the industry leader in the design and manufacture of AFV buses, offering compressed natural gas (CNG), liquefied natural gas (LNG), propane (LPG) and diesel/electric hybrid propulsion systems. AFVs are becoming less a niche market and more a significant trend that's being adopted industry-wide."
Another trend is towards low floor vehicles. "The lower floor makes it easier and safer for passengers to load and unload. This is important not only for bus riders, particularly the aged who frequently rely on buses as their primary transportation, but it also contributes to greater energy efficiency and lowered operating costs. Making it easier for people to get on and off makes the process that much faster, and that means less fuel consumed while waiting for people to board and depart," Comfort points out.
A third consideration is the continuing use of more sophisticated electronic systems to provide communication, passenger servicing and information processing. "Most vehicles today have some sort of location positioning system, passenger video monitoring, vehicle operation data recorders and a multitude of other similar electronic gadgetry," Comfort says, "all designed for increased safety and operational efficiency."
He adds, "The reason we've invested significant research and development into AFV is because this is a growing need of our customers, who typically are very interested in the latest technology and how that can help them better achieve their objectives. We have a saying that we don't build our product, we build our customers product."
Highest Low Volume Maker
Unlike some other vehicle manufacturers, bus makers are low volume operations. ElDorado National stands out as the largest volume producer in a low volume business. Which is not to say that it can afford to coast in neutral.
Repeat business is absolutely essential to sustained growth. To improve both customer interactions and its own internal processes, ElDorado National installed a new Enterprise Resource Planning (ERP) system in December 2006. "Our previous operating system was antiquated and the culture change we are still going through as the result of the transition is still pretty painful," Comfort says. "However, we expect that the new system will not only greatly enhance the efficiencies of our internal processes, but, more importantly, it will enable us to be much more responsive to our customers."
Though the industry leader, ElDorado National is seeing some competition, which has a negative effective on the bottom-line not just in terms of possible lost sales. "There has been and continues to be new entries into our industry. Unfortunately, the quickest ways for these companies to gain footing is simply to 'buy' market share by undervaluing the product, which is what is clearly happening. This sends an incorrect message to customers about an appropriate price/value ratio," according to Comfort. "Of course, what these companies are doing affects our market share, but whatever short-term gains our competitors make, it simply can't be sustained over the long term. At some point, running a business with little or no profitability just to gain share backfires because it becomes difficult to provide a quality product and support it. ElDorado National, in contrast, has been in this business for more than a quarter century. We're owned by Thor Industries, which is completely debt free and has tremendous cash reserves. So we certainly have the financial commitment to continue to provide our customers with exceptional value and support at a fair price."
Certainly, ElDorado National is in for the long haul. As Comfort points out, "We have another saying: we came to play and we came to stay."