Volume 20
| Issue 3
| Year 2017
Click here to read the complete illustrated article as originally published or scroll down to read the text article.
A New Era of Manufacturing
The United States manufacturing industry once relied on manual labor, bulky machinery and blue collar workers. Amidst rapid technological advances and a constant demand for efficiency, the industry has evolved significantly. Today, manufacturers must invest in research, technology and innovation to succeed.
Just 30 miles south of Austin and 40 miles north of San Antonio, the greater San Marcos region is ripe for manufacturing investment thanks to its growing workforce (the region is one of the fastest growing in the U.S. and has a labor shed of 2.4 million within a 60-mile radius), tailored training programs, a cluster of cutting-edge research assets, and strategic location and infrastructure.
Pioneering Innovations in Manufacturing
Manufacturers in the United States fuel more than three-quarters of all private-sector research and development in the nation, driving more innovation than any other sector. In fact, manufacturing R&D has risen from $126.2 billion in 2000 to $229.9 billion in 2014 (Bureau of Economic Analysis). In 2015, the average manufacturing worker in the United States earned $81,289 annually, well above the national average, in addition to pay and benefits. Companies are on the hunt to fill these high-paying jobs that require specialized skills (U.S. Bureau of Labor Statistics).
To meet this demand, the San Marcos region offers both research resources and a robust pipeline of highly-educated talent. San Marcos is home to Texas State University, an Emerging Research University with more than 38,000 students boasting expertise in semiconductors, 3D printing, advanced composites materials and more. Within a 50-mile radius of the city are found another 25 colleges and universities, including Austin Community College with a campus a few miles north of San Marcos in Kyle.
In 2012, Texas State University invested in a state-of-the-art research facility known as STAR Park (Science, Technology and Advanced Research). The 58-acre complex hosts STAR One, a 36,000-square-foot facility that serves as both a business incubator and a collaboration space for startup companies. STAR Park currently has five tenants, three of which are materials science focused firms.
The region is also leading the way in materials science, which is bringing innovative materials to manufacturing. With the first of its kind Ph.D. program in Materials Science, Engineering, and Commercialization, Texas State University is training "blue collar scientists" in materials sciences, a discipline applicable across a wide array of industry sectors in environmental, biological, medical, electronic, aerospace, automotive manufacturing and more. This degree program provides an interdisciplinary approach to collaborative research focused on large-scale, commercial projects.
The work being done at Texas State University has attracted the attention of firms such as Nitronex, which gifted $1 million of high-tech equipment for the production of material that is used to manufacture devices such as amplifiers for wireless communication, light-emitting diodes (LEDs), lasers, transistors, solar cells and other electronic devices.
The Infrastructure Manufacturing Needs to Keep Moving
In addition to state-of-the-art research resources and plentiful talent, the region also offers the ideal location and infrastructure that manufacturing companies rely on to keep business moving.
With the nation's biggest, highly developed highway system, greater San Marcos has convenient access to both I-35 (spanning Mexico to Minnesota) and I-10 (spanning California to Florida). The region is already equipped to handle millions, as it is home to the most-used exit on I-35 (Exit 200), which welcomes more than 14 million tourists per year. The region also has access to many airports (including international, regional, municipal, industrial and several private), 10 seaports within 323 miles, plus freight and intermodal rail access.
Executives and their employees also benefit from nearby passenger airports Austin-Bergstrom International, with over 40 nonstop destinations, and San Antonio International, with over 30 nonstop destinations.
While the region is quickly welcoming new residents and investment, there are still thousands of acres available for development sites – and the region is proactively planning for growth with investment in infrastructure. In fact, one county in the region alone, Hays, has built more than a half billion dollars' worth of infrastructure over the past ten years.
A Growing Manufacturing Industry
Since 2010, the greater San Marcos region has added 1,075 manufacturing jobs. San Marcos currently employs nearly 2,400 in its manufacturing sector. The region anticipates the creation of more than 100 additional advanced manufacturing and technology jobs upon the opening of Urban Mining Company's new headquarters in San Marcos—a 100,000 square-foot facility on 10 acres of land, announced in April. As the only producer of rare earth magnets in the United States, Urban Mining Company sought out San Marcos for its highly skilled workforce and ability to foster the company's rapid growth. The company is a pioneer in the production of rare earth magnets, which are critical components used in high-tech industrial, automotive, clean energy, and military-defense applications.
Urban Mining Company joins other industry leaders across a wide variety of specialization in the region, from aerostructures (UTC Aerospace Systems) to concrete production (Heldenfels Enterprises and TXI).
International companies too have found the San Marcos region to be an ideal location for manufacturing in the U.S., including:
Mensor, A Wiki Company (Germany)— Manufactures measuring instruments, pressure tests and calibration equipment. Mensor developed the first quartz manometer, a tool designed for the aerospace industry to measure pressure.
Philips (The Netherlands)—Hadco, a division of the Holland-based company manufactures outdoor lighting technologies in the San Marcos region with a team of 300+.
CFAN (France)—Employing 700 people in the region, CFAN is a joint venture between GE Aircraft Engines and SNECMA, a French multinational aircraft engine manufacturer.
Thermon Engineering (Headquartered in San Marcos)—An international company focused on heat tracing, Thermon is the world's only heat tracing company completely dedicated to its industry.
RSI, Inc. (Headquartered in Kyle)—An authorized distributor of electro-mechanical parts and services to global industries and markets such as; (DOD) Department of Defense, Energy Markets, Commercial Aerospace, Industrial Markets, and Transportation Industries.
In addition to the above, recent relocations and expansions include Altra Couplings, BlueShift Technologies and Pure Castings, which all relocated manufacturing operations to the region in 2016. And just one year earlier, Louisiana-based EPIC Piping is yet another global manufacturer confident in the region's potential – the company built the world's largest pipe fabrication facility under one roof (300,000 square feet) in San Marcos.
Whether it is supporting manufacturing for Boeing aircrafts or research that will propel the industry, the San Marcos region is well-positioned to become the next frontier for manufacturing within the Austin-San Antonio "Innovation Corridor."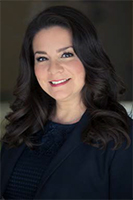 Adriana Cruz, President of the Greater San Marcos Partnership
Adriana Cruz is the President of the Greater San Marcos Partnership, the regional economic development organization working for the City of San Marcos, Hays and Caldwell Counties, established to encourage and nurture economic growth in the heart of the Austin-San Antonio corridor. With more than 20 years of leadership experience in economic development and marketing at the state and regional level, she leads the organization's efforts to diversify and strengthen the region's economy.
Most recent accomplishments for GSMP under her leadership are the announcement of more than 2,300 new jobs and over $250 million in investment including Amazon's newest fulfillment center, Best Buy's first and only e-commerce sales operation in Texas, and EPIC Piping. Prior to assuming this role, Cruz was the Vice President of Global Corporate Recruitment for the Austin Chamber of Commerce where she led several high-profile corporate relocations and expansions including Apple, Facebook, eBay, Hanger Orthopedic, Samsung and LegalZoom. Prior to that she served in Texas Governor Perry's Economic Development and Tourism office.
In January 2016, she was appointed by Governor Abbott to the Texas Economic Incentives Oversight Board to review the efficiency of Texas' incentive programs. She serves on numerous boards including the Foreign Trade Zone of Central Texas, University Federal Credit Union, Texas State University's STAR Park Commercialization Advisory Council, and United Way of Hays County. In 2016, she won the Austin Business Journal's Profiles in Power: Central Texas Women of Influence Award. Cruz holds a B.B.A. from The University of Texas at Austin.