Manufacturers Moving to the Cloud
Over the last few years, most of the news about manufacturers and the cloud has been focused on ERP (financials), Product Lifecycle Management (PLM), quality management systems (QMS), and supply chain management. The factory floor, including integration at the machine level, has been the last frontier. Now, according to a recent publication by LNS Research, cloud-based manufacturing execution systems are starting to get some traction in several industries.
Many leading manufacturers have embraced that logic and are moving their manufacturing execution systems (MES) – their factory production software – to the cloud. The advantages gained by these early adopters are now obvious: accelerated deployment compared with traditional 'on premise' software; the ability to make changes in a matter of minutes, a rapid time to value or ROI for these systems – and perhaps surprisingly, a greater range of functionality than legacy MES platforms.
Manufacturing Execution Systems: Running a Digital Factory
Manufacturing execution systems (MES) have become the master software systems in modern digital factories, and while the core functionality is focused on factory automation, the operator to machine interface and quality, the systems often now contain features that have become critical for today's complex manufacturing environment. For example:
Systems to track worker's training – with advanced functionality that locks workers out of specific operations or machinery if they are not trained for the latest revision of that manufacturing process.
Work instructions and product specifications, often pulled directly from an engineering CAD (computer aided design) or PLM (product lifecycle management) platform in real-time – so the latest engineering change requests (ECRs) are used to automatically update the instructions, with no lag time.
Advanced materials tracking features, including bar code scanning, RFID (radio frequency identification) tracking, electronic travelers, and more.
M2M (machine to machine) communications, where every device and machine in the factory can communicate with each other, providing real time in-process data collection and data analytics.
The Advantages of the Cloud for Manufacturing
New technology must be field-proven for manufacturers to consider using it. Additionally, there must be strong business and operational reasons to embrace a new platform such as cloud MES. The advantages below are why the migration to the cloud has begun.
Easier & faster implementations/Faster time to innovate: Without the burden of acquiring and building an enterprise software infrastructure, the deployment of cloud MES can be an order of magnitude faster than legacy on-premises MES solutions. This speed directly translates to reduced cost and faster time to functionality. That, in turn, enables faster changes. For example, a new process routing can be deployed in just minutes, rather than the hours or days required previously.
Scalability for Growth: Because cloud deployments don't require installation of physical infrastructure, they are significantly less expensive and less time consuming to deploy or bring up in new locations. As your business expands, cloud MES expands with you without any additional investment in infrastructure, services, or software.
Portability: If a company is making the same part of assembly in multiple locations around the world, a cloud-based MES platform allows them to duplicate operations from one location to another with a few clicks. The material specifications, the operator instructions, the process routings – EVERYTHING – can be installed in a new plant immediately and accurately.
Compliance: Manufacturing is a heavily regulated industry, especially for companies connected to the defense industry. For example, International Traffic in Arms Regulation (ITAR) requires that manufacturers maintain electronic records of supply chain communications. The International Society for Pharmaceutical Engineering (ISPE) has an established methodology for the best practice approach for validation in the medical industry called Good Automated Manufacturing Practice (GAMP 5) and Part 11. While the responsibility for compliance still resides with the manufacturer, cloud MES solutions can help by offering tools and solutions to ease the burden of compliance. (For example, 42Q is GAMP 5 compliant.)
Cloud Manufacturing in Real-World Plants
The advantages of cloud-based MES platforms can already be seen from the real-world experiences of manufacturers who have deployed these systems. For example, one eastern European electronics factory is deploying a cloud MES solution that supports M2M communications between its surface mount technology (SMT) machines and automatic optical inspection (AOI) and X-ray (AXI) systems to measure variations in component placement – and now the software can use those measurements to provide closed loop feedback to the placement machines to adjust placement of specific components in real time.
Another factory is using integral production planning software within its cloud MES that can efficiently develop new production plans for complex manufacturing programs – even when the weekly forecast changes significantly, in some cases by as much as 50%. The program automatically re-plans production for the week, optimizing it for specific variables.
At a third plant, the cloud platform transforms data into a virtual factory visualization superimposed on a map of the factory. It provides views at the corporate, regional, plant, shop-floor and workstation level. Actual yield, throughput, WIP aging, labor efficiency and productivity, all are monitored against goals, with color coding providing instant status updates to anyone around the world.
It's Time to Move to the Cloud
Using cloud-based systems to streamline key areas of their business, manufacturers are freeing up more time to innovate, to optimize their production processes, and to deliver greater satisfaction to their customers.
In a recent report, LNS Research suggests that the next phase of manufacturing software is to integrate with the Internet of Things and/or Industry 4.0. That requires planning, and an architecture that can easily integrate with new systems as they come online – advanced automation system, M2M communications, and smart machines, to name just a few. To make sure that your factory is future-proof, it's time to move to the cloud.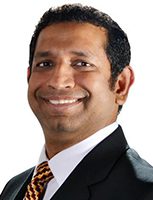 About the Author, Srivats Ramaswami, CTO, 42Q, Inc.
Srivats Ramaswami has worked at both OEM's and contract manufacturers for many years, most recently as vice president of I.T. Operations. His expertise includes the architecture and implementation of innovative I.T. solutions for large OEM's, making their global supply chains visible and more efficient. Srivats is now responsible for providing leadership in customer acquisition and engagement, technology development and deployment for 42Q.