Volume 22
| Issue 1
| Year 2019
Click here to read the complete illustrated article as originally published or continue below to read the text article.
According to Brookings' recent report, "Automation and Artificial Intelligence: How machines are affecting people and places," Greensboro-High Point (Guilford County) is the second highest at-risk location for automation in the United States. This comes as no surprise, as the threat of automation has been looming over the manufacturing industry globally for quite some time. But while the report shows our region among the most at-risk, what it doesn't show is that we are also the most prepared. Unlike other regions, Greensboro- High Point has been preparing for the future of automation for years. Employers, educators and economic developers have come together to train advanced manufacturing talent to fight the inevitable effects of automation.
Known as "The Furniture Capital of the World ™," High Point (and the 150-mile radius around it) was once responsible for producing an estimated 60 percent of all furniture made in America. The textile manufacturing industry created equal prosperity in the region, with Greensboro having been home to a half dozen textile mills and the corporate headquarters of Cone Mills, Guilford Mills and Burlington Industries. However, furniture and textile plants began to close in Greensboro-High Point as companies fled for lower costs in China.
Today, more than 100,000 people still work in the region's manufacturing industry. In fact Greensboro-High Point (Guilford County) is the number one county for manufacturing jobs in North Carolina and third in the Southeast. The change brought by automation only means that our manufacturing-dependent region must adapt and reinvent ourselves to thrive – and we're doing just that.
Investing $3+ Million to Promote "New Collar" Jobs
As noted in the Brookings report, local, state and federal collaboration is key to remaining competitive amidst the rise of automation. The region is already making this type of collaboration a reality by implementing the Eastern Triad Workforce Development Initiative – a four-county partnership to bolster awareness and investment in both existing apprenticeship programs and new pilot programs in targeted industries.
In August 2018, the State of North Carolina devoted $3.2 million toward the program to help prepare residents for the jobs of today and tomorrow. So far, the initiative has seen huge success and is on track for a 300% increase in youth pre-apprenticeships and a 400% increase in adult-worker retraining in its first year. "Initiatives like this one hold great promise to meet employers' needs, prepare young people for in-demand careers and connect people already in the workforce with better paying jobs," noted Governor Roy Cooper.
Launching a Company-Led Coalition for Apprentices
In addition to the Eastern Triad Workforce Development Initiative, Greensboro-High Point is fostering apprenticeship in the region by increasing awareness and availability of apprenticeship programs in high-growth, high-wage industries. Through the Guilford Apprenticeship Program, students are paid a competitive wage while on the job and provided with free tuition for a community college degree.
Although this program was initially created to support manufacturing, it is quickly growing to take on other fast-growing industries, such as IT and cybersecurity.
Making Community Colleges Cutting-Edge
Guilford Technical Community College (GTCC) develops customized training programs for local high-tech manufacturing employers like Qorvo and HondaJet and boasts a 100% placement rate for graduates in its programs based in its new Center for Advanced Manufacturing facility. Students are kept up to speed on the latest advancements in the manufacturing industry, as most of the instructors at the college are industry experts themselves and can create a tailored program "overnight" to implement the latest practices and tech used on the manufacturing floor.
The students at GTCC range from Generation Z to Baby Boomers and are taught how to use the robots that are now standard in advanced manufacturing. Students in the manufacturing technology program are trained in basic engineering principles and technical skills, and upon graduation, students are qualified for a number of high-paying manufacturing positions, including manufacturing technician, quality improvement technician and production planner.
Embracing a New Side of Manufacturing
While manufacturing in Greensboro-High Point traditionally focused on furniture, textiles, apparel and tobacco, the impending revolution of automation has led to a new era of manufacturing in the area. This new era focuses on more knowledge and technology-based advanced manufacturing in the realms of aerospace, life sciences and advanced materials. In fact, Greensboro has made such strides in the aerospace manufacturing industry that the city will host the 7th Annual Aerospace Manufacturing Conference in May 2019.
High-tech manufacturing in the region is at an all-time high, particularly in the field of aerospace. Brookings defines advanced industries as a group of 50 R&D and STEMworker intensive industries—in the past five years Greensboro-High Point has seen a 22% growth rate in the number of advanced industry companies (41% over the past 10 years). To date, there are 464 advanced industry companies in Greensboro-High Point.
There are many examples of manufacturing companies in our region that aren't just making the products, but actually bringing innovation to the design and development of products as well. One of those advanced industry companies taking off in our region is HondaJet, which manufactures advanced aircrafts. HondaJet employs 1,700 people in Greensboro, many of them engineers. In 2007, the company announced it would establish its world headquarters and production facility to manufacture its advanced light jet. All major assembly and testing of the prototype HondaJet has been conducted at the company's existing Greensboro facility, which opened in 2001 as an extension of Honda's global R&D operations. Another example is Qorvo, a semiconductor manufacturing company that expanded its corporate headquarters in Greensboro-High Point in late 2016 by establishing an engineering research and design center creating 100 jobs and $25 million capital investment. Qorvo's average salary of their new engineering workforce will be about $80,000/year, nearly double the Guilford County average of $43,000. Qorvo employs 1,400 people in Greensboro-High Point. Just last year, Amada broke ground on an $87 million high-tech precision sheet metal equipment manufacturing plant in High Point. The Japanese company expects to create 201 jobs in Greensboro-High Point.
While your grandparent's manufacturing job may have powered our economy years ago, today, if you walk on to a manufacturing floor in High Point and Greensboro you'll discover that it's the millennial and Gen Z generations working in highly-technical, well-paid positions in clean state-of-the-art facilities. The region's deep roots and expertise in manufacturing, along with an accelerating economic transformation, has perfectly prepared Greensboro- High Point for the challenge of automation. The potential effects of automation have been on the county's radar for well over a decade, allowing Greensboro-High Point to develop an economic development strategy to work with automation, not against it.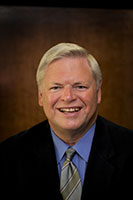 LOREN HILL
PRESIDENT, HIGH POINT ECONOMIC DEVELOPMENT CORPORATION
Loren Hill has served as the President of High Point Economic Development Corporation for 18 years. Through his leadership, the organization's mission has focused on retaining existing business and industry, assisting local companies to expand and attracting new businesses. Hill holds a board position with the Southern Economic Development Council's and is currently the organization's North Carolina Director and Mid-Atlantic Regional Director. Hill is also on the board of the directors for the Piedmont Triad Partnership. Hill holds a bachelor's degree in political science from the University of North Carolina at Chapel Hill.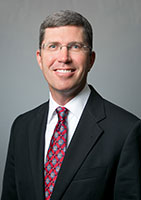 ABOUT BRENT CHRISTENSEN,
PRESIDENT AND CHIEF EXECUTIVE OFFICER, GREENSBORO CHAMBER OF COMMERCE
In June 2015, Brent Christensen joined the Greensboro Chamber of Commerce as its President and CEO, where he leads the organization that includes Greensboro's lead economic development organization as well as Launch Greensboro and Action Greensboro. Christensen holds an MBA from the University of South Florida and a bachelor's degree in Economics and Public Policy Studies from Duke University.
ABOUT THE GUILFORD COUNTY ECONOMIC DEVELOPMENT ALLIANCE (GCEDA)
The Guilford County Economic Development Alliance (GCEDA) was created in November 2015 with the goal of facilitating exponential growth in the Greensboro- High Point region. Through real and effective collaboration among the local governments of Guilford County and the cities of Greensboro and High Point, as well as the Greensboro Chamber of Commerce and the High Point Economic Development Corporation, GCEDA works to retain and expand existing industry in the area, as well as attract new business opportunities and emerging sectors. Under the alliance, the organizations work in concert with equal voice to manage projects, share leads, conduct research and lead Greensboro-High Point into the future.
Learn more at www.greensboro-highpoint.com.