Single-use plastic coffee cups are poised to replace our current reliance on wood in building materials – let's harvest the 'urban forest'.
Despite our struggle to come to grips with a pandemic we can't afford to lose sight of innovative ways to reduce our carbon footprint, waste production and enhance recycling. As it stands, waste recycling is undergoing a revolution with a growing demand for high quality post consumer recycled materials, and the likes of single-use coffee cups are a perfect example of innovation at play.
Whilst governments, coffee chains, fast-food brands and environmental organisations around the world continue to study the single-use coffee cup issue, at least 500,000 cups are littered every day and many more lost to landfills.
The UK alone uses over 2.5 billion single-use coffee cups – enough to stretch around the world roughly five and a half times. These figures continue to grow as the take-away culture speeds up with the advent of COVID, yet less than 1 in 400 cups – just 0.25% – are recycled.
To date, one of the key blocks to the circular economy is the old way of designing products and the mechanisms of material collection and recycling. Whilst in theory these cups are recyclable, the complicated way they are produced means most of them never end up being recycled.
Though they are made largely of paper, disposable coffee cups are lined with plastic, typically polyethylene, that is tightly bonded to the paper making the cups waterproof and therefore able to contain liquid. Recycling these coffee cups is further hampered by the fact they are contaminated with drink.
As a consequence, these cups cannot be recycled at standard paper recycling plants and must instead be taken to special facilities – of which only a few exist throughout Europe.
So instead of kidding ourselves that we could recycle these cups we should flip the challenge on its head and view them as containing potentially valuable raw material, given a strong collection infrastructure. If that were the case we could literally harvest single-use coffee cups.
Following years of research on paper-plastic composites, Nextek has been deep diving into ways in which strong blends of paper fibre and plastics can be re-used and one of the first products to emerge is the rcup – www.rcup.co.uk , the world's first re-usable cup made from recycled paper cups.
Now WRAP Cymru – www.wrapcymru.org.uk, has brought Nextek and UK's leading composite decking manufacturer, Ecodek – www.ecodek.co.uk , together to find a way to clean and shred used coffee cups to produce strong polymer composites. This collaborative project – one in a series of recycled content trials funded by the Welsh Government and led by WRAP Cymru – seeks to demonstrate that such composites can be turned into a totally waterproof building material, which can use up to 200 cups per square meter.
This innovative approach aims to shift away from our current reliance on wood in building materials and harvest the 'urban forest' instead. We are quite literally surrounded by awkward to recycle materials such as plastic laminated papers or cartons that could be turned into a unique composite, that has endless possibilities
This material has the potential to be used for multiple applications, from waterproof decking and furniture to providing structurally strong materials on a much bigger scale. Its durability, strength and versatility could easily match wood as a building material, in fact in many instances it would surpass it.
Whilst this is not the first time that used coffee cups have been given a new life, it could be a game-changer in that it will be able to re-use a substantial volume of the world's single use plastic cups and turn them into environmentally friendly building material, harvested from our urban waste.
Certainly we need to consider all options for turning the tide on single-use cups. Ireland is poised to impose a so-called latte levy later this year on disposable coffee cups, the UK, however, is still resisting calls by campaigners and lawmakers to impose a similar levy.
Harvesting the urban forest could be the turning point where the once maligned disposable coffee cup is turned into valuable material for everyday products.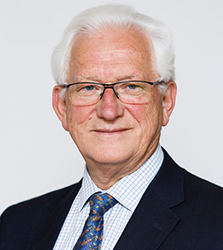 About Professor Edward Kosior
Professor Kosior's expertise in the plastics recycling sector spans 46 years, split between 23 years as an academic and 23 years working in plastic packaging recycling.
He has been instrumental in designing numerous modern recycling plants and has achieved a number of patented recycling breakthroughs.
In 2004 Professor Kosior founded Nextek Ltd to provide consultancy services to assist in the strategic approaches to sustainable packaging, waste reduction and minimal life cycle impact.
He also provides support to organisations such as the Earth Champions Foundation, Plastics Oceans, PEW Foundation Trust on the Project "Stopping Ocean Plastics" and is the founder of NEXTLOOPP, the multi-client project aimed at closing the loop on food-grade PP.
Contact Info
https://www.nextek.org
edkosior@nextek.org