Volume 19
| Issue 5
| Year 2016
Click here to read the complete illustrated article as originally published or scroll down to read the text article.
Though the pace of progress may vary, it's a given that all cities will eventually become smart cities as local municipalities increasingly turn towards technology to deliver key services, manage budgets and improve the lives of residents. As further evidence of this, the White House announced in September its intention to earmark $80 million in new funding for smart cities research and projects across the country. Among other things, this included $15 million to study how communities can better handle climate and energy issues, $10 million for public safety and another $15 million going towards transportation projects.
There is currently a need for more alternative private sector "SmartStart" financing options to help fill in the current infrastructure gap, which U.S. Department of Transportation Secretary Anthony Foxx recently estimated at $1 trillion.
The good news is that a number of global cities are already beginning to embrace this through a series of smaller-scale projects that are being financed through a combination of public funds and private contributions from local commercial building owners, subcontractors and others. With a current $32.6 billion funding potential, one thing is abundantly clear: not only is Smart- Start a low-risk investment with high returns, it can help virtually any city begin to digitize their infrastructure. Doing so not only enables cities to become more environmentally friendly and operationally efficient, it also paves the way for attracting people and companies who want to live and do business there.
Siemens Financial Services (SFS) recently conducted a 13-country study of cities that are currently developing initiatives to become "smart" in order to meet the necessary criteria for raising private sector funding for these projects. Typically costing a few thousand to a few million dollars, here are nine early-stage smart city initiatives that the report identified, which have strong track records for delivering dependable return on investment.
SmartStart 1: Building Controls
Whether for commercial use or the local government, smart controls for buildings provide a "central nervous system" that balances competing interests, such as comfort along with minimal energy usage and grid stability even though many of these functions are still managed separately. On the other hand, modern, sophisticated management stations enable all building systems to be integrated into a single platform, although ROI will vary depending on a specific area's external climate, the cost of generating power and other factors.
SmartStart #2: Improved Technology for Better Medical Outcomes
With an almost overwhelming international consensus that medical equipment over ten years is in urgent need of replacement, ROI from today's new generation of diagnostic imaging technology has a proven track record when it comes to reducing expensive invasive procedures and improving patient outcomes. At the same time, medical technology is currently undergoing an aggressive digitalization phase that is transforming levels of efficiency and clinical effectiveness in healthcare systems throughout the world. For example, Princeton Radiology worked with SFS to purchase new CT scanners which increased its clinical capacities.
SmartStart #3: Citizen Self-Service Delivery Online
As populations become increasingly digitized thanks to smartphones and tablets, cities are now able to deliver many civic services online. Because of this, the ROI for the constantly evolving technology needed to deploy them is often among the fastest SmartStart investments. Once a main application has been developed, additional capabilities requiring new equipment can increase ROI even further.
SmartStart #4: Vehicle Routing
Geo-information systems are being installed at an astonishing pace across the globe to enhance the delivery of services using less manpower, vehicles and equipment. Two of the most common smart routing initiatives identified in our study were school transportation and waste management. Though ROI may vary depending on local labor expenses and the kinds of equipment used, the savings gained by using these systems can rapidly recoup investment costs.
SmartStart #5: Parking Systems
Smart parking systems deliver a better service to citizens and visitors, while maximizing a city's potential parking charge revenue—a clear ROI model that not only simplifies driver decision-making with valuable information on parking availability, but also minimizes traffic congestion and personal frustration.
SmartStart #6: Road Pricing
Smart road pricing systems reduce traffic flow in congested urban areas while also raising revenue and translating into benefits that are both economic and environmental. As a result, ROI can be easily calculated—especially when structured into a financing arrangement that combines technology, installation and maintenance into a single monthly charge during the financing period.
SmartStart #7: Mobile Workforce Enablement
City surveyors, park maintenance, inspectors, engineers, outreach health and social services. These are just several of the many city services that are essentially mobile, and where today's workflow management software accessed through dedicated mobile devices can greatly improve delivery. The ROI from the use of these workflow management devices, which often incorporates smart routing and scheduling, is well-documented with an average energy efficiency savings of more than 10%.
While using this technology doesn't necessarily reduce workforce headcount, it does enable cities to provide more services. It also eliminates the need to hire additional personnel as more cities grapple with how to deal with a rising demand for public services without driving up costs.
SmartStart #8: E-Busses and E-Vehicles for Improved Air Quality
In some instances, cities have to meet mandatory environmental targets, which can also be incentives for people and businesses to move there. A good example of this—and one that was common in all of the countries we studied—is air quality compliance, where one of the biggest factors cited when it comes to poor air quality are busses and other public vehicles.
While large bus fleets remain particularly problematic, replacing older diesel models with hybrid or electric alternatives can make a huge difference in meeting air quality targets. Beyond the environmental benefits, however, it further illustrates the pivotal role that asset finance can play. Not only does private sector investing in such initiatives offer a clear and relatively shortterm financial return, it also minimizes the capital spending impact necessary to building a sustainable, attractive and competitive city. This was most recently accomplished in China, which used SFS financing to replace its current fleet of diesel busses with 1,200 hybrids over the next 3 years.
SmartStart #9: Low-Energy Street Lighting
Light-emitting diode (LED) lights reduce power consumption by over 60% compared to previous-generation lamps. Just as replacement in the home is gaining momentum, one easy win for SmartStart development is to replace street lamps with an LED equivalent. Not only are they brighter, LEDs also last longer and have lower maintenance, in addition to providing more safety and security in public spaces.
Why Be a Smart City?
Of course, to be a "smart city" isn't a means to an end in its own right and obviously, no single "one size fits all" resource can universally anticipate the constraints and demands of all cities. That's why municipalities must be open to alternative asset funding sources, such as the private sector. Private sector financial is widely available and relatively easy to arrange and offers a high ROI for an investor. In essence, cities need to become smart in order to become more sustainable. In doing so— and by tapping into the most efficient sources of funds and resources—the potential upside for a win-win outcome is inevitable.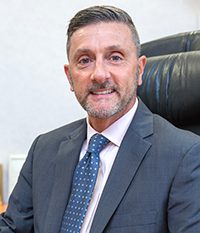 Gary Amos is Head of Americas for the Commercial Finance business unit of Siemens Financial Services (SFS). In this role, he is responsible for the P&L of an organization that includes SFS's captive healthcare and industrial asset finance businesses, as well as the third-party vendor finance platform for the Americas. A member of the SFS Commercial Finance Global Leadership Team, which is composed of five regions and operates in 14 countries, Gary also evaluates additional country growth opportunities outside the U.S. that fall within the Americas Region.
Gary joined SFS in 2007 as vice president and national sales manager, tasked with setting strategic direction for SFS' Industrial Leasing platform on a direct basis. His team structured single investor leases and loans to industrial companies, with special emphasis on marine, rail, air, food/beverage and chemical/pharmaceutical products. The team's portfolio included leases, loans, synthetic and 1031 LKE transactions ranging from $2MM to $50MM.
A 20-year veteran of the leasing and finance industry, Gary has broad experience in the industrial, healthcare and technology sectors with a focus on providing structured large-ticket financing solutions and supporting vendor business platforms with funding alternatives. Prior to joining Siemens, Gary was vice president of business development at GE Commercial Finance, where he managed a national accounts team and developed strategic initiatives focused on medical and technology sectors. Previous to that, Gary was national accounts manager at De Lage Landen, overseeing the company's key accounts in the technology sector and coordinating relationships with Japanese counterparts within parent bank.
Gary is an active member of the Equipment Leasing and Finance Association (ELFA) and is part of the steering committees for the ELFA's Healthcare Finance Summit and the Captive Lessors Forum. He also serves as Industry Advisor forASCEND, the Pan-Asian Leaders student group at Penn State University's Smeal College of Business. Gary holds a B.S. in Economics & Business from Penn State University.