Volume 23
| Issue 2
| Year 2020
Click here to read the complete illustrated article as originally published or continue below to read the text article.
By: Bill Nottingham, Vice President of Growth
Nottingham Spirk, a Cleveland-based innovation hub, is helping companies across the U.S. design new products to help combat coronavirus PPE shortages and disinfectant worries within hospitals and other healthcare facilities.
In 2016, we partnered with Sterifre Medical Inc. to develop a new type of disinfecting system for hospitals – the Sterifre AURA System. When COVID-19 hit, Sterifre applied to expedite its status with the EPA to immediately address increasing disinfectant worries in hospitals. This unique medical disinfectant system enables fast and automated device disinfection at the point of care and is comprised of microspray hydrogen and cold plasma ozone in unique combinations, operating at room temperature and atmospheric pressure. It is used to disinfect important medical equipment like thermometers and stethoscopes, as well as disinfecting staff's personal items like phones, keys and jewelry to avoid bringing any virus home to their families – all in a fraction of the time and much more effectively in comparison to old-fashioned methods of wiping everything down.
The AURA system is also a sustainable and environmentally friendly product as it eliminates the use of disinfectant wipes and sprays that studies have shown to pose health and environmental risks. The only byproduct is clean air, so it can be used at a patient's bedside, on the countertop of a nurse's station and many other places.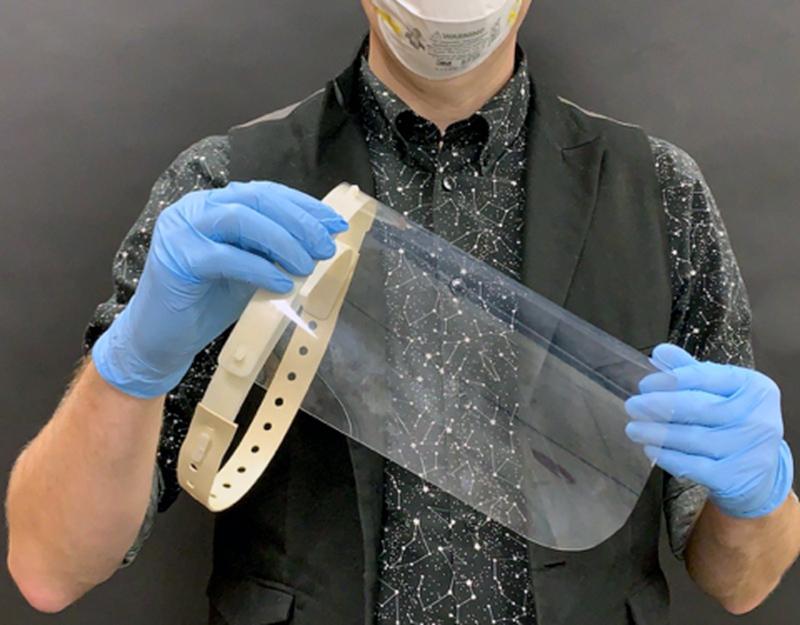 In addition, Nottingham Spirk has partnered with researchers at the Case Western Reserve University's Sears think[box] innovation team, Penn State Behrend and local manufacturing companies to design a facial shield that is currently being mass produced for medical professionals who are treating patients with COVID-19. The new design creates a shield that is thinner, with components that can be cut on a rolling die machine, reducing the cutting time from 30 seconds to less than one second. The switch to a polypropylene frame creates even more efficiency as the original design was configured for a 3D printer with a minimum build time of three hours per frame. Injection molding takes less than 40 seconds. Headbands produced through traditional 3D printing can be sterilized only in a hydrogen peroxide vapor chamber, whereas the new design can be sterilized in a medical autoclave, which is standard equipment in most medical settings.
With the capacity to produce approximately 5,000 face shields each day, the team is expected to produce nearly 240,000 shields and has made the pattern available via open source on their website for other manufacturers to carry it forward even further.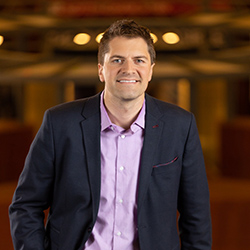 Bill Nottingham is the VP of Growth for Nottingham Spirk. As a member of the Nottingham Spirk (NS) Leadership Team, he is focused on future growth for our client-partners and NS. He also helps establish NS equity venture companies and serves as an Advisor. NS was founded in 1972 and one of the world's longest standing private innovation firms. The NS team uses the Vertical InnovationTM process in collaboration with their client/partners to deliver product platform innovations resulting in over 1250 global commercialized patents and over $50 Billion in retail sales for their clients. To date, 95% of all NS patents have been commercialized. Bill has been featured on Bloomberg Radio, Sirius XM and NPR. He has been a Keynote speaker at the Consumer Electronics Show, Forbes Summits, and The Rock and Roll Hall of Fame.