Integrated with ERP and DDMRP functionality, 3D printing is helping manufacturers improve operations and bottom line results.
By Bill Leedale, Senior Advisor, North America, IFS
Historically, manufacturers have used 3D printing to reduce the number of iterations before a workable design is reached, but today it's being adopted to produce durable parts for the most demanding environments. By integrating additive manufacturing with enterprise resource planning (ERP) and demand driven materials resource planning (DDMRP) functionality, manufacturers can optimize industrial operations and satisfy internal stakeholders.
3D printing is typically part of a three-step production process which includes blasting or shot peening and a machining step. This means depending on two different machine types to complete an entire part and scheduling human resources to action machining.
It also has limited capacity regarding numbers of parts, so planning around these constraints may necessitate manufacturers to consider buffer capacity in the number of printers or at least strategic sourcing of otherwise unfillable orders to other entities with excess. This is where ERP as an overarching system to aid additive manufacturing operations is vital.
Faster processing, enhanced sequencing
Additive manufacturing adopters should schedule production around the low volume constraints of 3D printing machinery and plan inventory of materials based on the demand plan. This means ERP software must recognize 3D printers as productive workstations.
With 3D printing, turn times can be lightning quick, so it's paramount to ensure it is simple and intuitive to schedule both steps in the 3D printing of production parts for the same day. Without defined workflows in ERP for project integrated manufacturing, organizations themselves will place constraints on what can be accomplished.
ERP software is also critical to achieve optimal production sequencing. Parts must be sequenced based on certain characteristics so they can go through the printing and subsequent processes as efficiently as possible. Optimal production sequencing gets the right parts into each step of production at the right time for faster turn times. Work should be handed off directly from one workstation to the next rather than parts lingering as 'work in progress'.
As more manufacturers adopt 3D printing, those with the most refined ERP scheduling and sequencing system will realize greater turn times and part availability.
Leverage DDMRP and ERP in additive processes
Manufacturers must effectively use DDMRP functionality when configuring ERP software to accommodate additive manufacturing. Ensuring high profitability without turning away orders during peak periods is essential to see ROI. When DDMRP capability is embedded in ERP, manufacturers can prepare for demand spikes with strategic buffer inventories of specific materials. Integrating DDMRP and ERP in the additive manufacturing process supports this goal in four ways:
1. Quicker parts production
3D printing enables the design and production of parts that would be difficult or costly to manufacture using traditional methods. DDMRP streamlines the production process by helping to plan around bottlenecks and constraints. Given one bottleneck will be the 3D printing unit itself, it's crucial to determine how many machines a facility requires to achieve ROI.
2. Streamlined spares and repairs inventory
A leaner and more reactive inventory has cost-saving and business-boosting potential. Manufacturers can focus on maintaining their own assets, manufacture engineer-to-order products and even move into new revenue streams to support customers in aftermarket service contracts.
3. Limited waste
Producing a part and perfecting it to specification generally creates excess material. Since 3D printing is an additive process, material removed during blasting and machining may be reground and used over again.
4. Meeting service needs
The asset-intensive nature of additive manufacturing means quality will almost entirely depend on the printer functioning within a tight range of values.
Manufacturers often rely on annual service contracts with their equipment vendor to handle inspection and re-calibration. Software must be capable to support condition-based maintenance programs, or the contract management tools to manage deliverables against a contract. ERP provides visibility and traceability into the service process to keep 3D printers operational.
The benefits don't stop at product and design
Even if organizations don't use additive manufacturing for production parts, benefits can still be realized in the iterative design process. 3D printing by default creates a digital twin of each part, taking away the need to go through a separate process to gain one. In theory, an industrial manufacturer should be able to assemble a digital maintenance model and use it to support a product through its life.
Make strides in additive manufacturing today
Having the right amount of 3D printers, a worthy business case and appropriate ERP software means manufacturers can reap the rewards of improved design flexibility and reduced lead times while scaling-back inventories. Fit-for-purpose ERP which is DDMRP-ready will help manufacturers leverage 3D printing, enhance operations and meet the expectations of both internal stakeholders and customers.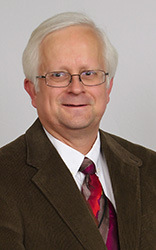 Bill Leedale, Senior Advisor, IFS in North America
Bill Leedale has more than 30 years of experience leading large-scale implementation and business process reengineering engagements for global companies, making him a sought-after consultant across multiple industrial sectors. Leedale holds a B.A. in Business and Economics from Wittenberg University in Springfield, Ohio and an M.B.A. from Ohio State University in Columbus, Ohio. He is an author of the current APICS body of knowledge and an author of APICS' current Lean Enterprise Workshop. His certifications include Certified Fellow in Production and Inventory Management (CFPIM), and Certification in Integrated Resource Management (CIRM).