November 6, 2019
Trade originated in pre-historic times when tribespeople exchanged precious goods and services instead of currency. Now replicated on a global scale, we're now seeing worldwide e-commerce exchanges take place in a virtual, cashless economy. E-commerce is a transformative force, representing a new era in the history of the exchange of goods and services – and looks set to change the business world ever-more in the future. Having the ability to understand how e-commerce is evolving will help you maintain a competitive advantage, transforming your business into a future-facing enterprise. Here's why e-commerce is so crucial for the future of your business.
Design-Oriented Sales Pages
The product or service sold online needs to be represented digitally. The consumer does not have the ability to physically examine the product being provided, which leaves space for images, text, video, and animation to help define the user's experience. You're trying to sell something by making it irresistible in the digital space.
Clearly, e-commerce is not only product-oriented but, more importantly, user-oriented. To help you achieve excellent user experiences, there are BigCommerce development services that focus on creating and transforming e-commerce businesses to match the design demands of the digital era. The future of business in the online realm will place user experiences and communications in the highest-possible order of importance, which means you'll want to think strategically about your content output for the future.
Interactive Sales
Keep in mind that digital age consumers have the ability to assemble and exchange information more easily. Businesses in the digital age are more interactive, as they must listen to user-feedback and act accordingly. There's also responsive to other forms of data, selecting, for instance, the best time to sell a product on a discounted rate. And all of that online feedback, which helps assign a rating both to your products and to your company as a whole, can really affect sales. It's crucial, therefore, to take feedback into account when writing your sales listings.
Meanwhile, there's another consumer-facing layer of the e-commerce world that's important to bear in mind: comparison sites. Whether consumers actively shop on price comparison websites, or they visit a number of online stores to compare prices themselves, they're looking to drive a hard bargain – and your e-commerce wares will need to appear good value for money in order to attract the highest number of orders in the online space.
Platforms are Key
Digital tools provide opportunities for connectivity. Platforms combine people and businesses with common interests into new arenas of exchanges. It is this ability – to expand the nodes of connection, alongside the products, values, and information being exchanged – that defines a significant aspect of future e-commerce.
Futuristic businesses rely on extracting value through a broad platform of exchanges. Having the ability to manage the platform of your brand is crucial. You may, for instance, use the following:
Auction websites such as eBay
The most popular online marketplace, Amazon
Google's shopping tabs, which can allow you to advertise to browsers
Other e-commerce platforms that help boost your exposure and your reach
On these platforms, customization tools can allow you to follow up on the most advanced trends in e-commerce without yourself having the skills of coding or graphic design. Doing business in the future relies on the ability to create people-oriented value that you can put to work through powerful platforms with a wide, global reach.
Customer Communication
As explained earlier, e-commerce is a digital business arena in which user experience is essential. As the consumer's focus shifts from the physically-mediated exchange to the digitally-mediated one, communication becomes key. Your ability to bypass barriers of place, time and presence, and to create a lively user experience, makes or breaks your e-commerce business. This applies to any user-oriented business in the digital age.
Transparency and clarity are important when it comes to the product you're promoting, but you should also be clear at all stages of the purchase that you are willing to hold conversations with the customer – offering prompts, advice, feedback and, if required, refunds for products they decide that they don't want. This is all part of the digital salesperson's repertoire. The future of business is about successful and meaningful communication that creates a bond of consumer loyalty and satisfaction, despite the consumer never meeting with the salesperson face to face.
E-commerce is a quickly developing field of business opportunities that can take your company to the next level. Advances in e-commerce provide valuable insights into how you can do business in the digital age, helping you prosper long into the future.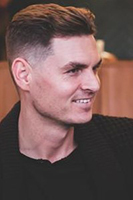 Steve Conway is a content marketing professional and inbound marketing expert. Previously, Steve worked as a marketing manager for a tech software start-up. He is passionate about discovering new software that will that will advance his already well-honed digital marketing techniques.