With factory jobs booming, manufacturers must overcome the difficulties in hiring skilled workers amid today's low unemployment rate.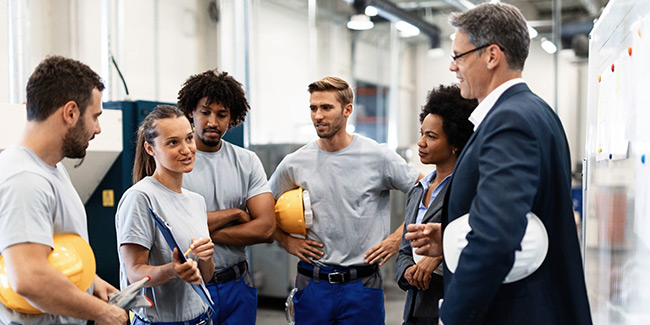 By: Allie Kelly, CMO, Employ Inc.
The labor market has experienced a seismic shift in the last two years. Supply chain disruptions, global economy shifts, rising inflation, and evolving preferences in the workplace have impacted many industries that need qualified workers, such as manufacturing.
The recent Bureau of Labor Statistics report showed that employment in manufacturing increased by 29,000 in June and has returned to its February 2020 level. But strong growth in consumer demand for goods and the ongoing manufacturing skills gap highlight why the need to engage, attract and retain more manufacturing workers has never been greater, per a new report from Employ Inc. Here's why.
Workers' Confidence is High.
Per the Employ report, 65% of manufacturing workers are open to other job opportunities and are actively looking for a new job or planning to look for a new one within the following year. As a result, half of manufacturing workers have faced high organizational turnover over the past year, leading to increased workloads for many in the industry.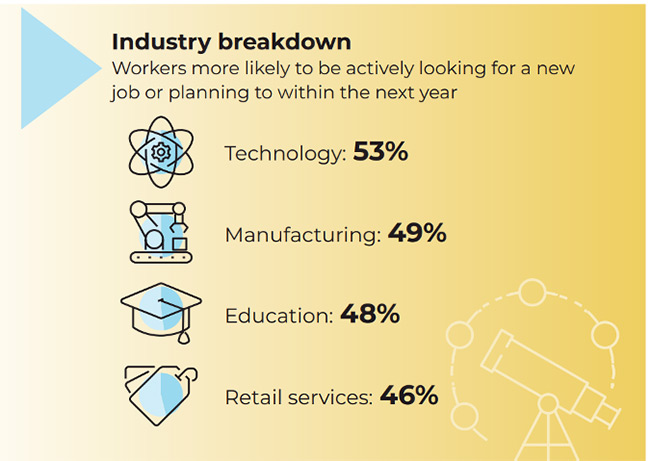 Eighty percent also said the larger workloads contributed to increased stress levels and feelings of burnout. Since job candidates have firm control of the market and employee confidence is at an all-time high, talent acquisition (TA) professionals must ensure their organizations align with the dynamic expectations of job seekers' preferences today.
1. Compensation is Top of Mind.
A desire for higher compensation is a driving factor for many manufacturing workers changing jobs. Per the report, 58% said compensation is the top factor in their decision to accept or reject a job, and 52% believe they could make more money right now simply by switching jobs.
Although nearly three-fourths of manufacturing workers said the most important thing their employer could offer is higher compensation, companies can look at other forms of compensation to attract high-quality talent. According to the Employ report, the top employer benefits manufacturing workers want are healthcare, a 401K program, paid family leave, a casual dress code, and performance-based bonuses. Adding these benefits and perks into the workplace can help attract and retain top talent.
2. The Candidate Experience Matters.
The candidate experience is how employers can differentiate themselves in a crowded market. Because organizations often compete within a limited talent pool in the manufacturing sector, they must take advantage of every opportunity to stand out. Focus on providing an exceptional candidate experience that nurtures and engages healthcare candidates and shows the organization values each person individually.
The way an organization treats its candidates is also a reflection of how it will treat its employees. For instance, 45% of workers would not apply to an employer again if they had a bad candidate experience. As a result, those organizations that provide a positive candidate experience are more likely to be seen favorably by job seekers.
According to the Employ report, manufacturing workers cited "easy to schedule an interview" as the top reason for a positive candidate experience, closely followed by an easy job application and a short/quick hiring process. Excellent communication from the employer/recruiter was also a top reason cited by workers. Recruiters prioritizing the candidate experience will see better results, leading to higher employee retention.
3. Meet Candidates Where They Are.
Searching for jobs is a frustrating and stressful experience for many candidates, so organizations need to tailor the process based on the preferences of potential job candidates within the industry. For instance, most manufacturing workers are looking for jobs on online job boards, social media sites such as Facebook or LinkedIn, and by word of mouth. The primary job board they use is Indeed, and 40% of manufacturing workers believe recruiters should focus less on checking a candidate's social media channels. In comparison, 32% want them to focus less on gaps in resumes.
How recruiters communicate with potential candidates can also differ by industry. For instance, Employ data found that manufacturing workers are more likely to be open to receiving a text message from a recruiter about scheduling an interview, with 61% preferring this option more than scheduling via email or phone call.
4. Agility Attracts Top Talent.
While creating strategic talent acquisition programs and a workplace culture that aligns with job seeker preferences will help companies make hiring more predictable in a difficult market, companies must continue to become more agile. This can be accomplished by automating recruiting with AI, chatbots, CRM tools, intelligent messaging, and other leading talent acquisition technology to streamline and shorten the recruiting process from weeks to days.

Companies should also take chances on different types of candidates. Today, 23% of workers have changed industries since the onset of the pandemic, as noted in the Employ report. Outsourcing jobs to freelancers and gig workers should also be considered to help adjust to the tight labor market.
Lastly, abandon practices that frustrate job seekers and diminish the candidate's experience. Employ data reveals that promoting low-paying jobs, not being responsive to prospective candidates, and posting inaccurate job descriptions were the most frustrating aspects of the job process for workers in the manufacturing industry.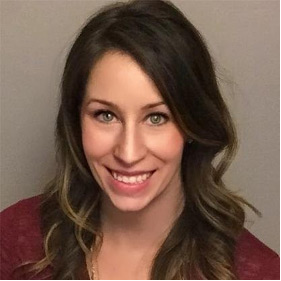 About the Author
Allie Kelly serves as Chief Marketing Officer of Employ (www.employinc.com), where she oversees the shared services marketing organization for the JazzHR, Lever, Jobvite, and NXTThing brands. In her role, she leads the brand transformation of the business that aligns marketing, product, and sales with delivering an exceptional customer experience while driving record revenue and customer growth. As a customer-centric marketing leader with core strengths in transformational change and growth-stage leadership, Allie has spent the last 19 years driving scalable, sustainable growth for B2B and B2C companies.
Prior to her current role, she served as Chief Marketing Officer of JazzHR. She has also held key marketing leadership positions at high-growth companies, including Attivio, SnapApp, and Lionbridge Technologies, Inc. Ms. Kelly holds a Bachelor of Business Administration from the University of Massachusetts, Amherst, and received recognition as the Top 50 Women Leaders in SaaS from The Software Report in 2019. She is an avid skier, knowledge enthusiast, and aspiring surfer.