This industry research paper briefly discusses the protection of PDF documents which contain crucial information and data.
PDF documents are individually beneficial for numerous companies in this business diaspora. Whether you are sending essential memos, sustaining customer records in a compatible format, or invoicing clients, you can be assured with PDFs that the person inspecting the records will review it as it was intended to be.
Why are PDFs Preferred by Most of the Businesses?
Various reasons make PDF format an essential part of your business. Some of them are:
Maintains the format of Documents.
PDF format is an easily accessible and widely used format.
Capable of having a small file size in comparison to other formats.
Passwords better protect data stored in PDF format.
Work-able on every operating system.
Integrate non-text content.
PDFs have a sustainable place in the business world.
Let's consider some platforms making most of the PDF format.
E-Learning
E-Learning Market size surpassed USD 200 billion in 2019 and is anticipated to grow at over 8% CAGR between 2020 and 2026 as per Global Market Insights.
In the current scenario of COVID-19, e-learning has grown as one of the crucial mediums to make resources available for analysis and learning. It is making learning a possible experience in this pandemic for students and teachers.
Technology-based e-learning includes the use of the internet to produce learning materials and also regulate courses in an organization. Most of the study material is in the form of PDF files, as it preserves the original structure of information or records stored in it.
Additionally, users can utilize various encryption levels on PDF documents, such as 40-bit, 128-bit RC4, 128-bit AES, 256-bit RC4, and 256-bit AES. These are the things that are possible using the PDF Protection software for enhancing the E-learning platform and securing the data.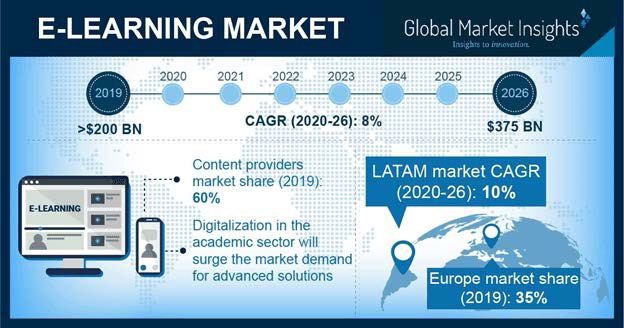 Manufacturing Industry
As in the manufacturing industry, the PDF Protection tool plays a significant role throughout each phase of its business.
In every industry, taking orders referred to as lots of paperwork. There are order forms, purchase receipts, requisitions, etc., and if you are a manager, then you better understand how hard it is to make these data untouchable from unauthorized access. The only option to make it possible is PDF Protection tools. It equips you with the features to support multiple files for previewing the data and protecting these PDF files using adequate methods. Even if you receive or send the PDF file and require to convert it into another format then also, you can do it with ease.
It is also useful in:
Maintaining the original data structure.
Present the data in standard forms.
PDF search option.
Data Modification Option.
Government Sectors
There are many features of the PDF protect tool that can be utilized in government sectors.
Data Security
Security of data is always the first on the priority list of the government institutions—one of the most preferred ways to protect sensitive or confidential information stored in the PDF files is applying encryption using utility software.
Secure Information and its Accessibility
With PDF solutions, PDF data becomes more accessible to control, and authors can decide who can access or edit documents. These tools offer the capacity to search for data immediately within a large file or thousands of files on a server. By utilizing these utilities, government individuals can make the processes more efficient, and PDF files become more secure and reliable.
PDF for Success
Execution of PDF format is replacing analogue and paper processes where possible, and government organizations are becoming better prepared for successful and safer operations. Now, users can effortlessly keep PDF files well-organized and can be assured of data security on various devices and operating systems. Their content and arrangement won't get altered by any unauthorized user.
Is your team seeming to get the benefits of the PDF Protection Tool? Do you want an effective method to assure your data throughout the business channels? Enhance your office today with PDF software!
More Benefit Can be Gained Using PDF Protection Tool
PDF Protection tools are one of the most secure and reliable utilities for the businesses that are available in today's market to protect your PDF files. Using these security enhancement tools, users can get more secured functions of PDF files. Through these utilities, users can preserve PDF files from copying, editing, and even protect PDF files from all the menaces that may create an issue in misusing the file's data. These software are also capable of protecting a PDF file without Acrobat or any other PDF application.
Using PDF protection software users can change the metadata and other information of a file.
Enables users in modification on resultant PDF file description.
If you want to locate your PDF file, then you can use the search option offered in the utility. Using this option, users can scan the whole system and locate that searched PDF file automatically.
Users can apply various encryption levels on the PDF documents, such as 40-bit, 128-bit RC4, 128-bit AES, 256-bit RC4, and 256-bit AES.
It is also compatible with all the major versions of Windows.
Sum-Up
Nowadays, businesses are rapidly transitioning towards the digital world. In the era of digitalization, the core concern is data security. For preserving the data, leading businesses adopted the latest developed tools. One of them is the PDF Protect Solution that involves various features and functions to protect the data of PDF using password protect functions, encryptions, and so on.
About the Author
He is Manoj Shukla, a content writer. He works as a content writer at Cigati Solutions. He has a keen interest in Technology & Entrepreneurship. He has a wide perspective about industries & industrializations. He believes that industry is a place which not only grows the nation's economy but also fulfills its citizens' needs.