Without sensors continuously monitoring the factory floor, organizations can miss critical insights that keep operations running smoothly.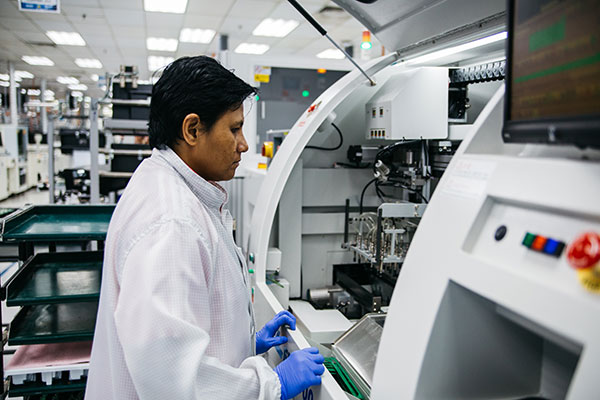 As we approach the return of a vibrant economy after the pandemic halted business as we know it, manufacturers' resiliency will be tested. Between the increased consumer demand for electronics and a slow workforce recovery, organizations need to prepare to shift back in an efficient manner.
A common trait among businesses that were resilient against the pandemic was a solid digital foundation. Conversely, companies that didn't support automation, AI, and IIoT, struggled to serve their customers. Now that manufacturers have secured business continuity and are moving towards Industry 4.0, the organization's next step is to drive efficiency through improved operations.
At the heart of Industry 4.0 and modern manufacturing, connectivity is key to unlocking factories of the future. The use of sensors, strengthened by IIoT connectivity, allows manufacturers to continuously monitor each factory floor element.
Sensors use a range of detection methods to provide real-time insight into the factory floor. When implemented correctly, they capture data through vibrations, motion, sound, and all sorts of other factors in the environment, automatically providing actionable analytics to employees. Without sensors continuously monitoring the factory floor, plant managers would miss critical insights to help keep operations running smoothly.
A the end of the day, you can't utilize data unless you have the tools in place to capture it. Sensors provide this capability and enable workers to use data for analytics and close loop controls. By choosing and integrating the right sensor technologies with local computing engines and connectivity solutions, premium brands can maximize their next operation's efficiency, safety, and precision, no matter their product category.
Data-driven Optimization
Embedding sensors into a production floor helps plant managers collect and manage machinery data from any source at scale.
Sensors' ability to capture data in the form of videos, images, temperature, and pressure provides an opportunity to support various functions. Connected through IIoT, workers are provided visibility into machines' health directly to their devices, allowing for unparalleled insight into their current condition. Once received and stored in the cloud, the data can be used to implement improved processes and develop innovative products throughout the entire facility.
Sensors provide insight that otherwise would be unknown. Traditional machines are not in sync with modern manufacturing operations. Deploying IIoT connected sensors to machines provides the insight needed to stay ahead of disruptions, predict upcoming maintenance, allow for comprehensive safety, and data to support decisions in a smart factory.
Transparency into Machine Health
Sensors deliver predictive and prescriptive analytics continuously – reporting on the current state of machines and even predicting anticipated issues ahead of scheduled maintenance. When initiated, sensors collect uninterrupted data surveying how a machine is operating and alert employees when something is amiss.
Sensors deliver actionable intelligence workers use to identify and remedy an issue before it leads to a catastrophic failure. For example, a sensor could alert technicians to irregular machine vibrations in a smart factory, triggering a part replacement order and preventing costly downtime.
Visibility is arguably the most crucial aspect of maintaining manufacturing operations. Sensors are another avenue for employees to ensure readiness for any future disruption. When equipped with connected tools, humans and machines can work in harmony with one another and confirm the efficiency and effective customer service.
With the upcoming economic revival, it will be essential for manufacturers to ensure efficiency and meet increased consumer demand. Incorporating sensors to eliminate downtime will be critical for optimal performance.
Sensors Help Plants Place Safety First
Manufacturing is now in the middle of its digital revolution, and Industry 4.0 is well underway. Automated devices are common practice on the factory floor. Robots, cobots, and heavy machinery are valuable to manufacturers but not as crucial as their workers. Sensors provide a safety barrier to the employees who work with these or next to these machines.
Safety should be the highest priority on a factory floor, especially with the increased use of automated devices. Not only can sensors observe how machines work, but they can also examine their surroundings to identify potentially dangerous work conditions. For example, sensors can monitor how close a plant worker is to robots or other unassisted machines and trigger an emergency shutdown if a person is in danger.
Forward-thinking companies are also exploring the concept of "sensors in a box" to extend the benefits of IIoT. This innovative idea revolves around a set of sensors being shipped and added to turnkey equipment, either close to the work area or from afar to look at the entire system, to ensure full compliance of both factory and site acceptance testing. Not only does this improve operations, ergonomics and safety, but it also eliminates the need for employees to travel to each supplier site and eases responsibilities for all stakeholders involved.
Industry 4.0 advances traditional manufacturing with the connectivity and computing power of the digital world. The benefits are transformative as smart automation increases product quality and productivity. Sensors are the building blocks for intelligent products, improved experiences, and a better world.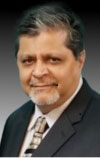 About Murad Kurwa
Murad Kurwa is vice president of the Advanced Manufacturing Engineering Group at Flex, the manufacturing partner of choice that helps a diverse customer base design and build products to improve the world.
Mr. Kurwa is responsible for helping drive the innovation engine that push Flex's advanced manufacturing practices forward. He has held various leadership roles at Flex, including vice president of Engineering Services, director of Product Innovation and others.
Mr. Kurwa also spent time at GE, Kateera, Manufacturing Services Limited, Micromodule Systems, Matheson Semi-Gas, Raychem (now Tyco Electronics) and Firestone Development Center.
He holds a master's degree in business administration and a bachelor's degree in chemical engineering.