Tailings dam oversight is a high priority, especially to those managing them. Aided by technology, dams can be safer and more efficient.
Tailings dam safety hinges on one pre-eminent factor: monitoring. Regulations worldwide make it clear that assuming dams are safe isn't enough — they must be inspected and documented.
Which, unfortunately, is easier said than done. Tailings dam monitoring requires both extensive physical coverage and time. Most companies rely on ground-mounted sensors that collect data about the dam's condition, but monitoring these sensors can be time-consuming, and their coverage is limited to a single point. Many instruments require data to be periodically read by a technician, which can be a slow process.
That's no longer adequate. Enforcing internal policies and regulatory mandates requires high accuracy and consistent monitoring of tailings dam data. So does the ability to detect tiny changes in dams (as small as 3 centimeters) to mitigate and prevent catastrophic failures. Absent these safeguards, tailings dams could be a disaster waiting to happen.
For mining companies that prioritize tailings dam safety, embracing new technology like digital twins should also be at the top of the to-do list.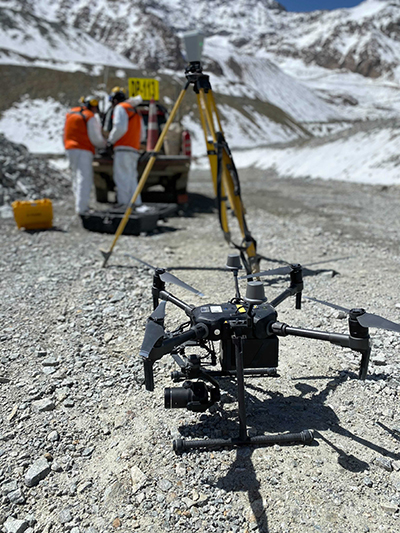 How Technology Promotes Safety
The most comprehensive way to monitor tailings dam safety is with the broadest and deepest perspectives available. When a mine operator can digitize an entire site, it can visualize each constituent part, identify (or predict) potential safety hazards, and use data to collaborate with teams about the proper response. Sensors are part of the digitization effort, but it takes other technologies to enable end-to-end tailings dam monitoring.
No matter how substantial or complex a mine site is, operators can monitor all of it with three key technologies.
First, drones provide sites with more coverage overall and, when enabled with real-time kinematic (RTK) technology, incredibly precise location data. Because of that accuracy, RTK-enabled drones can take pinpoint and highly accurate measurements of thousands of data points across every centimeter of a tailings dam.
Piezometers, inclinometers, and other IoT devices are the next component of a tailings dam safety initiative. These solutions measure data that RTK drones don't measure, such as the water level behind a dam or the amount of movement in the ground. But they only measure at a single point. When combined with the 3D drone data, the full picture of what is happening with dams becomes more apparent.
The third technology is a platform that can ingest data from both drones and sensors before turning it into relevant safety insights. Without a means to collect, organize, and analyze data, it reveals little about the condition of tailing dams and any looming issues.
The creation of a tailings dam digital twin is key here. A digital twin is a virtual representation that serves as the real-time digital counterpart of a physical object or process. The platform processes and displays the high-accuracy 3D models while also allowing users to view the single-point IoT data streams directly on the models.
With the availability of these three technologies, mine operators can scrutinize a site in 360 degrees and monitor for issues in real-time. Safety will improve significantly.
How to Monitor a Tailings Dam Safely
An effective tailings dam safety initiative requires pairing the right technologies with the right strategies. Here are three methods that we have seen work:
Expanded Visibility: For the best results, pull data from the ground, air, or anywhere else on-site. Accurately predicting mine data requires multiple points of comparison. Tailings dam defects can first appear as under-the-radar flaws that go unnoticed unless an operator has extensive visibility.
Leverage Data: Compare information from drones and sensors about slope position, deformation, and movement against the as-built design. The differences reveal how the tailings dam is changing without sending technicians for extensive on-site visits under dangerous conditions. It's tempting to focus on collecting as much data as possible. Essential as that may be, the ultimate goal is to leverage data and produce actionable insights. Data is a means to that end.
Enable Success: Experience has shown it's simply not enough to introduce new technologies to a mine site. Anyone responsible for using those solutions, whether directly or indirectly, needs to go through training and onboarding to use them effectively.
That's especially true in tailings dam monitoring, which relies on multiple tools collecting fast-moving data at high volumes. Precision matters in this process, yet it's impossible to achieve unless the people, processes, and technologies all align perfectly.
Streamlining a tailings dam monitoring system sounds like a significant undertaking, but it comes with the potential for big results. Fortunately, automation is evolving in this space and eliminating many of those difficulties. Site safety significantly improves while requiring less input from technicians. And when safety improves, it's not long before efficiency, productivity, and output follow suit.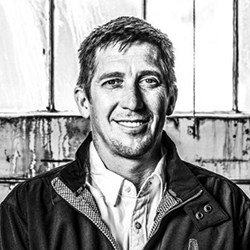 Tom Jennings is a senior sales engineer at Skycatch. He began building and flying drones in 2012 as a safer and more affordable means to get airborne and to complement his work as a professional photographer and computer programmer. In 2014, he joined the Skycatch team, where he has honed his photogrammetry and aerial surveying skills while training pilots and collecting data at industrial construction projects. He shifted his focus to mining in 2016, when he earned his MSHA certification.