Economic data shows that the manufacturing industry has been most resilient during COVID-19.
By Kael Kelly, GM, Compliance Documents at Avalara
COVID-19 has brought with it several changes — many of which have had a lasting impact on the manufacturing industry. At the onset of the pandemic, manufacturing saw significant shifts in demand. Some manufacturers, like those serving at-home workers, benefitted from a surge in demand, while others suffered steep drop-offs. For example, according to McKinsey, many manufacturers saw a drastic increase in demand for toilet paper for use at home as the pandemic set in, while demand significantly dropped for commercial toilet paper products. Beyond supply and demand changes, the pandemic has also prompted an increase in urgency to reduce costs, increase in supply chain transparency, and increase in productivity across manufacturing.
Over the past nine months, industries of all sizes have been impacted by the pandemic. Retail sales plummeted as stay at home orders were put in place globally and the availability of in-person services became virtually nonexistent overnight. Manufacturing was no exception. To better understand the economic trends across industries, Avalara monitored the impact of the pandemic across the manufacturing, retail, and services industries.
Based on the findings of the Avalara Commerce Monitor, there were three main trends that dominated the manufacturing industry between January and October 2020.
Manufacturing proved to be more resilient than other industries throughout the pandemic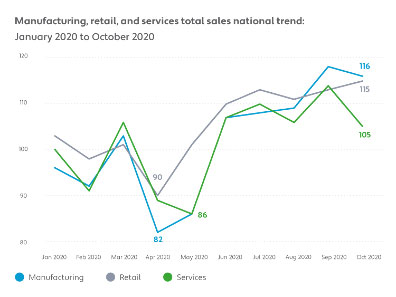 When the pandemic hit the U.S. hard in March, manufacturers had to quickly rework their facilities to allow for social distancing and COVID-19 monitoring. Data from the Avalara Commerce Monitor shows a significant slowdown in sales transactions across the sector, decreasing by 18% from the baseline in April. Beginning in May, total items sold in manufacturing began to steadily increase. According to the Manufacturing ISM Report on Business, some manufacturers were able to ramp back up to full production in May, which had a positive impact on sales.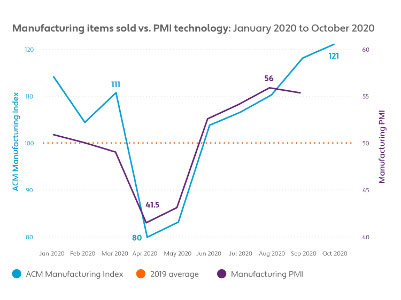 Likely due to increased demand for products to suit life at home, the manufacturing industry was quicker to rebound than the retail and services industries as production ramped before products hit retail shelves. Following eased restrictions for in-person work across much of the U.S., manufacturers were able to ramp production and resume serving critical supply chains at a greater capacity. Similarly, the shift to ecommerce in the B2B space also likely played a role in the industry's rebound. As more B2B transactions shifted online channels, manufacturers were likely able to increase sales by diversifying their sales channels.
Manufacturing sales signal the start of the holiday shopping season
Pointing to the resiliency of manufacturing throughout the year, Avalara also tracked steady growth in manufacturing sales throughout the summer — reaching a year-to-date high in total sales in September. The uptick in sales in September correlated with a subsequent rise in retail sales in October. The spike in sales for manufacturing followed by a spike in retail sales points to the relationship between the two industries as the nation prepares for the annual holiday shopping season.
Avalara sees a major uptick in B2B transactions as retailers and distributors work together to stock shelves and inventory for the holiday season. While this uptick in manufacturing sales generally comes in October ahead of Black Friday and Cyber Monday deals, shifts in the retail holiday shopping timing pushed the calendar earlier in the year.
Most major big-box retailers and marketplaces, like Amazon, Target, and Walmart, changed their usual holiday strategy by starting online shopping deals before Halloween. In an effort to prevent major disruptions to supply chains for shipments and traffic on ecommerce sites, retailers worked to spread out the online-first holiday shopping season by beginning online sales earlier in the year.
While manufacturing is usually a leading indicator of when the holiday season will begin, this year's changes signal a stark shift in consumer behavior and illustrates how the distributor-retailer relationship will have to evolve in the future to keep pace with the consumer preference toward ecommerce. Interestingly, this shift toward B2B ecommerce had already begun before the pandemic hit and has likely only accelerated since. As of March 2020, Statista found that 30% of manufacturers and distributors attributed 61-80% of their revenues to ecommerce. However, as consumer behavior continues to err on the side of convenience that is driven by ecommerce, B2B transactions will need to follow suit to keep pace.
The manufacturing industry has faced numerous challenges throughout the year from supply chain pressures to workplace restrictions—all of which have had a direct impact on sales. However, the data shows that manufacturing has proved to be resilient when it comes to preparing for and addressing challenges in near real-time. In 2020, manufacturers saw a significant drop in sales as the pandemic set in. However, as consumer needs increased to support life at home and businesses prepared to sell predominantly online, manufacturers quickly pivoted and worked to support the changing tide of consumer behavior.
As we move forward, the influence of ecommerce will only grow. The manufacturing industry will continue to adopt ecommerce strategies for B2B sales, as well as adapt their processes to support a society that heavily relies on ecommerce channels to buy and sell goods. With the help of technology, manufacturers can enter into a digital-first society with the foundation needed to support existing customers and grow their operations alongside the needs of businesses everywhere.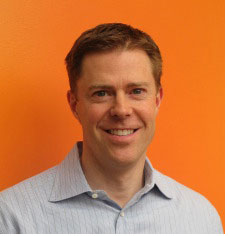 About the Author:
Kael manages Avalara's compliance documents products business unit. He has served in several leadership roles across marketing and sales at Avalara. Kael brings more than 25 years of software and technology experience in industries ranging from telecommunications to Internet to software-as-a-service. He has worked across company growth stages, from the Fortune 500 to mid-market firms to start-ups in roles that include market research, product management, marketing, sales, and executive leadership.
About Avalara:
Avalara helps businesses of all sizes get tax compliance right. In partnership with leading ERP, accounting, ecommerce, and other financial management system providers, Avalara delivers cloud-based compliance solutions for various transaction taxes, including sales and use, VAT, GST, excise, communications, lodging, and other indirect tax types. Headquartered in Seattle, Avalara has offices across the U.S. and around the world in Brazil, Europe, and India. More information at avalara.com.
Contact: www.avalara.com; kael.kelly@avalara.com