To stay competitive and satisfy your customers here are the best ways to modernize your business.
The manufacturing industry is one which is constantly changing due to technological trends, consumer expectations, regulations and various other factors. As a manufacturing business, this can make it challenging to stay current, but this will be vital for staying competitive and satisfying your target customer, so it is helpful to know the current best ways to modernize your business.
There are a few ways in which you can help your manufacturing business to find success in more ways than one.
Read on to learn more about a collection of some of the most effective ways to modernize in 2020.
Automation
Automation is one of the technologies that has completely transformed manufacturing in recent years, and this will only continue as the technology improves. Automating any part of the operation can reduce costs, increase efficiency, reduce stress and workload for staff, and eliminate errors amongst other benefits. Additionally, it can be used alongside employees so it does not have to lead to job losses like many have previously feared.
Internet of Things
Another type of technology which is currently revolutionizing many industries is the Internet of Things. Interconnected devices being able to communicate and collect vast sums of data enables a manufacturing business to make all kinds of intelligent business decisions, including facilitating the production flow and inventory management.
Upgrade Equipment
With so many developments constantly being made, you are likely to find that the equipment that you rely on each day is out of date even if it was only purchased a few years ago which is why upgrading is a smart idea. You could even get custom-made liquid sensing technologies made by expert float switch engineers for your particular operation which can streamline your process and help to improve the measurement of fluids.
Improve Cybersecurity
Businesses in all industries need to assess their current cybersecurity because this is a growing problem and one which can devastate a company. Attacks in manufacturing are becoming more prevalent (especially with an increase in internet-based technologies) and can be incredibly disruptive, so you need to have high-quality cybersecurity protection in place while also training staff on how they can stay safe and protect company data.
Go Green
Manufacturing is one industry which is often criticized for its environmental impact, so it is important for modern day manufacturers to find ways to reduce their impact and there are many different ways to do this, including:
– Using alternative energy
– Energy-efficient equipment
– Using different materials
– Going paperless
– Switching to eco-friendly suppliers
In addition to reducing your impact, you might also find that taking these steps can help to reduce your operating costs while improving brand reputation.
Look After Staff
With so many trends and new technologies, it is easy to forget about the importance of looking after your staff properly, but they are the ones that drive the company forward. This is why it is essential that you find ways to keep staff happy and motivated, including:
– Flexible working
– Comfortable working conditions
– Positive feedback
– Incentives
– Career progression
– Team building
High-Quality Website & Social Media Presence
In today's day and age, every business in all industries needs to have a high-quality website and social media presence. Having a website which is professionally-designed, easy-to-use and informative will help to paint your business in a positive light and be helpful for converting visitors into customers. You can then use social media to show your expertise, provide customer service and engage with your target customer.
Digital Marketing
It is then worth using the service of a digital marketing agency who can increase your visibility online. This is crucial in a highly competitive industry where people will turn to the internet when looking for any kind of product or service, so you need to have presence and visibility online if you are to succeed.
Artificial Intelligence
Artificial intelligence can be used in many different ways in the manufacturing industry and it is a technology that will play an enormous role in the years to come. Just a few of the ways in which it can be used to modernize include:
– Quality checks
– Predictive maintenance
– Generative design
– Supply chain management
– Predictions on sales volume
These are a few of the best ways that a manufacturing business can modernize in 2020. It is, as ever, hugely important to stay current in this industry especially since it is one that continues to change. So, with this in mind, you will need to keep pace so to stay competitive and satisfy your target customers.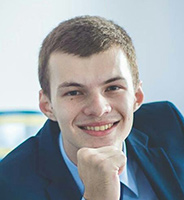 James Daniels is a freelance writer, business enthusiast, a bit of a tech buff, and an overall geek. He is also an avid reader, who can while away hours reading and knowing about the latest gadgets and tech, whilst offering views and opinions on these topics.