GEP's John Piatek shares how to remake supply chains as intelligent, agile, resilient, and cost optimized to drive competitive advantage.
By John Piatek, Vice President of Consulting, GEP, a leading provider of procurement and supply chain solutions to Fortune 500 companies
The pandemic has understandably dominated press coverage, which concealed for many that COVID-19 was only one of several extraordinary forces wreaking havoc with global supply chains. For some, COVID-19 has been an 'easy out' for executives and company board of directors. However, it really has simply masked years of under-investment in supply chains, which will constrain companies for years to come.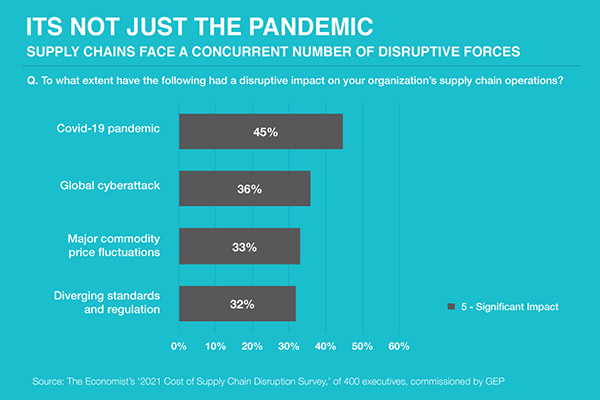 GEP recently commissioned The Economist to survey 400 U.S. and European C-suite leaders in supply chain, procurement, IT, finance, operations and strategy to better understand the cost to business from disruptions over the last 12 months and their priorities going forward.1
We found the majority of companies were unable to respond to both the supply-side and demand-side shocks. It resulted in double-digit revenue losses, increased operating costs, squeezed margins, disrupted manufacturing, and, perhaps most challenging, spikes in customer complaints and immeasurable long-term reputational damage.
While some leading firms such as Amazon and Apple have been lauded for their forward-thinking approach to supply chain, the reality is many firms do not regard supply chain as a source of genuine competitive advantage. For the past decade, companies primarily invested in their supply chain to cut costs and free up capital to invest in other parts of the business, such as R&D, marketing, etc., to drive revenue.
That's all changed in the last twelve months, when companies found their supply chains are not fit for purpose. Companies now expect supply disruptions to become more common, driven by geopolitical risks — regional trade policy, instability, corruption — cyberattacks and commodity price uncertainty. Despite spending millions on ERP solutions, companies are ill-equipped to effectively manage their just-in-time, multi-step, multi-geography supply chains in the face of uncertainty, global warming, tariffs and trade wars, and national governments increasing control of natural and strategic resources and industries. As a result, more than half of the executives (54%) The Economist surveyed state that their organizations must make significant changes to effectively manage supply chain disruptions in the next five years.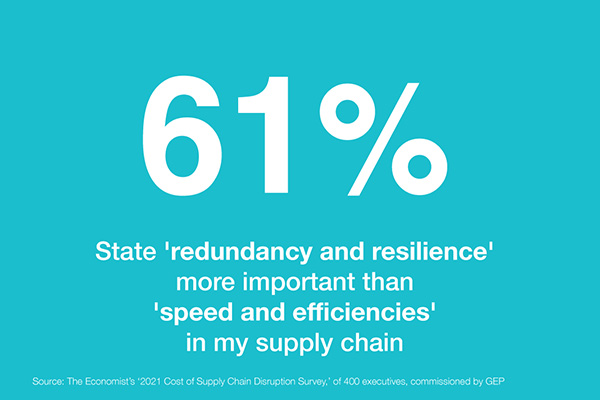 Signalling a major shift in strategy, sixty-one percent (61%) of executives agree that "redundancy and resilience in their company's supply chain are more important than speed and efficiency." Companies are now aggressively pursuing a range of tactical actions to mitigate the impacts of future disruptions, including strengthening relationships with existing suppliers, implementing permanent supply chain risk management teams and processes, accelerating investment in digital technology, and integrating supply chain and procurement more closely with finance and IT.
This is an extraordinary, once-in-a-generation, moment to remake your company's supply chain as an intelligent, agile, resilient, cost optimized, and automated network to drive competitive advantage. To do it successfully, follow these six strategic imperatives:
Build Resilience by Creating End-to-End Transparency: The key to supply chain resilience is close collaboration and visibility with key suppliers and customers by using real-time demand forecasting. Machine learning and artificial intelligence-driven demand forecasting enables a business to react quickly and be demand-led. In the past, forecasts were built on spreadsheets and adapted somewhat over time – often called "variance to plan" or something similar. Software-based "situation rooms" are the future, allowing teams to collaborate in real time and respond efficiently.
Consider 'China Plus One': In a strategy known as "China Plus One," companies are increasingly looking at moving beyond sole sourcing in a single low-cost country such as China. Electronics manufacturers, for example, plan to move 30-40% of their supply chain closer to customers. However, this supply chain repositioning does not mean we should expect many wholesale moves away from China, which today manufactures approximately one-third of the world's goods. A resilient supply chain will incorporate sourcing and manufacturing options beside China, not instead of it.
Sustainable Procurement is Now Essential: The rise in public pressure, activist investors and platforms that track environmental impact means that sustainability is finally a board-level issue. This means making procurement decisions based not simply on economic criteria but also on the implications for society and the environment. Sustainable procurement means actively seeking suppliers with sustainable solutions, rather than passively auditing incumbents.
Build a Post-Pandemic Cost Structure: Sophisticated firms will turn to procurement organizations to strategically negotiate better cost positions from suppliers. Keeping costs low means better ways to manage inventory and distribution in real time, and safeguards cash and investments. Use data-driven demand sensing to protect your company's working capital and cash reserves by ensuring that purchasing occurs only when there is demand and capacity.
Unify Finance and Procurement Under One Model: For many businesses, neither internal spend data nor external market data was available at the speed needed to make informed decisions in the last twelve months. CFOs and procurement leaders must have a unified model that clearly connects budget availability with real-time spend decisions and payment finalization. Known as the budget-to-pay model, it enables companies to turn the levels of spend on and off immediately when global and local economic conditions require.
Automate Software as well as Physical Elements: Recent years have focused on automating physical assets, such as automated vehicles in warehouses. The priority now is to automate processes within procurement and supply chain software. For instance, automating accounts payable can enable faster payments, bolster compliance, and, of course, save time and money, and free up employees to focus on strategic challenges. Similarly, automated Optical Character Recognition (OCR) scanning reduces manual invoice data entry and errors.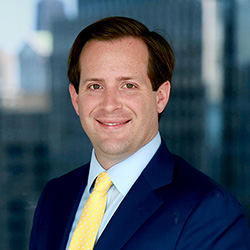 About the Author
John Piatek is a vice president of consulting with GEP and co-leads the consumer goods and retail practice. John partners with leading Fortune 500 firms on strategy, supply chain and supply management initiatives. John is passionate about procurement transformation, growth strategy, performance improvement and cost reduction, end-to-end corporate transformations, and sustaining change.
[1] The Business Cost of Supply Disruption survey of 400 U.S. and European business leaders, published by The Economist's Intelligence Unit (EIU) in February 2021