Read how VELUX achieved more than 30% increase in the performance of their display ad campaigns using external and internal data sources.
Introduction
With the market becoming more complex and customers demanding a personalized experience, data-driven marketing is the only way forward. Companies who adopt data-driven marketing are six times more likely to be profitable year-over-year1.
VELUX, recognized the importance of harnessing the full power of data to offer a personalized advertising experience. They saw that the purchasing decision of their customers depended on several criteria, with the type of the customer's location being the predominant one. For that reason, they decided to invest into a dyvenia team of advanced data analysts who would help them develop the data intelligence required to display a personalized message to their customers.
Impact

[Testimonial]
This initiative has become one of the main pillars of our marketing approach. It's a way of thinking, a guideline for planning our investments, and a data framework that supports always-on digital engagement. And dyvenia plays a significant role in this process.
– Marco Cordioli, Senior Marketing Director South and Lead Initiative Stakeholder
About VELUX
VELUX is a global manufacturing leader with more than 11.000 employees. For more than 80 years, the VELUX Group has been creating better indoor environments by bringing daylight and fresh air into homes and other buildings all over the world. The VELUX Group was founded in Denmark and is today an international company with a presence in more than 40 countries.
Initial idea
Their hypothesis was that the more the VELUX Marketing team understood about their customers and the environment they lived in and the better their messaging architecture would reflect these unique circumstances, the better their ad display campaigns would do.
Their key tenets were:
Their customer's location and other attributes (such as affluence and lifestyle) shape demand for the particular type of their products. ​
For that reason, they wished to adapt their display ad messages to the customer's uniqueness and location.
dyvenia ways of working
At dyvenia, we support companies seeking to maximize the value of their data with the talent and services that help them take their data capabilities to the next level.
We do this by:
Reaching quick wins to build momentum.
Offering flexible business models reflecting the client's unique circumstances.
Augmenting client teams with our talent to get a quick injection of knowledge and skills.
Working transparently to keep the client informed of progress and expenditures.
Our approach
We approached the client's project with a quick win in mind while ensuring complete transparency at every step of the way.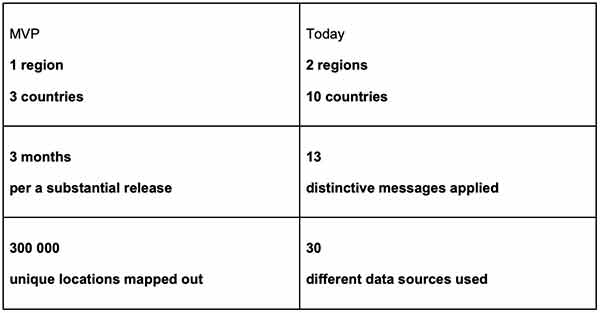 [Testimonial]
"This initiative is showing how significant personalization is for successful marketing efforts. Data has become one of the main growth enablers and with the support of the dyvenia team,we have succeeded in expanding our data capabilities and producing important improvements."
– Martin Kronborg, Customer experience director and Key Region Stakeholder
For more information please contact
Katarina Nahtigal
knahtigal@dyvenia.com
www.dyvenia.com
1 Source: https://www.forbes.com/sites/forbespr/2015/01/08/new-report-shows-data-driven-marketing-drives-customer-engagement-market-growth/?sh=76fbe7f335c0