In a standup factory in America's heartland, Vyaire produced over 19,000 units of critical care ventilators in just over 12 weeks.
A global health crisis. A great supply chain disruption. A shortage of skilled workers. And not enough ventilators for the sick.
That was the position for Vyaire Medical, a US-based global medical device pioneer that helps patients breathe in the spring of 2020. Ventilators are complex devices that combine circuit boards, software, and hundreds of components. At that time, a production line could make five to seven ventilators a day—nowhere near the demand, which was for tens of thousands. People needed ventilators all over the world, and Vyaire was resolute in its commitment to getting them to the patients who needed them, as quickly as possible. The company rapidly optimized capacity and production tripled—an accomplishment that only meant falling behind slightly less fast.
Clearly, the company needed to do things entirely differently. A factory first needs workers, and making ventilators is a precise task, with a single product line requiring some 800 people. So Vyaire hired wholesale from a US aerospace engineering and manufacturing company that had the opposite problem: demand was collapsing. Its employees, many of them furloughed, were highly skilled and accustomed to precision production. Even so, they had to be trained, even as Vyaire devised COVID protocols.
From scratch, in a matter of weeks, it then set up a new factory in Kansas. But a fully staffed factory needs parts to work with, and this was another problem. Component makers had their own challenges, and global supply chains were stressed. The usual enterprise resource planning had to go out the window. Vyaire started a "red list" that singled out where the problems were most acute—and at first, it was not a short one. In one case, a team traveled to Europe to work directly with a manufacturer to raise output of an essential part. It was non-stop problem solving, on everything from testing to shipping to warehousing to fixing the air conditioning—for months.
And it worked. More than 19,000 units were built in the Kansas factory in just over 12 weeks by a workforce that had until then been experts in aircraft structures. At its peak, Vyaire was producing more ventilators in three days than it did in all of 2019.
One can only hope that the COVID pandemic is a once-in-a-lifetime experience. But it is possible—and perhaps even a responsibility—to learn from such moments. In looking back over Vyaire's experience in those weeks and months, here are a few lessons that stand out.
Constantly strengthen the supply base. The complexity of global supply chains makes oversight and risk management almost impossible. But there are reasonably imaginable scenarios that it is possible to plan for, for example using the annual strategic planning cycle to refresh and exercise contingency scenarios. In addition, the use of failure mode and effects analysis (FMEA) can identify stress points. Then there are the logistical problems related to dealing with different time zones and cultures. Digital connectivity and virtual technologies can help but need to be set up in advance. A crisis is the wrong time to test out VR glasses with people on the other side of the world.
Take a hard look at products and processes. Examining design for manufacture can identify practical points to address, such as non-standard material specifications, overly tight tolerances, and overcomplicated assembly. Staying up to date is a lot better than having to catch up in a crisis. The same is true for production processes. Processes that have high instability, low yields, or that are too skill dependent are a set up for no-win roulette when it is time to ramp up quickly.
Invest in data analytics and modelling. Crunching vast data sets can support ongoing operations and improve yield, rate capacity, supply chain lead times, and cost. Enabling analytics and data science teams to build high-quality performance data brings steady improvement in normal times—and constitutes a decisive edge in a crisis.
Remember the human factor. Teams that own performance domains and know how to work together are best placed to solve difficult problems. That is why spending time on talent development and organization values is essential. Only on this foundation can people build faith in each other's competency and trust that they will do the right, best thing.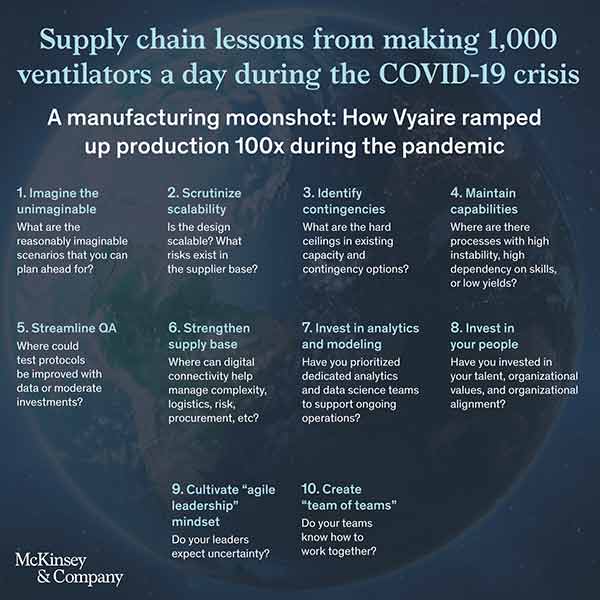 More than two years after the first lockdowns, many things have changed. But COVID-19 is still with us, global supply chains are still far from robust, and businesses are still desperately seeking workers. These lessons, then, are still pertinent.
The specific actions taken mattered, but the larger point is of the mindset that informed them. Vyaire faced a situation in which failure would be reckoned in lives lost, even as it could no longer rely on many established practices. So it invented new ones; it also established new partnerships and managed its people in new ways. In short, it was open to doing things entirely differently.
No doubt there will be other crises to come. To meet them, the most important lesson is to have a sense of mission, supported by a culture of preparedness adaptability, high standards, and trust.
Gaurav Agarwal is CEO of Vyaire. Ron Ritter is partner in McKinsey and Company's Miami office.