ZampleBox offers a subscription services and works with over three hundred brands.
ZampleBox exists to make vaping simpler, more fun, and more accessible. The idea is simple, they offer membership to the world's first and largest vaping club, and membership comes with a monthly delivery of vape juices at wholesale prices. Not only is the idea of a membership club brand new for the industry, but they provide a whole raft of benefits that haven't been seen for vapers before.
Incorporation of community
The most prevalent theme on zamplebox.com is community. Members are encouraged to vote on their favorite vape juices each month, and those votes count towards the 2020 Vape Awards that ZampleBox has curated. Members are actively helping each other to find the best vape juices out there. Not only this, but their website is packed with videos and articles about all things vaping, helping their members to know everything about the industry.
Personally curated service
Each monthly ZampleBox is curated based on your own personal flavor profile. As your membership goes on and you leave reviews about your favorite and least favorite flavors, this information all goes to build up your flavor profile. This means that ZampleBox can make up your monthly delivery using flavors that they know you will like, helping you to discover your new favorite.
Delivering top brands at a lower price
ZampleBox works with over three hundred of the top vaping brands in the USA, so you will have a staggering amount of choice! This is great for vapers wanting to try more flavors and brands, as dependent on where you live you might struggle to get hold of all of these brands individually, but going through ZampleBox means that they are all there for you to choose from.
Because of the membership model, you are also saving a considerable amount of money. It can work out that you are saving up to 67% on the retail price by getting your vape juice through ZampleBox.
Vape juice to your door
Subscription services are growing in popularity all the time, and with good reason. Consumers save time and money by having a monthly delivery of their favorite vape juices straight to their door.
Not only this, but it means that ZampleBox subscribers have no need to go into a retail store for their vape juices, and risk being upsold products that they really don't want or need. With a subscription, there is no pressure, ZampleBox members can add vape juices they might like to try to their order if they want to, or they can simply let their monthly delivery be a complete surprise. It's like having a birthday every month!
Vape school
ZampleBox is passionate about helping people to stop smoking and start vaping. That's where vape school comes in. They provide helpful articles with strategies on how to successfully quit smoking for good.
Vape school also has hints and tips on all other things vaping, from how to stealth vape to what it means if your vape begins to taste burnt. The community at ZampleBox knows vaping, so if you want help and guidance, then they are definitely the people to ask.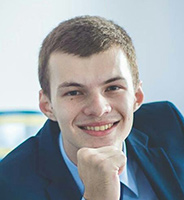 James Daniels is a freelance writer, business enthusiast, a bit of a tech buff, and an overall geek. He is also an avid reader, who can while away hours reading and knowing about the latest gadgets and tech, whilst offering views and opinions on these topics.