Plant managers and manufacturing executives often prioritize differing KPIs – but with IIoT, these teams can align around a single solution.
by: Emilio Machado, Sales Manager, Panasonic IIoT Solutions
In the manufacturing industry, there are essentially two governing bodies with a say in decision-making. While these two entities, plant managers and manufacturing executives, both want what's best for the company, they sometimes have different visions for how to accomplish it.
When looking at the sweeping wave of supply chain bottlenecks, labor challenges and price increases that show no signs of stopping, plant managers are hyper-focused on improving the efficiency of their floor operations. Meanwhile, manufacturing executives who view the 'big picture' and are constantly looking ahead are increasingly experimenting with ways to transform their business and strengthen the bottom line.
To ensure operational success, plant managers and manufacturing executives need to align on a common solution to secure buy-in from employees and stakeholders alike.
Fortunately, thanks to technological advancements in the industry, there's a clear answer. The Industrial Internet of Things (IIoT) can bridge the priorities of each group and bring about both efficiency and organizational change, setting companies on the path to Industry 4.0.
What is IIoT?
Through a network that includes smart devices and sensors connected to manufacturing equipment and tools, IIoT delivers real-time data analytics that can be used to make decisions and take action at various steps throughout the production cycle. For example, electronic devices can be used to direct employees to the location of various assets and manage parts replenishment to eliminate production delays before they occur.
IIoT enables smart manufacturing by ensuring all operators receive updates in real time, as opposed to relying on traditional paper systems to deliver information, a process that's inherently slow and lacks flexibility. By pairing smart technologies with simple, easy-to-understand instruction, IIoT can help satisfy the interests of plant managers and manufacturing executives.
Plant managers
Believe it or not, the most reported factory inefficiency issue is material flow management or getting the right parts to the right place at the right time. Inefficiencies can include late replenishment of parts to stations, inability to change the routing of parts due to operator availability or machine uptime, endless manual counting of parts, failure to detect delivery of work items to the wrong station, and missing or lost assets.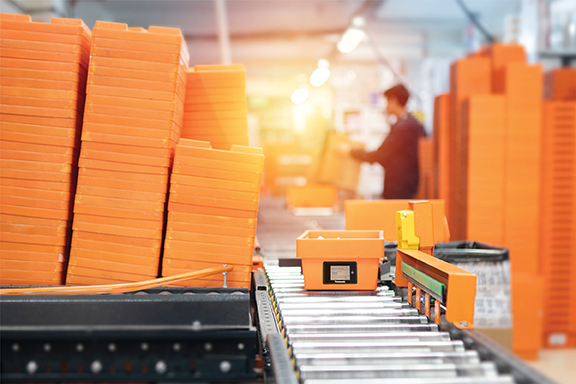 Panasonic's IIoT system, Logiscend, is designed to tackle these issues and more. Logiscend can be applied to nearly all steps in the material flow process, like replenishment, asset management, work instructions, pick and smart container. This platform uses e-paper VIEW tags for visual instruction combined with RFID tracking, wireless capability for easy reconfiguration of picking locations, digital work instructions for what to build and how to build it and intelligent data analytics to control in real time.
With this IIoT solution, plant managers can deliver a positive ROI in only 12-18 months from paper savings, reduction in labor and training time and improvements in line-up time. And as their operations continue to progress beyond the initial investment, the time and money savings only continue to grow.
Manufacturing executives
Meanwhile, IIoT provides an opportunity for executives to fundamentally change the way their business is run. As technological advances in the manufacturing industry make operations more agile, IIoT ensures success for years to come by "future-proofing" the business and moving closer to Industry 4.0.
IIoT improves an organization's operational agility by speeding up innovation and providing the ability to react to changes in the marketplace, such as batch-of-one manufacturing. As customers increasingly demand customized products and offerings, manufacturers are turning to automation to produce smaller batches. The method of just-in-sequence manufacturing that IIoT enables, where components arrive right before they are scheduled to be assembled, makes for a more agile and lean production process.
But that's not all. It also improves flexibility and efficiency, as factories can move to mass customization and batch-of-one at the same cost as mass production. This is made possible due to IIoT's two-way communication and real-time updates, allowing workers to shift production requirements depending on the individual order. Gone are the days of "set it and forget it" – but with IIoT, manufacturers can be confident that their operations are tight enough to manage the stringent demands of batch-of-one.
And with the power of big data, executives can optimize processes based on the analytics they receive in real time.
To ensure the continued success of their manufacturing operations, especially during times of disruption and change, plant managers and executives need to align around a shared vision of the future. To satisfy the vision of both parties, IIoT provides a solution that completely future-proofs and transforms the business while providing short-term efficiency gains.
This strategy is a smart way to direct the organization and gather support throughout the workforce. Rather than defining organizational success in distinct terms, plant managers and executives can unite around IIoT to achieve their objectives.
About the Author
Originally from Brazil, Emilio Machado has over 20 years of experience leading global business development. With a strong passion for IIoT solutions, Emilio joined the Panasonic IIoT Solutions Division to help grow and expand the Logiscend Solution. Emilio has a MS Degree in Electrical Engineering and an MBA from the London School of Business.