Contrary to some people's opinion, trade shows remain a relevant marketing strategy today. This review covers everything you need to know.
Maintaining relevance in the business world today requires a mix of different business strategies. Some start-ups have failed because they failed to use all the tools at their disposal. Exhibiting your products in trade shows might be what you need if you have been struggling with sales through online marketing.
Quality offline marketing has proven to be one of the best strategies in targeting your potential customers. With a well-planned stand, you can maximize your resources and have a good ROI on your investment. You can always find stands contractors who will help design a suitable stand that will attract your customers. Here are some reasons why you should consider trade shows;
Maximize face-to-face marketing
The importance of meeting an actual person during sales cannot be replaced entirely by online marketing. Engaging your customer face-to-face gives you more opportunities to convince them. Gestures like shaking hands, looking into the eyes of your customers give more appeal to your prospects.
This feeling can never be achieved digitally, and this fact is why trade show remains relevant today. You can also meet your existing customers and strengthen your brand's loyalty. This gesture will result in a prolonged relationship between you and your customers.
Increase sales and lead opportunities
Professionals from different industries usually attend trade shows because they want to be acquainted with the latest technology. Business owners leverage on this to display their recent cutting-edge advancements and tools. The opportunity of boosting your sales increases with thousands of attendees looking for solutions to their peculiar needs.
Your trade show displays have a significant role to play in attracting potential customers to your stand. It would be best if you looked out for trade shows relevant to your specific industry or niche. You don't want to display your products in a place with the wrong audience. Your brand can stand out from your competitors with a well-prepared marketing strategy.
Know your industry and competition
One of the best ways to improve your products is by learning from your successful competitors. Trade shows afford you the opportunity of meeting businesses with big names within your industry. You can leverage on this chance to learn new ideas from their product displays and market strategies.
Networking with business partners that share similar values and visions become accessible in a trade show. Moreover, you can use this medium to learn the latest cutting-edge tools and technologies within your industry. This knowledge will keep you abreast of the newest developments that you can incorporate within your business.
Enhance your brand's visibility
Whether you run a small business or own a large corporation, you will find unique opportunities for your business. If you are running a small business, you can use this medium to promote your brand. This feat can be achieved by advertising your company news, products, and mouth-watering promotions.
You can drive great awareness to your brand even if all you can afford is small trade show booths. More prominent companies can drive attention by using a spacious exhibit with well-pronounced designs and hanging structures. Whichever you are, you can always consult with trade shows experts for the best plan.
Display new products and services
Trade shows are the perfect spot for displaying your new products and services. You will be able to connect directly to your target audience and know how they feel about it.
This avenue will allow people to ask more questions about the products. You can leverage this time and carefully describe how your new products work. The explanation will spur interest in your customers and consequently lead to sales even after the show.
Get customer's feedback
Feedbacks about a business is necessary for the growth and improvement of the company. Trade shows are the ideal spot to obtain first-hand feedback on what your customers feel about your product.
The information gathered will be used to improve your products before the next trade show. Giving them a listening ear will show you are highly interested in their satisfaction.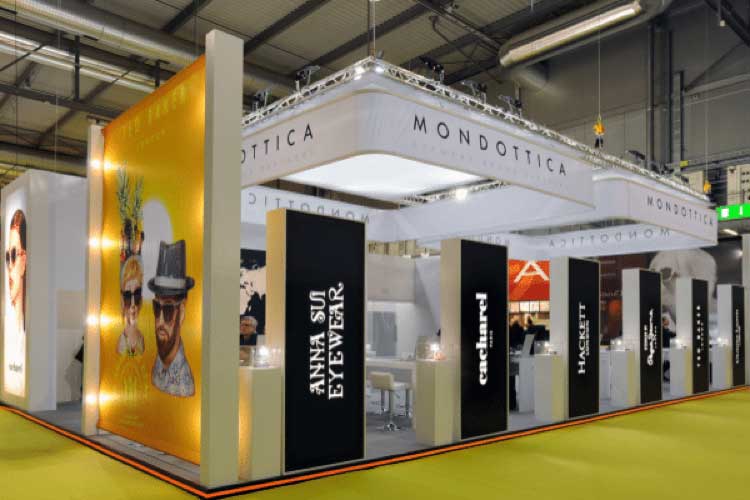 Best Ways to Improve your Stand in a Trade Show
Now that you know the importance of trade shows in businesses, let's take it a step further. Creating a good stand is necessary for attracting customer's attention to your products. These are a few things you should consider when creating your stands.
Using a presentation board
Using a presentation board will quickly attract the attention of your potential customers. You can thoroughly explain how your products will benefit your buyers on the board. This strategy will help you to reach out to more people within a short period. Make sure your presentation board is bright enough for people to see.
Display your company's name template
Displaying your company's name will make you visible to customers who are looking to get your products. You need to place the template in a strategic place where people can easily spot it. This positioning will help your brand's popularity and also attract potential customers.
Use a video show to draw attention
Apart from getting the best booths design for a trade show, it would help if you made sure people's attention is continuously drawn. A video or slide show will quickly attract the kind of attention you need for your display. Different types of racks and stands can be used to mount flat screens for trade shows. Either you are running on a low or high budget, you will find the right one.
In conclusion, the results from trade shows have proven its continuous relevance in our emerging economy over the years. Small and big businesses alike are leveraging on direct contact with customers to drive sales. It is imperative that you also consider maximizing the opportunities available in trade shows.
Ayo is a profession B2B, B2C content strategist. Over the years, I have worked with a wide spectrum of businesses, cutting across several niches, helping them achieve their organizational goals through strategic and well-planned content marketing.