Get your business noticed more easily in a crowded market.
Improved brand awareness comes with an improved amount of trust, too. Consumers need to be able to develop a solid relationship with your business brand while getting to know more about it. Your reputation must be built positively and effectively alongside your traditional marketing efforts and while pursuing an increase in sales.
Trust is the key ingredient for business sales, which means if you're hoping to make a profit and increase your business, you'll need to do everything you can to develop a dependable foundation and positively boost your brand awareness.
Work Openly With Other Trusted Brands
If you're a new developing business that hasn't built a reputation yet, or if you're an established business looking for more awareness, then those trusted brands with a dedicated consumer base should be able to work with you and provide the supportive push you need. Top influencers with a trusted fanbase have a lot of sway over the promotion of new businesses and products. This means that if a popular influencer speaks openly about trusting your brand and working with it, then their fanbase will surely follow suit.
Furthermore, influencers can help promote your brand awareness by posting content and marketing your business on your behalf, alongside your own efforts.
Don't Neglect Your SEO
Improved brand awareness is directly linked to your Search Engine Optimization efforts. That means that if your SEO isn't up to scratch, then your opportunity for increased brand awareness will be at a low. Build your business reputation by organically moving up the ranks within search engine results pages.
You can also seek professional SEO guidance and support from companies such as Searchbloom who can help you move up the rankings at a more tailored pace. You'll always want to aim to be on the very first page of search engine results for your target keywords and business category, even if it is not at the very top, as most consumers will not likely look beyond the first page.
Always Utilize Social Media
Social media is the ideal gateway into increased brand awareness. Social media provides dependable platforms to grow your brand directly within your consumer market, with the opportunity to not only provide great content but to interact directly with your target market. Increasing your brand awareness could be as simple as posting a photo on Instagram, interacting with popular social media personalities, or engaging in a conversation with your consumers through comment sections.
Social media will need to be utilized for full effect to successfully grow your business and you should be constantly strategizing and planning for social media-specific content and scheduling, such as photos, videos, and tweets.
Provide Incentive for Your Consumers
If you're looking for free marketing and improved brand awareness, why not use your consumers to help you? Word of mouth marketing and recommendations are great ways to build your trusted reputation.
A fantastic way to increase the likelihood of referrals and recommendations is to provide your consumers with incentives. This could be a discount offer for any consumer who also refers a friend or any other perk which they can use with a subsequent order.
Social media is also a fun way to do this, as it can include requests to re-post your business content and tag a certain number of people in the post to receive the perk in question.
Look for Guest Content Opportunities
Another dependable method for spreading the word about your business is providing guest content. You could seek out opportunities on the websites or social media pages of influencers or substantial businesses to post engaging content as a guest poster. This allows you to reach out to a new audience and utilize the established consumer following another individual to better promote your own content.
It will need to be interesting and engaging enough for readers or viewers to want to subsequently click on your business website and profile.
Promote More Interaction
Go one step further with your business content and encourage consumers to join in. You could try:
Providing comment sections on website articles or blogs to begin a discussion
Offer competitions and giveaways on social media
Invite consumers to feedback or comment
Provide questionnaires or quizzes relating to your business or product
With the online world now being such a social place, it's more important than ever to get involved and interact with your consumers to increase brand awareness. Alongside your traditional marketing methods like SEO, you should also be looking to start new conversations with consumers as well as seek new opportunities for referrals and content sharing.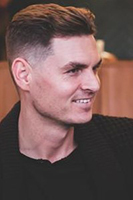 Content marketing and inbound marketing expert, Steve Conway is passionate about discovering new tech which will enhance his already well-honed digital marketing skills.