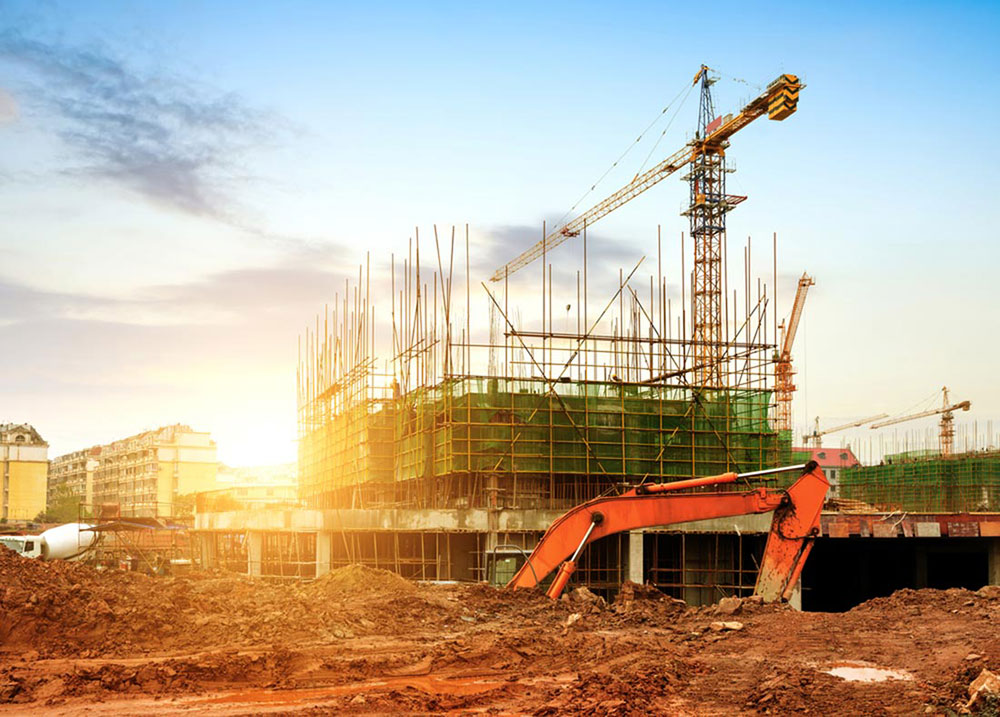 August 28, 2019
By: John D'Angelo, Managing Director, Real Estate Leader at Deloitte Consulting LLP
The industrial real estate sector is headed for a period of slower growth over the next few years, according to new research from the Deloitte Center for Financial Services. Shifting macroeconomic factors, consumer demands and technology evolution are a few key factors driving this decline, but market leaders can still proactively navigate this period of slower growth.
The Deloitte Center for Financial Services worked with Deloitte's U.S. Economics team to develop a model that estimates future demand for industrial real estate, defined as warehouses, distribution centers, flex spaces and other industrial buildings with storage facilities. According to the model, in the next five years, industrial real estate's pace of growth is forecasted to slow to around 0.9 percent annual growth, which is nearly half of 2018's growth rate. Rising availability rates and a higher cost of capital will temper demand growth during an overall predicted slowdown of U.S. economic growth in 2020; however, warehouse demand is still expected to increase between 2019 and 2023, with double-digit e-commerce sales growth driving approximately 850 million square feet of expected additional demand.
E-commerce has historically driven demand for industrial real estate space, and today, retail tenants seek warehouse space to fulfill online customer orders. In fact, according to Deloitte's research, product returns require 20 percent more space than orders. Because customers are three times more likely to return products they bought online than at a brick-and-mortar store, e-commerce will continue to drive industrial demand. Other key drivers of demand include a predicted increase in gas prices, which will encourage tenants to find warehouse space closer to consumers, and a rise in real business inventories, which will require more warehouse space.
Industrial real estate's predicted slower pace of growth is a result of the combination of rising availability and slower demand growth, according to Deloitte's model.
Not only is 510 million square feet of new industrial real estate space entering the market from 2019 to 2020, but owners are becoming increasingly entrepreneurial, creating industrial real estate space where and when it's needed. Some startups are combining underutilized warehouse facilities and leveraging them for seasonal on-demand tenant needs. In general, underutilized real estate such as older officer buildings, parking lots, garages and even churches are being converted into warehouse space.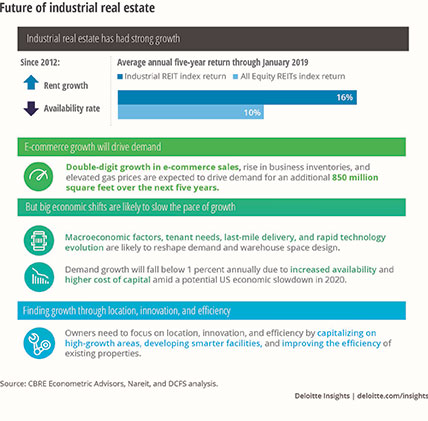 How can industrial real estate property owners stay competitive during this period of slower growth and higher capital costs? They should focus their efforts on innovation — creating smarter, more efficient and more accessible spaces — and on securing warehouses close to population hubs. Tenants and consumers alike prefer technologically advanced warehouse facilities in locations that enable same day and next day delivery.
When determining where to acquire, retain or sell, property owners should take traditional factors into account such as cost and availability of land, labor and transportation as well as newer geocoded data sources that reveal regional online sales, consumer lifestyle and behavior and traffic movement. Owners can enlist the help of specialized firms with predictive analytics capabilities when building out these data sets.
More than a third of warehouse properties in the United States are older than 50 years and need to be upgraded or retrofitted. There are many ways to make properties more efficient and sustainable: raising the height of ceilings to allow for more dense storage, adding more cross-docks and doors to facilitate faster deliveries, improving connectivity with energy grids and investing in renewable energy sources.
In addition to improving the efficiency of existing properties, tenants should consider "smarter" facilities. It is increasingly possible to integrate advanced robotics into warehouse operations to assist with outgoing deliveries and processing returns. Effective warehouse management will require seamless integration of robot capabilities into the existing space and operations. Lastly, consumer predictive analytics capabilities can improve sales forecast accuracy, customer profiling, ensemble modeling and future demand scenarios. Retailers will then have greater insight into their customer-driven supply chain, so they can improve their inventory optimization.
Although demand growth is expected to slow down in the short term, the secular changes that have historically shaped the industrial real estate market — including the rise of e-commerce, consumer demand for easy and quick deliveries and returns and the rise of advanced robotics in warehouses — will remain the same. Owners and tenants should view the next few years of slower growth as an opportunity to differentiate themselves in the industrial real estate market by focusing their energies on smart, integrated and efficient properties close to large urban population areas. Acquiring, maintaining and expanding such properties can be the key to success over the next few years during this slowdown of demand growth.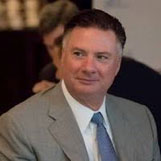 John leads the U.S. real estate sector at Deloitte Consulting LLP, where he is focused on operational transformation, working primarily with real estate operating companies, investment managers and service providers. He has more than 25 years of experience successfully delivering a variety of strategy and implementation engagements to investment managers, institutional investors, corporate occupiers, developers, real estate service providers, REITs and owner operators. Contact – johndangelo@deloitte.com