Industrial company leaders need to decide on areas for digital investments that will help outmaneuver uncertainty.
By Nigel Stacey
Research shows that almost 80 percent of industrial companies aren't getting the financial returns from digital they expect. This was true before, but the COVID-19 global crisis has only exacerbated the issue. Investments in digital are crucial to help industrial businesses outmaneuver uncertainty. The right investments offer opportunities to build resilience into production, operations and IT systems, keep workers safe, and enable an industrial digital workforce – if companies can overcome three challenges that predate today's "never normal."
Conflicting value definitions, competing departments, leadership
Many industrial companies have varied and sometimes contradicting expectations of the value that digital technologies will generate. In a 2019 Accenture survey, 1,550 company leaders shared what value will look like for their businesses over the next three years¹. They pointed out 30 different value areas – and at least one in ten respondents ranked one of these in their company's top five.
The data also indicates that this "value diversity" transpires within companies. For example, some supply chain leaders saw the most value from digital in achieving "quality & reliability," whereas, for production departments, it was "price competitiveness." But if functions define value as they see fit, the firm may make inconsistent and redundant investments in digital technologies. Departments create value for themselves rather than the company; functions transform, but the company doesn't.
The effects can be severe, and we are seeing them across industries. A large carmaker had to recall close to half a million vehicles, two-thirds of which suffered from serious software glitches. Why? Because several of the company's business functions had been competing rather than collaborating – and everyone was focusing on digitizing their parts without paying attention to the whole vehicle.
This lack of collaboration can stem from inexperienced leadership. Like so many other organizations, industrial companies tend to appoint leaders assuming they have the required skills. However, extracting lasting value from digital can be complex and cumbersome. Companies need to prepare and coach new and existing leaders in how to reap the benefits from digital, through all levels.
Many businesses also develop and deploy digital using the playbooks of decades past. Industrial companies are no exception. In fact, they may be extra prone to it, considering the long lifecycles of the machines and systems they use. As a result, leaders can become set in their ways when it comes to how things are properly planned and executed.
Lead, execute, persist
Of those issues, the most critical one to get right is leadership. Driving value from digital requires exceptional execution skills, staying power and the ability to keep the organization and its people energized. This is especially important in industrial companies, where many projects cost hundreds of millions of dollars and take years to plan and execute. It also means not giving in to a certain corporate laziness that tends to affect significant transformations and claim success too early.
Investing wisely in digital to build resilience
Business leaders' first priority during this crisis is to protect the health and welfare of people, whether it's employees, customers, or the communities in which a company operates. As the time of uncertainty continues, leaders also need to decide where digital investments are most likely to help the business weather the current situation and make it future-proof. They should consider prioritizing one or more of the following three areas:
Production and operations: Companies with digital platforms, accessible data and advanced analytical capabilities can respond more quickly, accurately and successfully to disruptions. Building manufacturing resilience requires investing in, for example, analytics and data-driven scenario simulation and modeling, advanced network analysis, remote operations centers, and physical automation and robotics. As supply chains are being disrupted on a global scale, industrial companies need to prioritize investments in advanced analytics, artificial intelligence and machine learning to ensure full transparency and responsiveness across the supply chain.

Investments in robotics can help with building resilience into manufacturing.

Industrial digital workforce: Enabling the industrial digital worker will be critical. For example, faster deployment of head-mounted displays and mobile devices can provide onsite workers with remote access to off-site specialists and personnel where collaboration is needed. To increase worker safety on industrial sites, automated capture and risk analysis of data from gate entry tests and other IoT biometric inputs can lower the risk of exposure. For support functions, leaders should ensure that their companies implement 'no-touch' business services – through intelligent automation and robotic process automation. They will also need to invest in building a human+machine workforce that makes transactional processes more digital.
IT infrastructure and systems: The above changes will stress existing IT infrastructure and systems to the limit, making building resilient systems a priority. These systems are able to operate during a significant disruption or crisis, with minimal impact on critical business and operational processes. This means preventing outages, mitigating their impact, or recovering from them. Steps to build more resilience into systems include investing in automation, cloud optimization, limiting performance constraints and cybersecurity.
¹ These results are from an unpublished study conducted before the COVID-19 outbreak; Accenture will present it later in 2020.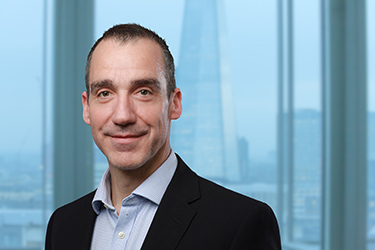 Nigel Stacey is the global lead of Accenture Industry X.0, the part of Accenture that uses digital technologies to improve how companies design, engineer and manufacture products and services, and operate industrial facilities. A veteran strategy consultant and industry executive, Nigel has been spending more than 25 years working across a variety of industries from aerospace and defense to consumer electronics in three core roles: leading global operations and supply chains, building new business start-ups, and heading strategy, mergers and acquisitions.