Volume 4
| Issue 4
| Year 2008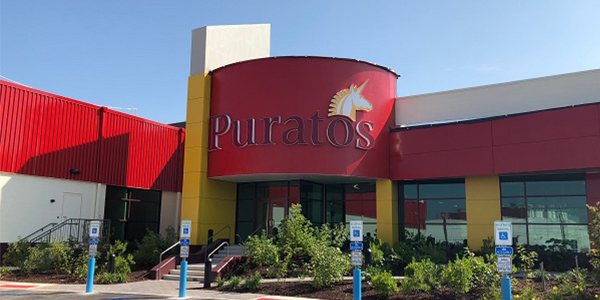 As a subsidiary of the multinational Belgian-based ingredients supplier, Puratos Corporation USA and Puratos Canada Inc. partners with a range of bakery, patisserie and chocolatier customers to develop integrated solutions to improve their products by making them unique, authentic and relevant. The company doesn't make the baked goods themselves – but it does make them better.
"We deliver authenticity in an authentic way," notes Benoit Keppenne, general manager. "This is accomplished through new technologies that improve the baking process, making it faster and easier and more economical, while at the same time creating a distinctive product that doesn't look or taste mass produced.
We just aren't merely an ingredients supplier, though of course we do that. Equally as important is that we research consumer trends, develop products that respond to those trends, and then partner with our customers to help them satisfy and exceed these consumer expectations."
How does Puratos accomplish all that? First off, by providing ingredients that have top quality and guaranteed results. Then, by training customers in the recipes and baking processes to ensure the results are attained consistently and providing whatever support they need to make the very best products that satisfy consumer taste preferences. Puratos ingredients are part of an integrated solution that keeps its customers on a growth path by improving their ability to, as Keppenne puts it, "delight consumers."
"We're an ingredients manufacturer that knows how to make bread and pastries – that's how we take our products to market," notes President Karel Zimmerman. "We employ the best and most passionate bakers in the industry."
Puratos was founded in 1919 in Brussels, Belgium, originally to sell ice cream and confectionery mixes. In 1923, it made the first ever branded bread, called Pura Malte. About 50 years ago, it began making bakery ingredients and semi-finished products, including emulsifiers, enzymes, sourdoughs and other flavorings, yeast, bread improvers and mixes. The company also introduced the first ever complete bread improver, which became the industry standard in the bread improver category; when someone refers to a bread improver, they more than likely are using Puratos.
In addition, Puratos makes a variety of patisserie and sweet products, which encompass various cake mixes, fruit and cream filings, flavorings, icings and glazings, mousses and non-dairy toppings. The company is also, according to Keppenne, "the only true Belgian chocolate-maker. Our Belcolade subsidiary provides ingredients that reflect the real art of chocolate-making that result in the powerful yet refined flavor that is distinctly and uniquely Belgian because we're the last company to use only the very best cocoas and pure cocoa butter – and nothing else." Belcolade chocolate is available in dark, milk or white forms, and in organic and sugar-free varieties.
Puratos employs about 5,000 people worldwide and operates 54 production plants. In Canada, the company employs 71, and in the United States, 350. Canadian operations are headquartered in Mississauga, Ontario; the U.S. group is based in Cherry Hill, N.J.
"While Puratos is organized by separate geographic groups, it's not unusual for one group to pull resources from another," explains Canada/USA Regional Marketing Director Vikram Verghese. "In fact, that's one of our strengths as a global company. And, as big as we are in terms of worldwide coverage, our range of solutions is developed to suit local market requirements and relevant to the operations of the local corner specialty baker as they are to a worldwide industrial baker."
Better, Healthier Baking
He adds, "This is really where we distinguish ourselves from other ingredient manufacturers – our dedication to work directly with the baker, regardless of whether it's a single proprietorship or an industrial or chain store, to better differentiate their product. We scale our solutions to the needs of the individual customer."
Whatever the economic conditions within individual countries, and whatever effects that may have on consumer spending, Keppenne believes that demand for quality breads, pastries and chocolates is largely unaffected.
"Consumers today are demanding more authenticity, though ironically at a time when the demands of the marketplace make it difficult if not impossible to deliver with traditional production methods. Today's bakers simply don't have the time. And they don't have the requisite training. Our products and processes enable bakers to achieve old-style authenticity with the speed and cost-efficiency of modern methods."
Verghese attributes this continuing to grow consumer sophistication to two trends. In the U.S., in particular, it's no longer an "only white-bread" culture. "People are traveling more as well as being exposed to different culinary and baking traditions at home. At the same time, consumers are more becoming more health conscious, looking for a wider range of tasty and affordable choices in terms of whole grains, natural and organic varieties."
Indeed, according to a company press release, "Knowing that consumers are attaching more and more importance to the quality of their food and also being aware of the problems of obesity, diabetes and other cardiovascular problems in our society, some years ago, Puratos developed a concept called 'Great Taste and Wellness,' offering products whose nutritional characteristics meet the expectations of professionals and consumers today.
Puratos researchers have, notably, created bread based on dietary fibers in oats, which, consumed in the required quantities and at the desired frequency, actually contributes to reducing cholesterol levels. This is a world's first! The positive effects of this bread have been measured in various clinical studies over several months. Puratos also offers ingredients for cakes that are low in fat, chocolates with no added sugar as well as numerous other products whose philosophy is simple: because a product is good for the health it should not be lacking in taste and be exorbitantly priced. Particular attention is therefore paid to the taste of these products, their nutritional benefits and their contribution to well-being."
Rising Business
Indeed, according to "The New Breed of Bread" in the February 2007 Milling & Baking News, key factors that determine consumer choices are not cost, but rather taste, nutrition and convenience. "Even at the peak of the low-carb Atkins diet, premium breads were enjoying double digit growth," Verghese points out, "so, while we're not totally immune from larger economic and diet trends, for the most part our business continues to rise, even during tough times, because our customers know they can rely on us to provide the good quality, superior ingredients and training support they need to satisfy current and future consumer appetites."
As an example of the value Puratos offers, Keppenne points to its range of sourdough innovations that, while based in the roots of traditional baking, nevertheless offer bakers time- and labor-saving techniques in addition to consistent quality.
"Sourdoughs are one of the hallmarks of artisan breadmaking, but it's difficult and time-consuming, because of the longer fermentation process, to make good sourdough bread. Our 'O'tentic' bakery component is a natural sourdough using origin-based ingredients to achieve the aromatic taste of the southeastern France and southern Italy regions, with an open crumb and crispy crust. O'tentic mixes perform like an active sourdough and eliminate not only labor intensiveness, but also human error. In addition, the bread has greater shelf life and stability compared to traditional sourdoughs. There are no special skills required to bake O'tentic sourdough bread, but at the same time deliver a unique artisan quality product that consumers love."
He adds, "Tastes in bread, as in all foods, evolve. You have to be on top of what the next trend will be. Another way we save bakers money and time is that instead of their investing into research and development to ensure their product lines remain current, we do it for them. We're continually offering new artisan mixes and bases that enable bakers to offer what consumers want today, and in the future, with minimal or no investment on their part."
To this end, Puratos employs some 300 people and devotes more than 5 percent of its annual operating budget to research and development. "That's a significant percentage," Keppenne notes, "and unequaled in our industry. But, the investment is absolutely necessary."
In addition, the company also supplies to supermarkets, which forces the company to prove itself as a knowledgeable baker in addition to ingredients supplier. Explains Zimmerman, "They say, 'You don't produce bread; how can you know so much?' We have 10 different and differentiated bread flavors, including wheat and rye, and we can combine these to make a supermarket's product different from and superior to others. We'll either talk with bakery vendors who supply the supermarket or someone else who we feel can efficiently supply them with the product."
He adds, "We've invested in a 10,000-square-foot flavor plant and we make the flavors there that the baker adds to the dough in either liquids or spray form. They're all natural and preservative free." The plant is a $2 million investment and is located in Pennsauken, N.J. "This flavor plant is the only existing one in the United States and another example of our commitment to investing in and developing products for the local market. Our goal is to stand out from the crowd and show bakers all the possibilities available to them. We are the bread experts."
Keppenne adds, "We're just like every manufacturer in that we have to cope with increasing raw materials costs. As a large company, we can reduce that expense by buying in large quantities and taking advantage of bulk discounts. However, Puratos does not compete solely on price. Primarily, we compete in terms of value-add. We feel that in this respect, we are unparalleled. We continue to innovate, and we have a number of new products in the pipeline for 2008 that will help our customers continue to satisfy and delight the consumer."
At Puratos, such a consuming passion for quality processes and ingredients helps bakers ensure they can well serve a healthy consumer appetite.