Members of the supply chain can reduce the impact of the bullwhip effect by taking the appropriate steps and implementing the right tools.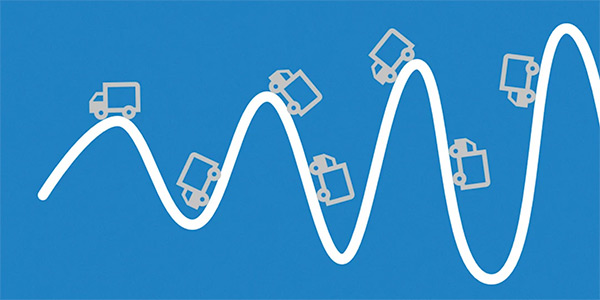 By Peter Edlund, VP Product Management, TrueCommerce
In a supply chain, the bullwhip effect occurs when each party gradually escalates an initially small spike in demand. Each member of the supply chain overcompensates for this demand with excess product, leading to increased production, inaccurate demand forecasting, and inconsistent inventories. Let's look at the impact of the bullwhip effect on supply chain management and what you can do about it.
What Is the Bullwhip Effect in Supply Chain Management?
The bullwhip effect is the distortion of demand and increased volatility that occurs as forecasts and orders move from the retailer up to the manufacturer.
When a spike in demand occurs, each party in the supply chain adds additional products to their orders to act as a buffer. When one party does this, it serves the necessary function of ensuring in-stock products. However, when everyone does it, the result is inaccurate forecasting, stock hoarding, overstock inefficiencies, and out-of-stock products later.
This amounts to periods of both overstock and low stock and unpredictability throughout the supply chain.
How the Bullwhip Effect Impacts the Supply Chain
The impact of the bullwhip effect on supply chain management is significant and includes:
Storage costs: You must pay for physical storage space, the inefficiency of storing items that may not be in high demand anymore, and the cost of transporting and selling the items, which could be steep if you must discount the products to get people to buy them.
Increased labor: You must pay employees to handle, sort, and sell additional items on-hand. Similarly, if a seller runs out of stock, salespeople may need to work harder to locate alternatives or arrange for deliveries later, which can add up.
Unmet customer expectations: Whether you're trying to meet the demands of consumers or other supply chain members, being unable to provide products can upset your customers, make you look less reliable, and cause some of them to look for new partners or brands.
Waste: Excessive inventory can cause costly waste. This can reduce the items' value, increase the number of resources required to sell them, or cost you the price of an item that needs to be thrown away.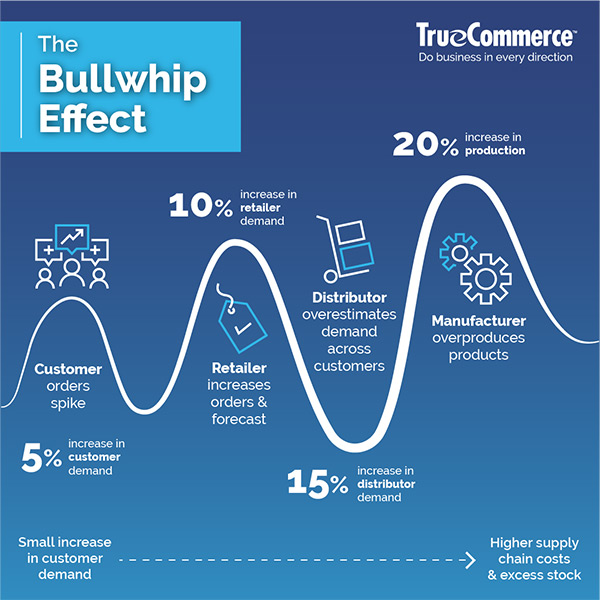 How to Control the Bullwhip Effect
If you can keep the bullwhip effect to a minimum, you can ensure more predictable and profitable supply chain management. Here are some tips on how to reduce the bullwhip effect.
Increase Transparency Between Suppliers and Customers
The bullwhip amplifies because supply chain members don't have a full picture of why buyers are increasing demand. Improving visibility across the supply chain can help everyone see the context of demand changes.
Some tools that help include:
Electronic Data Interchange (EDI): EDI systems can automate business processes and streamline tasks, such as ordering, sending shipping notices, and invoicing – speeding up communication, increasing visibility, and improving relationships.
Vendor Managed Inventory (VMI): VMI programs let suppliers receive real-time sales and forecast data from their downstream partners. Using VMI, suppliers can plan for a new shipment to arrive at the right time to minimize both stockouts and overstocking.
Internet of Things (IoT): IoT sensors that connect to your system can provide real-time information about stock counts and product locations. Greater transparency for the company can translate to greater transparency for partners throughout the supply chain.
Supplier Enablement portals: Portals allow easy integration with EDI solutions, as well as web EDI interfaces, so those who use and don't use them can work harmoniously with each other's systems.
Start Predicting
Predictive analytics use advanced algorithms and calculations to interpret historical trends and current events and generate forecasts of future trends. These programs can range from simple to complex, many using artificial intelligence (AI), but all of them rely on high-quality data.
Encourage Collaboration Between Partners
Robust collaboration is one of the best defenses against the bullwhip effect, which generally comes from disconnected inventory practices.
Reduce Lead Times
Long lead times can exacerbate the bullwhip effect, with products arriving far after they're needed and becoming overstock. Reducing lead times across the board and placing orders when demand is high can mitigate bullwhip issues. Correctly calculating lead times can help ensure better order fulfillment and less customer disappointment.
Minimize or Address Price Fluctuations
If you frequently run promotions or discounts, you may be disrupting typical buying patterns and have more trouble predicting demand. Evaluate your stance on these promotions and see if they might be causing more interruptions than benefits.
Implementing the Right Technology
The bullwhip effect can quickly get out of control and hit every part of the supply chain with adverse effects. Visibility and transparency are some of your best resources for fighting the bullwhip effect, and the right platforms can help you find both. Visit www.truecommerce.com to learn more.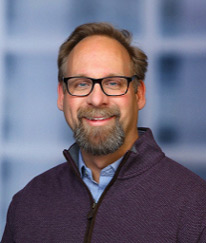 Peter Edlund is VP of Product Management, retail at TrueCommerce with over 25 years of experience helping organizations in retail and consumer packaged goods (CPGs) leverage B2B integration throughout their supply chain by using data standards and technology to automate complex order and fulfillment process.
Peter is actively involved in industry trade and standards groups such as NRF, GS1 and RVCF. In addition, he is currently an advisory board member to the Center for Supply Chain Research at Lehigh University where he actively participates in industry research.
Peter is a veteran of the U.S. Navy and attended Central Texas College and Embry Riddle Aeronautical University where he studied aviation and business management.