To stay atop of this progress, manufacturers are now looking to partner with software companies and IT solutions experts who can help implement the innovative technologies needed to develop and enhance automotive capability.
However, the auto industry continues to face a multitude of challenges and increasing pressure from competition, instability, and market shifts. One way to put these issues in the rearview mirror is by introducing and investing in Big Data and analytics – two important Digital Age technological advances can help overcome the road blocks that automakers face in today's market.
The car is now another piece in the Internet-of-Things (IoT) puzzle. Cars are increasingly becoming devices that are able to both send and receive data, which is interweaving the act of driving into the daily digital experience. Cloud computing networks, Big Data analytics, and advanced sensors can provide automotive manufacturers with access to new types of real-time data from cars and other vehicles. This stream of data empowers automakers with critical insights into both their products and customers.
We've seen quite a progression when it comes to the levels of connection and automation integrated into our vehicles. The first generation of connected cars focused on extricating drivers from sticky situations on the road, for example, being equipped to help drivers who were lost or experiencing a break-down. The second wave of automotive development has focused on connecting the dashboard to our smartphones for real time traffic information and navigation, and to keep our focus on the road with text dictation and hands-free access to the car's features.
The next advancement will integrate the automobile into our day-to-day digital lives, leveraging technology in order to assume more responsibility for driving tasks. While the prospect of autonomous driving is still on the horizon for most of us, in the meantime cars will begin to sync more and more with other IoT-enabled devices – even other cars. Eventually, we will come to view our vehicles as true technology hubs, where digital features are no longer a novelty but an integral part. With cars equipped for increased access to the internet, they will become even more resilient, as they will inevitably be easier to repair and update.
Think of a driver who cannot see a stretch of black ice on the approaching road. If their car is connected to the dashboard systems of other cars around them, they could share, read, and analyze sensor data from the vehicles ahead. Hence, drivers who cannot see the ice could be protected by data from their fellow drivers, as their connected cars could automatically take action to prevent a loss of control and make a dangerous collision less likely.
Connected cars not only have advantages for the consumer, but for producers as well. These vehicles can send performance data to back to their manufacturers, which will enable them to use analytics to identify key patterns and detect faults before they emerge. Some cars will even be self-aware enough to stream real-time information about their mechanical health and geographical position.
Scrapping old legacy systems and investing in modern digital systems will open the door to improved efficiency, better customer experience and increased vehicle safety and reliability. Utilizing Big Data systems has the potential to catalyze automotive performance improvements, while also reducing support and maintenance costs.
All major auto manufacturers should be committed to the connected car movement in some way. As the automotive industry picks up technological speed, cars will be installed with more apps, more sensors, and more automation. Growth in the auto industry will continue to be a prosperous trend in the coming years. As more and more manufacturers head down the path to digital, the businesses that understand this reality will reap significant benefits by partnering with technology experts that can help them navigate the evolving automotive landscape.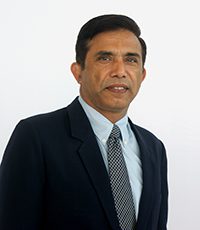 Avinash Salelkar is Vice President and Head of Syntel's Manufacturing, PLM and Engineering Services Business Unit.
In this role, he is responsible for daily operations of the Manufacturing business unit, including service delivery, talent development, customer satisfaction and customer relationship management. He is also responsible for developing the business unit's service offerings for Syntel's manufacturing clients.
Avinash began his career at Tata Motors, where he worked in multiple functions across machine maintenance, commercial vehicle production, passenger car sales, service and parts.
Later, he held a number of positions at TCS in the manufacturing business solutions group, and was responsible for setting up TCS's Sourcing & Manufacturing business. Most recently, he headed the Engineering Services business across 11 global delivery centers for Geometric.
Avinash holds a Bachelor's Degree in Mechanical Engineering from IIT Delhi.