By keeping Product Lifecycle Management (PLM) current, companies can be more resilient and agile.
Digital transformation is an increasingly critical business strategy and, while Product Lifecycle Management (PLM) is the essential element to executing it, digital transformation can become next to impossible if you let your PLM become obsolete—that is, when you don't upgrade to keep current.
The reason PLM software becomes obsolete is because it was written as Out-of-the-Box (OOTB) software on a rigid architecture. The customer invariably has to customize their PLM software to meet critical business requirements, and this causes the solution to be locked into a given place in time.
According to CIMdata's recent PLM Upgrade Study, the average number of years between customer upgrades for three of the leading PLM vendors is over eight years.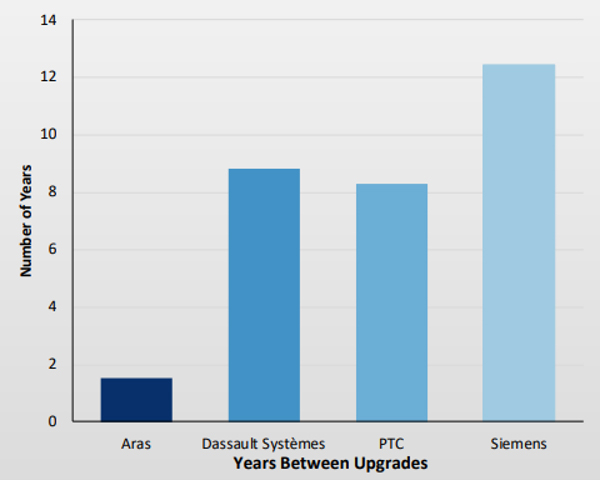 Even if out-of-date software is enough to meet your current business requirements with some degree of consistency, those requirements will certainly evolve, and your ability to evolve with them will fall years behind and continue to diminish.
As the years tick by, there are also the missed value opportunities as your business can't capitalize on new features and technology, much less support critical features like an end-to-end digital thread. Businesses stuck on obsolete systems are instead wasting the time and energy of their users by forcing them to inefficiently search for information and collect it in disparate ways. Take that loss of time and energy across all your users and compound that by an average of eight years, and we're talking about a major impact on your bottom-line profits and top-line revenues.
A lack of commitment to regular upgrades can, and almost surely will, kill digital transformation efforts. You cannot expect to change your business with a digital thread, digital twins, and other newer technologies if you are locked into the past with an obsolete PLM system. What has not worked is implementing cool new industry 4.0 technologies on obsolete and disconnected PLM systems—one of the leading causes of digital transformation failures. The only answer is a flexible, sustainable PLM platform with a digital thread.
Companies have their reasons for not upgrading their PLM—the mistake is in letting those reasons become justifications to keep their business on obsolete software. One of the primary reasons companies don't upgrade their PLM systems are prohibitive costs that translate to longer ROI, as shown in the following diagram from CIMdata's Upgrade Study.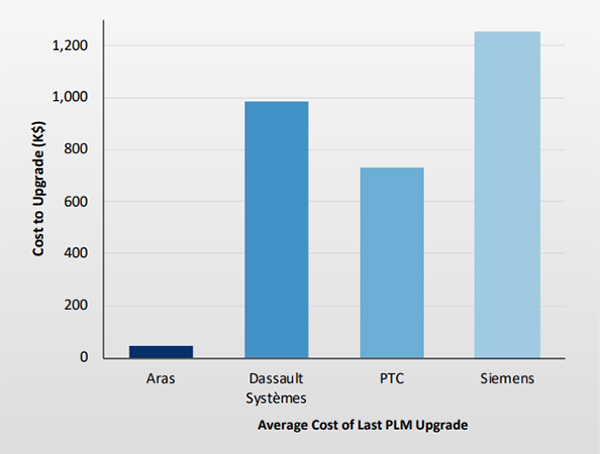 It can be difficult to justify the higher costs when your legacy systems are already burning the massive hole in your budget called "technical debt." Additionally, the time to execute an upgrade that, in many instances, is a combination of migration and redeployment, can take between 11-14 months with some vendors, greatly delaying time to value.
Another major issue with delaying PLM upgrades is that it can hinder your digital transformation efforts. Not only is PLM software managing your product lifecycle, it is a digital transformation platform driving your digitalization initiatives while sunsetting legacy applications. PLM platforms should have the ability to quickly build low-code, industrial-grade applications, thereby reducing your technical debt, increasing your digital thread, enabling even greater collaborative productivity, and freeing up a greater percentage of your IT budget that can then be targeted at innovation.
It's critically important for digital transformation success to ensure upgrades are executed at consistent intervals. Upgrading must be understood as a continual process rather than a high-intensity and costly event that occurs once ever eight to ten years. Keeping current enables your organization to eliminate obstacles and realize their vision, and as companies continue to upgrade every year, so too will their vision upgrade.
To make digital transformation a continuous process, organizations need to regularly update their PLM platform to take advantage of the latest capabilities, enabling individual contributors to be more productive. With each upgrade, as your platform and digital thread expand across the extended enterprise, it empowers your entire company to increase their collaborative productivity and make better data-driven decisions, resulting in greater efficiencies, better speed to market, improved quality, reduced costs, and stronger security.
Choosing to stay current on a PLM platform that can continually drive your ability to digitalize your product ecosystem, expand your digital thread, reduce your technical debt, and improve your collaboration will result in making your business more resilient and able to adapt with agility to the disruptions and opportunities that no PLM software vendor can predict. The key is a sustainable, resilient architecture.
Mark Reisig is the director of product marketing at Aras. Prior to joining Aras, he was a senior director at General Electric, where he spent 12 years in leadership positions designing and delivering global PLM, Digital Plant Design and Digital Transformation initiatives across several divisions. In his current role, Mark is responsible for leading the product marketing team in creating and positioning messaging for the Aras Platform. Mark graduated Cum Laude from the University of Maryland University College, receiving his bachelors degree in technology and management.