Volume 3
| Issue 1
| Year 2007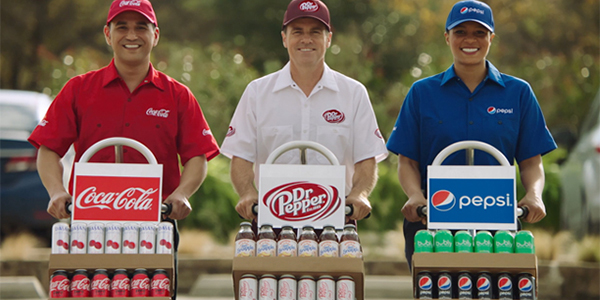 The American Beverage Association (ABA) has been serving the non-alcoholic beverage industry for more than 85 years. Based in Washington, D.C., ABA exists to represent the industry as a whole on myriad issues to a variety of audiences, including policy-makers, the media and the general public.
As Americans' tastes have evolved, so have the companies that comprise the beverage business. Though best known for classic colas, the best-known brand marketers in the beverage business have built portfolios designed to meet the needs of a constantly changing American thirst.
Since the early 1990s, these companies have provided soft drinks, diet soft drinks, bottled water, 100 percent juice, juice drinks, sports drinks, ready-to-drink teas and more – an array of beverage choices unimaginable even 20 years ago. And these choices have come about through an assortment of innovations in product categories simply because consumers have sampled beverages, liked them and demanded them. Whether it's a vitamin-enhanced water, 100 percent juice fortified with calcium, organic tea or diet soft drink, these – and many more – beverage products thrive because a thirsty nation has embraced them.
We are a proud industry dedicated to serving the consumer and meeting the demands of their tastes and lifestyles.
Our member companies offer good products that families and children have enjoyed for generations. But our commitment to the consumer goes beyond the products we offer. It goes to helping our products fit into their lifestyles and being strong corporate citizens.
Leadership on School Health & Wellness
ABA and its members are leaders in many ways, not just in the field of innovation. In May 2006, the beverage industry was the first industry to enter into an unprecedented coalition with the American Heart Association and the William J. Clinton Foundation to develop new School Beverage Guidelines. Teaming with the Alliance for a Healthier Generation, this monumental initiative limits calories and increases nutritious offerings in beverages in schools. It is all part of a broader initiative aimed at teaching kids the value of balanced diet and exercise.
Depending on the school level, students may choose from bottled water,low- and non-fat regular and flavored milk, 100 percent juice with no added sweeteners,light juices, sports drinks and no- or low-calorie beverages. Applauded by both lawmakers and parents alike, the guidelines put ABA in the lead on school wellness.
As part of this effort, ABA members Cadbury Schweppes Americas Beverages, The Coca-Cola Company and PepsiCo launched a national advertising campaign to educate about the guidelines. Developed to inform school officials, policy-makers and parents about the guidelines, the ads feature regular teens in the school environment, addressing the subject of nutrition in an interesting and fun way. In addition, this effort marked the first time the three major beverage companies have united on an industry ad campaign, underscoring their commitment to the School Beverage Guidelines.
InterBev 2008
ABA is also proud to bring the beverage industry together for the industry's premier tradeshow, InterBev. This bi-annual event brings together a wide range of industry members and non-members to collaborate on current issues and showcase their latest innovations.
And so, the modern beverage industry moves ahead in many directions to keep pace with changing consumer drink patterns. It's an exciting road ahead and one that ABA is looking forward to traveling into this century.
Leading in Environmental Stewardship
Working to educate our school children about the importance of a balanced diet and exercise is just one way we are having a positive and lasting impact on their lives. ABA and its member companies also are making environmental strides by supporting comprehensive recycling programs across the country, reducing product packaging and protecting our nation's water resources for today and the future, to name a few.
Recycling
We are proud that beverage containers are among America's most recycled consumer packaging. In fact, the aluminum beverage can is the most recycled consumer product package on the market today. Currently, more than half of all aluminum beverage containers are recycled. Aluminum cans also are the most valuable commodity in the waste stream, so revenue from the sale of collected cans helps support recycling programs all over the country. PET (plastic) beverage containers also are widely recycled and very valuable for communities and recyclers. Glass beverage containers can be recycled over and over again, and are in great demand in the areas around glass processing plants in the United States.
ABA has long supported recycling initiatives and we want to continue improving recycling rates in America. In 2006, ABA became a founding member of the National Recycling Partnership, a historic coalition created to reinvigorate recycling in America. Along with members including the National Recycling Coalition, the U.S. Environmental Protection Agency, the Food Marketing Institute, the Grocery Manufacturers Association and the International Bottled Water Association, we aim to revive consumers' interest in recycling by educating them on what, how and why to recycle. In fact, a top priority for the National Recycling Partnership coalition will be to develop consumer-friendly recycling icons and create consumer-friendly recycling terminology that everyone can understand.
Packaging
Packaging produced by ABA members represents only 1.7 percent of all municipal waste generated each year. Even still, we are working with our companies on new ways to produce recyclable packaging and reduce the amount of packaging used through techniques like lightweighting. We know that if we, as an industry, use less packaging to begin with, we can successfully reduce our overall environmental footprint for everyone.
Water Resources
The importance of water to all of us cannot be understated. Because water is a critical resource in our communities, the beverage industry's stewardship over the water we use is one of our most pressing concerns. It is our responsibility to ensure that the water we use in our products and to produce our beverages is used in the most efficient manner possible.
Thus, our industry works to utilize and manage water resources in a responsible manner by investing in the best science and technology to improve water quality, strengthen water conservation practices and to bottle water in a way that best serves the environment.
Susan K. Neely is president and CEO of the American Beverage Association. For more information on ABA or InterBev 2008, please visit: www.ameribev.org