The facility showcases the unique benefits of building a modern factory customized to innovating product designs.
At Kids2 we have been inventing baby toys and gear for over 50 years, delighting babies and their parents with award-winning product designs that deliver exceptional value. Kids2 is the parent company to Baby Einstein, Bright Starts, and Ingenuity. With five global operation hubs and over 500 products sold across more than 90 countries – we are one of the fastest growing baby product companies in the world.
Innovation and manufacturing have always been at the forefront of product design and development—and for Kids2 it is the backbone to creating holistic solutions for families everywhere. The addition of our WINVENTION manufacturing facility is a great example and is one of the major entities in Kids2's growing enterprise that takes us beyond our "core" into new areas that make the business more valuable to partners and ultimately to the parent consumers we serve worldwide.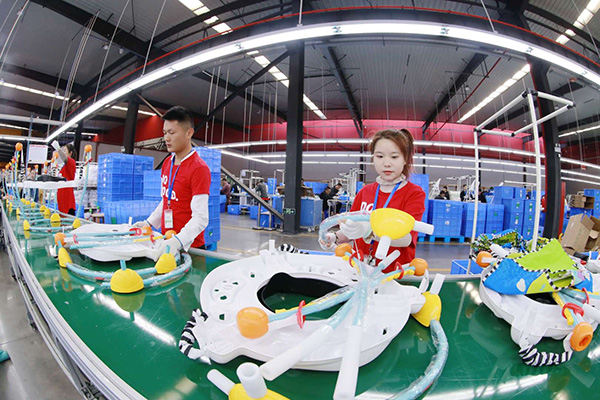 We opened WINVENTION, our fully owned and operated 250,000 square-foot manufacturing facility near the Jiujiang Port in Central China, from greenfield in April of 2020. WINVENTION has helped us develop a specifically designed facility to best fit our lean operational philosophy, which allows us to be vertically integrated and fulfill the modern needs of our brands. Not only has the creation of this facility tripled our overall workforce, it has become our blueprint for opening a successful manufacturing facility with product design and efficiency at the forefront of thinking. Our expansion in China will help us strengthen our foothold in the industry and provide agile innovation.
The demand for products on-the-spot is one of the reasons why we specifically chose China as the home location for WINVENTION. China's infrastructure, including everything from the roads, ports, freight lines, etc. make it the perfect location for increasing production and lowering overall costs. Another benefit of this location is the trained workforce that is available to fulfill these roles. We plan to launch our e-commerce in China this month and WINVENTION along with our team members will help us to accomplish that goal. These factors are especially important with the rise of e-commerce and omni-channel demand planning. In fact, around 40% of our consumer sales this year will be e-commerce purchases. E-commerce was already on the rise, but the pandemic rapidly accelerated that growth. Lastly, China has the largest baby market and as part of our expansion, this location made the most sense in terms of naturally being able to reach this market.
In general, more and more companies are building additional factories or larger factories to keep up with demand, sometimes even both! Decreasing space and operations while increasing productivity and efficiency has been something our company has been focused on over the past decade.
Before building WINVENTION, we looked at our supply chain process at one of our previous manufacturers and realized that by the time a product was completed, it had traveled multiple kilometers. In fact, the time from the beginning to the end of the process was attributing to a value added of less than 5% due to outdated processes, repetitive task and useless movements. All of the research we did ahead of building our facility helped us to create a more efficient supply chain strategy, offering us better lead times at lower prices through removing the non-value-added time. WINVENTION has one entrance for raw materials that splits into four value added streams which run parallel down to an assembly line and then are either directly loaded into a carrier or a short-term warehouse. Through this supply chain design, we are eliminating much of the work-in-progress stages such as inventory control and are able to cut costs while improving quality and timing.
Going forward we are looking to continue reducing work-in-progress by focusing on modular design to create an even more natural and continuous flow of products. Our global design and innovation team has been mastering modular design for Kids2 products over the past decade and WINVENTION really allows us to execute those ideas. This type of design adds value to the end consumer itself, with being able to purchase products which span several age groups, and also in the manufacturing processes by using common parts and streamlining the supply chain. In turn, we can leverage our volume of products due to the decrease in time and costs.
Outside of manufacturing benefits, WINVENTION and our modular design process also benefits shipping and distribution logistics. How? We are able to cut down on logistical costs through utilizing smaller, more compact designs, which allows us to be more eco-friendly and achieve our sustainability goals a company.
By being able to create and execute our modular design process, which helps us to provide better value to our end consumer, parents, and by controlling our manufacturing process and bringing our products to market faster, WINVENTION helps to continue Kids2's growth as one of the fastest growing baby products companies in the world. We are proud of the innovation that went into designing this factory and the continued value this factory brings the Kids2 brands.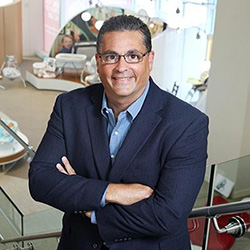 About the Author
Dave Calhoun is President of Kids2, Inc., a global consumer goods company headquartered in Atlanta that designs solutions to help early-stage families and includes the leading infant, baby, and toddler brands Baby Einstein™, Bright Starts™, and Ingenuity™.
Calhoun joined Kids2 in 2016 to oversee the internal transformation of the organization's employee, consumer, and retailer-facing operations, which includes global sales, sales planning, global operations, direct to consumer, project management, IT, and human resources. Leveraging the core values of Kids2, Calhoun is charged with growing a corporate culture that motivates and engages all team members while leading the company's mission to redefine the industry by creating holistic solutions for early-stage parents that transcend borders, categories, and aisles.
Calhoun earned his Bachelor of Arts in Business and Telecommunications at Indiana University Bloomington and is involved with the Institute of Management Studies, Kettering Executive Network, Vistage, and is a board member of non-profit Lekotek Georgia.