Starting a business in any sector can be the beginning of a long journey. There are so many components needed to take it off the ground and ensure a return on your investment. The manufacturing business, for one, can be relatively capital intensive depending on what niche you decide to focus on. However, with careful planning and adequate research, it's possible to get your desired outcome. If you plan on starting a business in the manufacturing industry, you may need a couple of tips and advice regarding where to start. See a few essentials that may be helpful below.
Choose a Niche
The manufacturing industry is one that's broad, so the most logical step when starting a business in this sector would be to choose a niche. Seeing as food is such a big business, you could decide to go into food kit manufacturing, for instance. Another manufacturing business that could be lucrative if you have an interest in engineering drawing is 3D printing.
Specific opportunities within this arena include supplying main parts for maintaining out-of-production equipment as well as building low-volume parts for manufacturers. Beyond the mentioned, there are other niches worth looking into like bioplastic packaging and metal casting.
For the most part, it's best to look for a niche that has a high-demand but isn't too saturated if you want to do well.
Finances
Seeing as it can take a robust amount of money to start up a business in manufacturing, you may need to take out a loan to start your business. However, before you apply to take out a loan, it's advisable that you make sure you have a good credit score. You can use platforms such as www.creditrepaircompanies.com to help you look for a reliable credit repair company if you have a lot of unpaid debt.
Remember, the better your credit score is, the more likely you are to be able to borrow the amount that you need for your business.
Having enough personal finances is also essential as the first year of business doesn't always bring in as much profit as you'd like. Different routes to consider would be having a year's worth of savings or looking for flexible part-time work to ensure you have money coming in while you build your business.
Choose the Right Location
When it comes to manufacturing, transportation is often a major concern. In light of this, you want to choose a location that enables you to easily connect to urban areas yet comply with any zoning rules there may be in your city. If not, you could end up having to put up the prices of products.
Develop the Right Skills
As with every business, in order to run one in the manufacturing industry successfully, there are certain skills that you're going to need. For instance, you should have a flair for innovation and be able to think outside of the box and come up with ideas to solve everyday manufacturing challenges. In addition to this, you should also develop strong critical thinking skills as these are needed to troubleshoot problems that may arise during production or in the overall business. This particular skill can be developed by learning to analyze information, actively listen, and develop foresight. Other skills you may need include technological, attention to detail, and strong communication.
Technology Knowledge
A significant aspect of manufacturing in 2018 is technology. This is what helps it stay current as well as increases efficiency. As you likely know, manufacturing has a lot to do with production and your ability to produce a sufficient amount in the least amount of time without compromising quality. One of the best ways to achieve this is through technology. In light of this, you need to be in the loop regarding new developments as well as be open to implementing new ones in your business. For instance, it has been said that in 2018, more manufacturers will rely on predictive maintenance technology as a way of reducing maintenance costs, the occurrence of unplanned outages, and extending the life expectancy of equipment.
Legal Aspects
Every operating business is vulnerable to legal violations as well as lawsuits, so getting yourself covered is important. As well as doing so through insurance, you should also have an experienced lawyer at hand. This is imperative as legal issues can be crippling for a business, so you want to avoid this at all costs. It may be best to get a referral when looking for one and be sure they're familiar with your industry.
The manufacturing industry is one that has seen exponential growth over the years. It is one of the pillars of society as well as reasons you experience many of the amenities and products that you do today. Starting a business in this sector is a way of making your mark in an industry that will likely still be standing in years to come.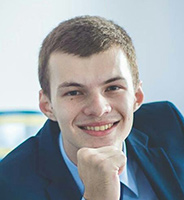 James Daniels is a freelance writer, business enthusiast, a bit of a tech buff, and an overall geek. He is also an avid reader, who can while away hours reading and knowing about the latest gadgets and tech, whilst offering views and opinions on these topics.