Volume 23
| Issue 3
| Year 2020
Click here to read the complete illustrated article as originally published or continue below to read the text article.
Innovative Refrigeration Systems updates the old adage of "a little education goes a long way" to 21st century standards. "Underlying everything we do is safety and quality," notes president Mike McGinnis. "These aren't just some buzzwords or project paraments—they define how we run the company. A proactive commitment to safe operation is the only way to run our business responsibly and effectively. And the only way to serve our customers is to provide the highest quality."
So what's the best mechanism to ensure meeting if not exceeding achievement of these twin objectives? Training. Not just run-of-the-mill take a course here or there, or even completion of a trade school certification program, but a commitment to ongoing employee education and skills improvement that is part and parcel of the company culture.
"Here at Innovative, we're genuinely passionate about investing in our employees and helping them become the best at what they do," McGinnis says. "We're committed to making sure our employees have the education and experience needed to excel. Their success leads directly to the success of the company and the success of our customers in using our services."
Indeed, Innovative's commitment to training using state-of-the-art facilities and software delivery systems is so widely recognized for its thoroughness and effectiveness that even competitors attend some of its course offerings!
The Virginia-based Innovative designs, builds, and services customized turnkey world-class, computer-controlled ammonia refrigeration systems, large tonnage Freon and large CO2 systems for the cold storage, grocery and foodservice distribution and food process markets. "It's important for the health of the public that our systems work properly," McGinnis says. "Equally important is the safety of our employees and the employees of our customers. Effective education is how you ensure the highest levels of safety, both so that people know how to work with our systems as well as that the systems are built and maintained at the highest quality levels to prevent failures and potential accidents."
SafetyAmp
Key to promoting safety and improving quality is deployment of SafetyAmp, a third-party cloud-based software program that compiles safety & compliance records, automates repetitive workflows, and monitors our quality programs in real-time. "Our employees are directly engaged with our safety and quality workflows," explains Vice President John Stoklosa. "SafetyAmp has a range of configurable apps to capture data as well as assign, prioritize and manage corrective and preventative action against any issue." With the visualizations and dashboards we've created, it's easy to record and investigate workplace events to prevent incidents and provide training on safety issues.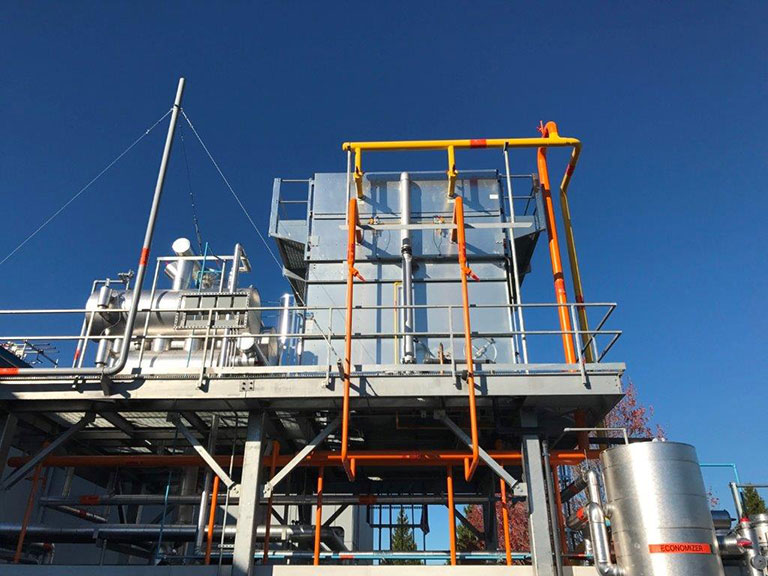 "It ties together safety, quality control and training," McGinnis says. "It's a better way for us to improve our processes and procedures and ensure we deliver an industrial refrigeration system that meets and exceeds project requirements with the highest operational and safety efficiencies."
Creating New Stars
All Innovative employees, from managers to engineers to technicians, are required to take training, not only as part of the initial hire and onboarding process, but throughout their careers.
"The process we follow not only helps our employees achieve the necessary certifications in their respective disciplines, but also learn how to apply the skills they acquired specifically to how we do things here at Innovative," McGinnis emphasizes.
He adds that, "We also cross-train everyone so we can easily fill in if we have a gap in a particular area. This not only makes better use of our resources, it makes the work more interesting and challenging for our employees. Career paths are also flexible, so a laborer could learn new skills and work up to be a welder or electrician recognized as a journeyman in VA."
New hires with experience can test out of sections of a 108 week curricula that combines classroom instruction, videos and web-based learning. Each employee is also enrolled in the company's online STAR (Skills Training Advancement and Review) program that sets actionable goals customized to each employee to guide them through tasks, certifications and safety milestones. "STAR helps shapes careers by providing employees with a clear path to earn pay raises and promotions," Stoklosa says.
Boot Camp and Apprenticeships
New hires who lack experience are enrolled in Boot Camp. "It provides entry level training for electricians, welders, service techs and mechanical insulators," McGinnis says. "Even before new hires set foot on the premises, they take on-line training to get the certifications they need to start doing their jobs safely and effectively. It's a good way for people who have potential but lack the skills to learn what they need to succeed here."
Similarly, Innovative offers federal- and state-recognized apprenticeship program for employees in a variety of trades, including ammonia refrigeration mechanic, welder, electrician and mechanical insulator. "We wanted to forge a completely new type of apprenticeship program, building a training infrastructure that allows us to provide class room learning for our service technicians while they're on assignment throughout the United States" McGinnis says. "This allows our team to complete training exercises without interrupting their daily tour operations. In many cases, the education level received is equivalent to a college degree."
One example is an apprenticeship program to earn a service technician's journeyman's card. It is a three-year course comprised of 6,000 field hours and 432 classroom hours. The course is free to employees who commit to a two-year work contract following graduation.
Another is the first graduating class from the Welding Apprenticeship program in 2016. The program required 8,000 hours of both classroom and on-the-job training to earn a journeyman welder certifications.
Industrial Refrigeration Technical College
Innovative also runs IRTC (Industrial Refrigeration Technical College) a state-of-theart classroom, hands-on and online facility for current and aspiring refrigeration technicians in ammonia and CO2 training. IRTC staff are certified Hazmat technicians and RETA (Refrigeration Engineers and Technicians Association) Authorized Instructors, CARO (Certified Assistant Refrigeration Operator) and/or CIRO(Certified Industrial Refrigeration Operator) certified.
IRTC is even offered to employees for competitors. "Of course, our own employees get first preference, but if there is space available, we're happy to provide the training to non-Innovative personnel," McGinnis says.
The Innovative training philosophy combines two old adages—a little knowledge can go a long way and a rising tide floats everyone's boats. Which is a pretty cool idea for employees, customers and the industry as a whole.