Manufacturers that rely on manual or disconnected automated systems will face significant challenges competing in a post-pandemic world.
By Paulo De Matos, Chief Product Officer at SYSPRO
The COVID-19 pandemic posed significant challenges to manufacturers. For the most part, however, these challenges were the result of prior weaknesses that the pandemic transformed into crises. For example, despite all of the attention given to digital transformation and Industry 4.0, many manufacturers still rely on analogue machines and paper-based systems according to a January 2021 study from Zinnov and Conexiom. This reliance on antiquated systems made operations during the pandemic difficult, if not impossible.
SYSPRO's 2020 study, "The Factory of the Future" had similar findings. When asked, just over one-third (38%) of manufacturing decision makers said that their business systems enabled them to avoid significant disruption due to the pandemic.
Product pain points
Frontline managers need complete visibility and control of the shop floor to prevent problems such as bottlenecks, overruns, excessive scrap, downtime, poor employee or machine performance. To achieve this, modern software needs to be deployed and interconnected to ensure that critical information is digitally available in real-time.
But beyond visibility and control, organizations need this information for a number of other purposes, such as compliance and product performance. In the U.S. and the EU, for example, medical device manufacturers must establish and maintain device history records (DHR) for each batch, lot, and unit they produce. Similarly, in Europe, medical device manufacturers need to comply with the European Union's Medical Device Regulation of 2017. Manual, paper-based systems are not only extremely inefficient and labor-intensive, but they also are far more prone to error.
Concerning packaging and product performance, quality control is an essential part of many manufacturer's operations. The electronics industry, for example, relies on batches of critical components that are sourced from multiple suppliers and locations. If a bad batch of parts makes its way into products undetected, the damage to quality, customer retention and the company's brand could be severe.
Manufacturers are certainly responding to the need for digitalization, but many are focused on simple jobs and relying on people to manage the remaining processes. This may provide some benefits and efficiency gains, but isolated point solutions cannot provide a clear view of the entire operation. This can only be accomplished through a holistic approach that fully automates the collection of data.
As an alternative, a system like Manufacturing Operations Management (MOM), integrated within the ERP solution, can support the complete manufacturing lifecycle while reducing the risk of human error. Specifically, the MOM solution connects with machines in order to automate the collection of critical data without manual inputs.
MOM helps manufacturers in three ways:
Measures performance of overall equipment effectiveness (OEE). This refers to how well machines run and the measurement is based on a combination of uptime, speed and quality. A MOM system should not track every single machine but should ideally just track the bottlenecks or older machines
Measures overall labor performance (OLE). Often a lot of time and productivity is lost through human error
Measures total effective equipment performance (TEEP) or the amount of downtime
Legacy manual systems don't provide clear visibility into the manufacturing process, often leaving manufacturers in the dark about where issues had arisen or where the bottleneck was occurring. MOM provides a single source of data, making operations transparent to leaders.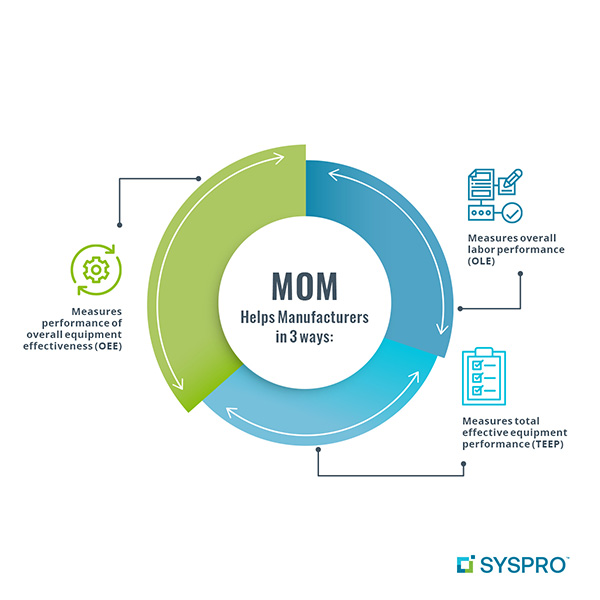 MOM ensures that the right information gets to the right people at the right time. Armed with this information, managers can make better decisions about capacity analysis, work-in-process (WIP), inventory and advanced planning. It's also far easier to manage the interdependencies within production, implement continuous improvement in manufacturing operations, and monitor overall quality and regulatory compliance. As a result, manufacturers can reduce waste, optimize inventory and reduce throughput time to raise efficiency, quality and customer satisfaction.
Many have been reluctant to move beyond their traditional legacy systems to embrace a digital transformation journey. But the industry has reached an inflection point, where digital transformation won't be a nice-to-have, but a must-have to remain competitive in a post pandemic world. Manufacturers should ideally consider a MOM solution that abides to world-class manufacturing standards and is importantly fully integrated into their ERP, in order to leverage a single platform to monitor and improve factory performance. This will transform how an organisation manages people, equipment and processes to drive better business performance and strategic outcomes.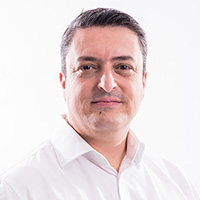 Paulo de Matos has more than 24 years of experience in ERP, serving in a number of business development and product management roles prior to becoming SYSPRO's Chief Product Officer.