Volume 10
| Issue 3
| Year 2007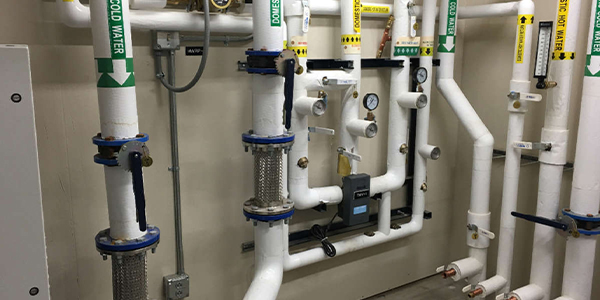 Each year, the construction industry provides more elements of comfort to residential, commercial, and industrial buildings and what used to be simple installations are now becoming sophisticated integral systems. IUSA is the leading Mexican manufacturer of integral construction systems located in Pastejé, México. IUSA is also the name of a corporative Mexican group, Grupo IUSA, doing business in real estate, telecommunications, armoring, healthcare, cattle raising, greenhouses, and even tequila brewing, bullfighting, magazine publishing, and baseball.
IUSA Integral Construction Systems produces supplies for residential, commercial and industrial construction. Its products include seven different business areas, covering copper pipes, copper and aluminum conductors, electricity or watt-hour meters, copper and alloys, electrical supplies, valves and controls, and diversified products for a number of other industries. A line of over 6,000 products are mostly manufactured in its own plants to serve the industrial and construction markets. IUSA also manufactures maquila pieces processed by diecasting in aluminum and zamak, and plastic, brass and Bakelite products.
The company had almost $1.4 billion dollars in revenues last year, and distributes 40 percent of its production to the domestic market, 55 percent to the United States, 3 percent to Europe and 2 percent to Central and South America.
CROSSING BORDERS
IUSA has evolved into one of the main world producers of integral industrial systems. It is certified by public and private agencies such as the Secretary of Social Development, the Federal Environmental Protection Office, the Fund for Worker Housing, the Mexican Social Security Institute, the International Association of Plumbing and Mechanical Officials, and NSF International. This certification guarantees that IUSA pipes do not harm public health.
A private 100 percent Mexican-owned company, IUSA has been able to cross borders in consumer markets. Presently, its manufacturing plants are located in México as well as Reading, Pa., Denton, Texas, and Barquisimetos , Venezuela. It offers a wide variety of products such as copper pipes and conductors; electrical connections and devices; gas and water heaters and controls, circuit breakers, boards and interchangeable household mechanisms like switches, outlets, universal chassis, light and volume regulators, TV, cable and phone output boards, and controls and valves. Under the brand name CAPER, the company has recently launched new products including water heaters, water tanks, water mixers, faucets and accessories, and a novelty in water purifiers, which allows consumers to drink pure water from any faucet around the house.
In the 1990s, the company envisioned the need to comply with the quality standards required by the increasing commercial demand of its products in Mexico and the world. IUSA then created the Quality Assurance Systems Administration, which obtained the ISO-9000 certification for its companies. Currently, 90 percent of its companies are ISO-9001: 2000 certified, having the highest number of certified companies in the country.
It also complies with domestic and international standards applicable to the sector, including UL, ANCE, NOM, NMX, CSA, CFE, LyF, and PEMEX.
This concern for quality has paid off. IUSA produces 190,000 tons of copper pipes, 160,000 tons of electrical conductors and 40,000 tons of alloy products a year. These three business sectors are the core of the company's revenues. "We are the number two supplier of copper pipes in the United States with a market share of 25 percent, the number four in electrical conductors with a 16 percent market share, and have a 25 percent market share in electricity meters," said Raul Cruz, financial director.
The growth rate in 2004 was 5.3 percent for copper pipes, 11.7 percent for electrical conductors, 19.8 percent for copper and alloys, and 22.7 percent for valves and controls. In the last three years, there has been a focus on manufacturing copper pipes and conductors, which represent 41 and 32 percent of the revenues respectively.
IUSA has 35 distribution centers in Mexico, nine in the United States, and in Venezuela, Spain, France, England and Holland. It continues to expand into the international markets for which 30 to 40 million annual investments are being made in product and technology diversification. The increasing competition with Asian countries demands higher automation, increase in production capacity to lower costs, and decrease of turnaround time.
For the 2005-2007 period, IUSA will launch the manufacturing of ceramic slabs, flooring and finishes. "Our goal is to become the one-stop provider for all the construction industry's needs," said Cruz.
In its commitment to its vision, which is to become the world's leader in the manufacture and commercialization of hydraulic, gas and electrical systems, IUSA strives to continue diversifying products, achieving leadership in the inter-American market, increasing the sale of products with more value-added enhancements, and seeking strategic commercial alliances.