A survey of over 1,000 executives reveals manufacturers key concerns and strategies as plants reopen and employees return to the workplace.
Conducted by Littler Mendelson, the world's largest employment law firm, the survey of more than 1,000 executives reveals employers' key concerns and strategies, including:
Most employers appear ready to reopen their workplaces. 78% plan to reopen within three months, with 34% of those respondents saying they will do so within one month.
Nearly 60% of respondents plan to conduct employee testing and/or health screenings, including temperature checks (89%), symptom screenings (72%), antibody tests (8%) and antigen tests (7%). While the EEOC has released guidance in this area, uncertainty remains around implementation, privacy matters and litigation risks.
Over 70% of in-house counsel express concern about potential lawsuits upon reopening. The top three areas where respondents expect an uptick in employment-related claims and lawsuits are leaves of absence entitlements, unsafe working conditions and workers' compensation.
Click below to view the survey report.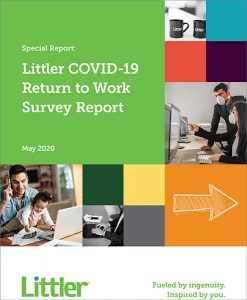 Littler Mendelson | www.littler.com