Volume 10
| Issue 3
| Year 2007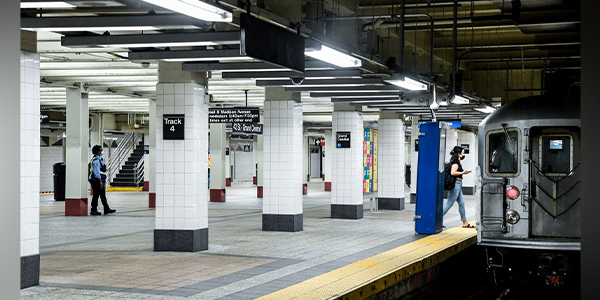 Casey Systems, an innovator in audio-visual systems as well as fire protection and security, may be a largely regional company, but when that region is New York City and its suburbs, that means a lot of opportunity.
For Casey Systems, a subsidiary of the publicly traded Synergx Systems, that means considerable work serving the largest mass transit in the United States: the region's Metropolitan Transit Authority, which includes the New York subway system as well as the Long Island Railroad, Metro North, Staten Island rapid transit and other rail and bus lines.
Since the company began its focus on mass-transit work at the start of the 1990s, Casey Systems has provided systems for over 100 transit facilities. The firm's offerings include public address, closed circuit television, intercom, security systems, train dispatch, customer variable message information signs – even fire alarms.
Joe DeCarlo, the vice president of Casey Systems, said that in recent years, the company has sought to build upon its strength in city transit work by upgrading security systems for the New York rail network. "We're seeing huge growth in security having to do with public transportation, from passenger ID to closed circuit," DeCarlo said. "That's where the growth is."
Security is key
Right now, Casey Systems is in the middle of a major station security, communication, and upgrade project involving some 32 subway stations operated by the New York Transit Authority. Much of the security work was ordered in the wake of the Sept. 11, 2001 terror attacks that devastated lower Manhattan, including the subway station beneath the World Trade Center. However, it should be noted that some of the increases in security spending began much earlier as transit recognizes that the security and safety of its customers is its number one priority.
Much of the new work is very high-tech in nature. "We're installing passenger ID systems and analytics," DeCarlo explained. What these new, state-of-the-art systems can do is scan a location such as a subway platform and actively send out an alarm. "It looks for things like unattended bags."
But security work isn't the only task that Casey Systems is performing for mass transit. The company just won a $1 million contract to redesign and develop the Flushing Line IRT Corona Yard signal system reconfiguration, a job that includes communication room network applications, telephones, data, communications, clocks, security intrusion, fire safety, and fiber optic communications. Casey is also in the process of designing and installing complex local fiber networks for vent plants for transit. This highly skilled discipline has Casey developing a group within its Transit Division just for this business.
When Casey Systems was created in 1961, the company's focus was fairly limited: providing educational systems to schools and audio-visual services to the corporate market in the New York City area. DeCarlo said that the company remains active in the AV market, but over the years branched out into other areas.
One very successful market has been selling fire alarm/life safety systems in the large New York market, something that Casey has been doing since the 1970s. Casey currently services systems in over 200 buildings including Class A office buildings, hotels, television networks, hospitals, entertainment facilities and other projects. Casey has its own proprietary product line and distributes products and systems for national manufacturers. Because the New York fire market is highly regulated, the company's knowledge of the local laws and requirements gives it an edge over companies from outside the area.
Eye on New York
So far this year alone, the company has secured a wide variety of fire alarm/life safety work from a high profile list of clients that ranges from the Green Acres shopping mall on Long Island, the Verizon building in Manhattan, the Battery Park City complex to multiplex cinemas in Manhattan to a courthouse complex in Nassau County and many others.
Casey Systems remains headquartered in Syosset, located on the North Shore of Long Island with a 24/7-service operation in New York City. The company is a subsidiary of Synergx Systems, which is traded on the Nasdaq stock exchange (SYNX).
"Our fire business is very competitive, but there are few companies that have the breadth and depth of our expertise, and that's because our business model is to support all low voltage systems for our customers," DeCarlo explained. "You really need to know transit, and you need to understand transit. A lot of the people that we work inside Casey have worked on both the commercial side and in transit." DeCarlo is the former Chief Information Officer of the Long Island Rail Road, which is the largest and busiest commuter rail in North America.
As transit system needs have grown more complex, the services that Casey Systems provides have expanded as well. This year, the New York transit system awarded the company a contract to install a new fiber optic communications network to integrate fiber nodes to allow for remote control and monitoring of 11 vent plants at eight different locations.
"We've seen a dramatic increase in our transit and our audio-visual business," DeCarlo explained "We have grown quite a bit, and we have been adding more people to support all the business we've been getting."
In addition, the building boom in New York City that has continued, for the most part, unabated since the 1980s has meant a lot of work for Casey Systems in an area in which the firm excels, which is providing a comprehensive package of integrated security, audio and video systems.
For example, Casey Systems has just been awarded a $150,000 contract to provide the HIT Entertainment's facilities in New York City and Long Island with new audio-visual, security, and card-access systems. HIT Entertainment is one of the world's leading independent children's entertainment producers and rights-owners.
Indeed, video and sound are increasingly an important part of new construction in New York City, especially because of the city's focus on entertainment. One new project for Casey Systems is called Spotlight Live, a new live music venue in the heart of Times Square, which will include highly interactive, multimedia technology that allows patrons to become part of the performance.
Looking to ports
That said, Casey Systems continues to see demand in new areas. That includes anything related to homeland security, which tends to dominate the discussion in the New York area. One key issue in the years ahead will be port security, since numerous studies have identified this as an area in which America remains extremely vulnerable to the threat of terrorism.
DeCarlo said that Casey Systems is in the process of becoming a business partner with industry leader IBM on a project aimed at creating a new type of integrated security system that would deal with safety issues both at ports and along the border, another issue of political concern.
Despite the potential for major growth, the heart of Casey Systems will remain in the Big Apple. "There's plenty of work here," DeCarlo said. "We here in New York have the largest transportation network by far in the United States."