By Dinu Ajikutira, Senior Director, Product Marketing, AspenTech
Fluctuating markets and low oil prices are forcing producers to improve performance. To overcome complexity and accelerate profitability, a new approach is needed to achieve a more sustainable competitive advantage. As a new year is quickly approaching, now is the perfect time for oil, gas & petrochemical companies to reevaluate business challenges and find effective solutions. Leaders that implement optimization initiatives through the entire lifecycle of industry assets and address business challenges in a more comprehensive and holistic manner will unlock the value tied up in department functions caused by silo practices.
Addressing Unplanned Downtime
According to industry experts ARC Advisory Group, the global process industry loses $20 billion annually due to unplanned downtime[1]. What's worse is that most – more than 80 percent – of plant failures are not even detectable by current preventive age and wear based maintenance practices[2]. Most assets display a random failure pattern, and these symptom-based failures are only addressable via predictive and prescriptive analytic approaches.
In 2017, oil, gas and petrochemical firms, and the Engineering & Construction firms that serve them, will look to a new suite of solutions available to solve previously unsolvable problems. These problems include process disruptions caused by limited visibility to internal equipment conditions, inability to identify specific process conditions leading to disruptions, low asset availability resulting from restricted understanding of process and equipment design and intended performance, and inability to quantify improvement opportunities with a data decision making process.
Advanced analytics, reliability analysis and modeling as well as machine learning technology will also help address unplanned process-induced downtime. The result will be a shift from reactive to proactive plant operation and maintenance, the ability to predict events before they result in process disruptions and unplanned downtime, and prescriptive capabilities that empower proactive actions to avoid asset performance issues – increasing reliability and availability throughout the asset's lifecycle.
Streamlining Complex Projects
This past summer, AspenTech conducted a survey of 161 organizations that shed light on another major issue for capital planning and estimating groups. According to the survey results, 50 percent of these groups are dissatisfied with current practices. Most of the organizations still use Excel even for very large and complex projects, and a startlingly high percent practice manual data handover between departments. As we move to the New Year, the rapid evolution of the capital projects business, due to macro-economic pressure, will require much more agile reaction times, and those companies that change quickly will be the winners.
Most executives in the engineering, procurement and construction (EPC) industry and their clients know that the current downturn in capital projects workload is a critical time to drive innovative business processes, but they are frustrated at resistance in estimating leadership. This has some urgency, because the window to invest in change is already beginning to show signs of narrowing. Improving organizational performance in the areas of bidding and front end project execution will most certainly be a strategic topic in many oil and gas, chemical and engineering contractor boardrooms in 2017. Implementing better estimating software technology, combined with more collaborative business processes, will provide a huge opportunity for improvement in capital projects.
Adapting to Changing Economic Situations
Many companies have already integrated Advanced Process Control (APC) solutions to optimize production through the use of models based on actual plant process data. Unavoidably, as process changes occur however, the actual plant behavior deviates from the modeled representation resulting in lost benefits over time. In order to update APC models to match current plant performance the plant must be retested.
As we move into 2017, it will be the companies utilizing Adaptive Process Control technology that will have the tools to update models in the background while simultaneously optimizing the plant. Adaptive Process Control enables much more frequent updates and accurate models resulting in sustainable APC benefits over the entire lifecycle of the controller.
Cloud Going Mainstream
Another major shift that is on the horizon for the oil, gas and petrochemical companies is the increased interest from companies to move towards hosting supply chain solutions in the cloud. While cloud hosting services have been around for a number of years, process manufacturing customers have always hesitated to implement. The reason being that there is a fear of security, as well as issues related to uptime/accessibility. With new advanced technologies, these issues are now being alleviated, bringing the ROI and innovations available from managed hosting to process manufacturers.
Upstream
Upstream companies have already driven very substantial costs out of the drilling services area in response to changing supply and demand patterns, and a new pricing environment. Up next: Improving the break-even cost oil and gas plays by optimizing the design and execution of infrastructure and facilities. The scope and complexity of today's production environments require an integrated engineering solution that offers powerful economic, energy, equipment and safety analysis within one robust software environment to bring new projects online quicker, and optimize production for maximum margin. In the upcoming year, as the upstream gains steam, companies will seek out those solutions that enable them to confidently make decisions that accurately model compressors, separations, crude treatment and dehydration in FPSO and other complex processing facilities, as well as flow assurance through the pipeline in different conditions and landscapes with minimal economic and environmental risk.
Getting Ready
The time for innovative business processes is now. Being able to predict outcomes and address operational uncertainties quickly will help companies to protect margins and seize opportunities. By implementing flexible and integrated software technology, companies will have the ability to overcome complexity, accelerate profitability, and remain competitive in today's industry.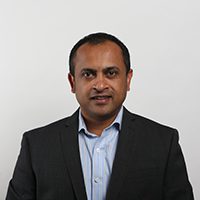 Dinu Ajikutira is a Senior Director of Product Marketing at AspenTech. Since joining the company in 2006, he has a proven track record of management and leadership resulting in record business growth and customer satisfaction. Ajikutira has more than 18 years of experience in a diverse range of responsibilities that includes product management, software development, project management and business development. Ajikutira holds a Master of Software Systems degree from the University of British Columbia.
[1] ARC, Asset Reliability Software & Services Global Market Research Study, 2015
[2] ARC, Proactive Asset Management with IIoT and Analytics, 2015