by Jack Coker, Principal, Ducatus Partners
THE PEOPLE PROBLEM
Modern infrastructure in the United States was born from President Franklin D Roosevelt's New Deal for the American people. Between 1935 and 1943, the Works Progress Administration (WPA) built over half a million miles of rural roads, a hundred thousand bridges and a thousand airfields. The WPA built sewers, tunnels, and power lines; Hospitals, schools, and fire stations sprang up across the nation.
However, in recent years this spirit of investment has waned. In every report card since 1998, the American Society of Civil Engineers has awarded a 'D' to America's infrastructure, reflecting chronic underinvestment in the sector. The society also estimates that, unaddressed, this could damage the economy to the tune of almost $4 trillion lost in GDP by 2025; slashing the disposable income of each household across the United States by $3,400 each year. Fortunately, change is in the air and major infrastructure investment is back on the political agenda. But there's a problem; there are not enough skilled people to meet demand. Where the WPA was created in part to soak up excess labour in the workforce, modern programs are hampered by the lack of it.
A VICIOUS CYCLE
Underinvestment in infrastructure has been a topic of discussion for decades. However, the paucity of large infrastructure projects has led civil engineers and specialist managers to depart from the industry. This is compounded by fewer people seeking a career in the space, and fewer students enrolling in courses. A vicious cycle.
Several states have recognized the need for infrastructure investments. For example, Connecticut and Washington are in the early stages of multi-year transportation improvement initiatives. What's more, some states have resorted to raising extra funds to try and deal with the situation, including raising gas taxes, a key source of funding for road construction. In California, 20 of the state's 58 counties already have transportation sales taxes in place which has led to an exponential increase in infrastructure projects.
Unfortunately, even as the money is starting to flow, the workforce has atrophied. In short, there are essential individuals who make the difference between on-time, on-budget projects and multimillion-dollar overruns; and there aren't enough of them.
A number of issues stem from the workforce shortage. Lack of experienced workers means companies must relocate employees across the country on a project-by-project basis. Relocation can be expensive, especially in states like California.
Another issue is that human resource and leadership teams focus almost exclusively on project start-up to the detriment of ongoing roles throughout the project lifecycle, resulting in a backlog of hires which has a direct impact on the bottom line. Project and construction managers with five to 15 years of experience are in particular demand, and positions can remain open for months at a time; especially in the aviation, rail, transit and water sectors. This stretches workloads which in turn increases staff attrition. Another vicious cycle, further compounding the talent crisis.
TAKING ACTION
These are deep-seated issues that will not be solved overnight. However, with mega-projects such as those tied to the 2028 Olympics and California's high-speed rail and LAX's $5 million upgrade program, there is no time to wait. With that in mind, the question is; how can companies best manage and mitigate workforce issues to ensure projects are on schedule and on budget?
PROACTIVE TALENT MAPPING
By partnering with a specialist executive search provider, companies can build a map of where talent is and where it needs to be. Talent mapping is about proactively building a virtual 'bench' of talent, anticipating need, and successfully mitigating unnecessary cost. Mapping allows companies to proactively engage candidates which significantly reduces time to hire. Upon the award of a large infrastructure project, a high-potential candidate pool is identified, engaged, and ready to be mobilized. In locations that are difficult to recruit to, either due to high costs or low desirability, talent mapping is especially useful.
COLLEGE PARTNERSHIPS
Although it will take several generations to rebuild the infrastructure workforce to full capacity, companies can kickstart the process. By working in partnership with colleges, companies can start to mold the next generation by putting in place the right skills, imparting knowledge, and developing talent pipelines through internships. When the time comes for graduates to seek full time positions, companies may benefit from having built respect and loyalty with interns.
SUCCESSION PLANNING
Although young talent is slowly entering the industry, experienced talent is quickly flowing out. Senior talent is retiring and leaving an institutional knowledge gap. Companies have a responsibility to eliminate this from happening. Developing concrete succession plans to transfer knowledge and skills to the next generation minimizes the risks to the retirement process. This applies across the organization, from the C-Suite, project leadership to the experienced niche engineers.
Will the rediscovered appetite for infrastructure investment be enough? Or is it a case of a day late and a dollar short? Only time will tell, but companies can be sure of one thing: smart workforce planning and talent management is essential to successful project delivery.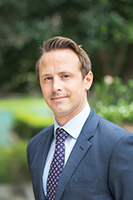 Jack Coker is a principal consultant at Ducatus Partners, an executive search and leadership consultancy focused in the global energy, infrastructure and process industries. He has significant search experience in both Europe and the Americas, serving a broad range of clients spanning architecture, engineering and construction across the energy, power and civil infrastructure sectors.
Jack holds a Master of Science degree in Environmental and Earth Resources Management from Kingston University, London and a Bachelor's degree, with honours, in Geography from the University of Portsmouth.