By Omer Abdullah, Co-Founder and Managing Director at The Smart Cube
Given the inherent overlap in their priorities and responsibilities, Chief Procurement Officers (CPOs) and Chief Financial Officers (CFOs) make for natural allies and a strong partnership between the two leaders can drive benefits across the business for a number of reasons.
Shared agenda to influence enterprise-wide activities: Finance traditionally has company-wide influence over the numbers, and procurement has responsibility for total spend under management, ability to shape external spend, as well as growing executive influence. Therefore, a partnership can improve management and control of financial activities, and in turn positively impact the bottom line.
Better control over cost and consumption: Procurement controls cost by selecting the right supplier and negotiating total costs and value, while finance can influence overall consumption through careful budget management. Together, these two roles can combine to ensure optimal demand management and supplier choice and support broader economic objectives.
Improved visibility: A closer working relationship between the finance and procurement teams allows for more disciplined and accurate corporate performance management; at a minimum through better and enhanced reporting but also through a more thorough analysis and understanding of the whys and wherefores of corporate performance. As both teams begin to leverage advanced data analytics, deeper insights into key performance metrics become a performance differentiator. Interwoven KPIs and data sets can result in more detailed reporting and greater visibility of enterprise financial data.
Increased efficiency and higher impact: When procurement and finance work closely and collaboratively, a lot of iterative, sequential planning, budgeting and approvals can be avoided – allowing decisions to be made faster and more effectively.
Understanding of price trends: By involving procurement earlier in the budgeting process, finance gains the ability to factor in price trends – how much has a product/service cost historically, and how are those constituent cost elements being influenced and likely to change. (Of course, this demands procurement to have a deeper handle on not just superficial price movements, but more fundamental cost structures.)
Bumps in the road
While the benefits are evident, the practical reality is that the partnership between the CFO and the CPO is not always as close as it could be.
Overall, a lack of alignment in their objectives is often the key issue. The CFO is intimately involved in developing the company's strategy, from its overall performance down to business unit and functional performance. Mature procurement teams, for their part, are no longer focusing on just costs savings, but are also looking at other areas, such as revenue contribution, customer satisfaction, supply security, M&A support, etc. It is important for the CFO to be fully bought into this remit and the capabilities that come with it, to allow for more stronger integration, wider-ranging conversations, which can deliver more strategic value.
Another consideration is ensuring both teams use common language and frameworks for their discussions. It is imperative to build proper baselines, evaluate alternative saving methodologies, provide transparency into the savings approach, including when direct savings make sense, when cost avoidance is acceptable and when and how savings should show through to the bottom line. Speaking this common language right from the start will help build constructive relationships.
Strengthening the bond
So what can the progressive CFO do to ensure the most effective working relationship with the CPO?
Integrate the CPO in the strategic planning process. Armed with this information, the CPO can identify the value levers and ensure procurement alignment with overall business needs.
Set a regular cadence of financial reviews with the CPO to ensure that procurement priorities and investments are aligned with overall corporate goals.
Support and sponsor investments in solutions that enable procurement across the enterprise and improve its overall performance.
Collaborate with the CPO to develop a balanced approach to evaluate the procurement department's performance, incorporating a broad range of clearly defined and regularly reported metrics.
For a CPO, there are also key steps that can be taken to strengthen the relationship with CFOs, such as:
Engage with the finance team earlier in the strategy and goal setting process.

Illustrate the alignment of procurement activity and performance with the business strategy
Feedback market/supplier insights relevant to the overall competitive and corporate strategy

Ensure your function has the right quantitative depth and analytical capabilities. It is not always necessary to have your internal team equipped with all the skills required. With the availability of specialists in data analytics, category insight, and tools and technologies, it is often beneficial to look outside. Working with third party partners can enhance your internal team to get the right blend of expertise and skills, which can also add real value to the CFO.
Look for innovative solutions to upscale procurement performance and credibility. It is essential to get solid, insightful visibility of spend using granular spend analytics, and moving to predictive spend outcomes is ever more important. Forecasting and providing a future view, taking different risk scenarios into account, is paramount for strategic planning.
Agree on the procurement performance scorecard. It is important to look beyond the traditional savings related metrics and focus on total cost, performance and innovation.
Clarify with finance the difference and relevance of differing savings measures such as cost avoidance and cost reduction. Both have value, but clarity as to what is in versus what is out of the numbers is essential.
At their core, these two executives and their teams have the same goal – and in many instances, simply come at them from different vantage points. The quicker we recognize that, the better for the organization.
In other words, what's clear is that a strong CPO/CFO partnership is essential to long term corporate success and the benefits of a successful relationship will be tangibly reflected in the bottom line.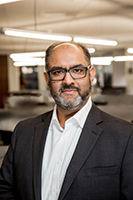 About the author:
Omer Abdullah is Co-Founder and Managing Director at The Smart Cube, a global provider of procurement intelligence and analytics, including category excellence, commodity volatility management, supply chain analytics and supplier engagement strategies across sectors including Life Sciences, CPG and Energy and Chemicals. Omer leads the company's business across The Americas.
Contact information:
Jenny Rushforth, Senior Communications Manager
Email: jenny.rushforth@thesmartcube.com