February 27, 2019
By Maryellen Anastasio, Marketing Manager, Essity
Across industries, staff are seeking care and attention from their employers, specifically around factors that influence their wellbeing and satisfaction on the job. Particularly as the manufacturing industry advances at a rapid rate, plant managers and operators need to adopt a holistic perspective on what matters most to their employees, and what keeps them motivated and happy in their jobs. Technology is certainly part of the equation, but more significant is the impact that efficiency, safety and organization have on employee morale.
Our research found that a resounding majority of manufacturing employees identify operational efficiency (96%), safety and hygiene (94%), and organization of work environments (93%) as top enhancers of their happiness on the job. In fact, when it comes to positive influences on employee morale and productivity, efficiency, organization, safety and hygiene rank higher than what many industry professionals would assume most important to employees on the line: advancements in technology and machinery (87%). Manufacturers should rest assured that investing in worker happiness and morale doesn't need to break the bank. In fact, manufacturers can take simple steps to improve workplace safety and organization, which will boost productivity and employee morale, and ultimately help the bottom line.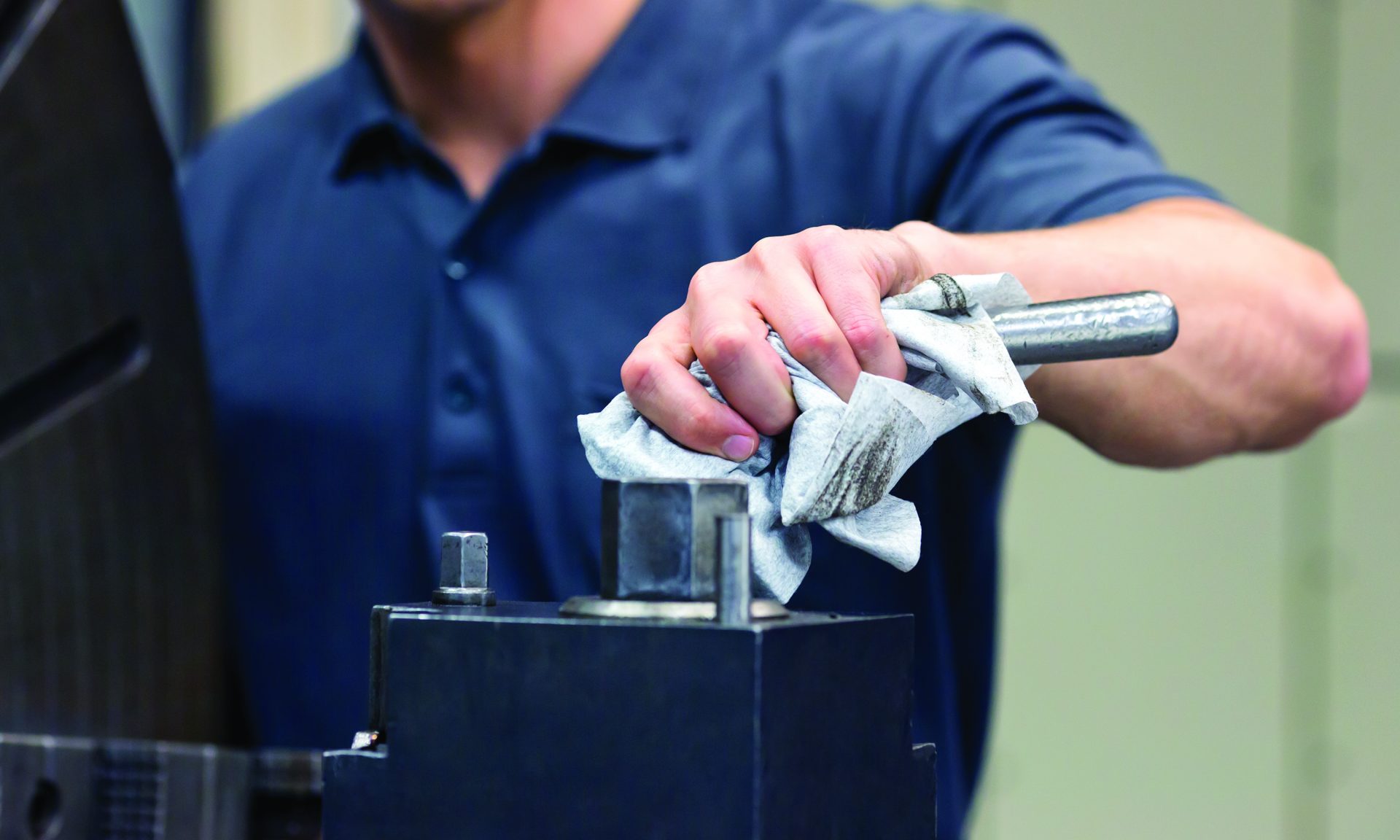 Education and training
When it comes to safety and hygiene protocol in their facility, employees typically understand that their compliance is a top priority on the job. However, it is critical for plant managers to adopt educational tools that show employees how their daily activities and commitment to compliance protocols contribute to the overall health and safety of their environment.
For example, issuing a weekly newsletter with important facts and relevant statistics is an effective way to keep employees informed on safety and hygiene in today's industry. Facilities can take it a step further by having employees complete a monthly survey or questionnaire to test their knowledge of safety protocols, and reveal any major gaps employers should pay attention to when educating staff on proper hygiene habits. Finally, signage is another way to reinforce best practices on the floor and shows employees that their employer is taking an active interest in promoting a safer, cleaner workplace.
Regardless of how consistent they are in meeting operation standards, manufacturers should always be conscious of ways to improve and involve their employees in the conversation. Employees have unique insight into day-to-day operations, and can offer suggestions for how to update procedures to better suit the task-at-hand. In addition to routine check-ins, plant managers should enforce an open-door policy so staff members can share their thoughts and feedback on how the facility is meeting its goals. Education and training goes both ways – it is important not only that employees learn best practices from management (and from each another), but also that they educate employers on all aspects of their job experience and feel that their input is valued.
Technological Advances
Today's employers are preoccupied with a fast-paced, digital landscape in which innovation and advanced technologies are transforming the business: a recent report from Deloitte Digital found that now more than ever, manufacturing organizations are taking great strides toward "digital maturity."
Our research found 91 percent of employees report that implementation of the latest technological advancements in their facility enhances their productivity, and over half (54%) strongly agree. The study also shows a large majority (89%) believe advanced safety protocols boost their productivity, suggesting manufacturers need to consider updating key areas of their facility whenever new technologies are introduced. Training procedures should hit all areas of an employee's performance: best practices for operating new machinery and technology, the key risks involved and updated safety measures to avoid them, and reminders that basic hygiene and safety procedures still apply, despite recent changes on the floor.
Manufacturers should also expect steep learning curves when educating staff on new technologies. There is immense pressure on both employers and employees to adapt quickly to new business technologies, but rushing the process can cause frustration among employees and lead to mistakes on the line. It can even result in a higher turnover rate, which is detrimental to revenues.
Employers need to educate employees properly and encourage them to ask questions along the way. Holding weekly or monthly seminars are a great way to focus trainings in smaller groups and serve as a resource for employees who need a refresher on new procedures.
Attention to detail
Small details make a big difference when it comes to employee safety and well-being. Facilities often overlook the products staff use daily on the floor, despite the fact that 9 in 10 manufacturing employees identify quality on-the-job tools as a top enhancer of their productivity and happiness.
"Quality" is the key word for manufacturers. Rental towels and rags, for example, can be used for many varied tasks in a facility – and pose many risks as a result. It is common to find leftover grease, solvents and even metal shavings on rental towels or buttons or sequins on rags, which can damage machinery and tarnish business results. Alternatively, disposable, task-based wipers provide end-users with a fresh, clean wiper that is free from any impurities or residue, and requires up to 20% less effort, up to 23% less time and up to 27% less solvent to complete a task compared with rags and rental towels[1]. While rags are usually clumped together in large boxes or bags that are difficult to store, wiper dispensers can be mounted in convenient locations for easy access, saving workers' time retrieving a cloth for cleaning. Furthermore, wipers are proven to take up to 80% less storage space than rags, contributing to a more organized, well-run facility.
Another important detail for manufacturers to consider is refreshing signage throughout their facility. In fact, the procedures most overlooked by staff are often the simplest ones, such as washing hands in between shifts and disinfecting frequently touched surfaces, which can help minimize sick days and keep workers on the floor. To catch workers' attention, facilities should opt for creative and unique messaging that re-engage staff on important safety and hygiene tips. For an extra morale boost, plant managers can even have employees submit their own illustrations and messaging in a competition for the most effective signage.
Across these areas, employees will notice and appreciate the extra effort from their employer to encourage a healthier, safer and more efficient workplace. Most importantly, they will be happier, more productive, and motivated to take on the challenges ahead.
About the Author
Maryellen Anastasio is a Marketing Manager for Essity, a leading global hygiene and health company dedicated to improving well-being through products and solutions, essentials for everyday life. Maryellen is an expert in the smart maintenance of industrial environments with a focus on safe, hygienic and efficient strategies to drive business results. Her extensive background in manufacturing has provided key insights for advising Tork product solutions across industry sectors, including aviation (maintenance, repair and overhaul procedures), food processing, and automotive industries.
[1] Panel test conducted by Swerea Research Institute, Sweden, 2014.