American manufacturers will showcase products and meet corporate buyers interested in reshoring supply chains at Made in America event.
The pandemic forced a sudden supply chain reckoning as COVID-19's impacts shined a light on problems with offshore production. While the public decried massive supply shortages and product delays, broken systems tied retailers' hands. PPP and pharmaceutical supply chains proved to be especially vulnerable since they are sourced largely from China, where the pandemic originated. According to Rosemary Gibson's China RX: Exposing the Risks of America's Dependence on China for Medicine, 80% of the primary ingredients for American medications are produced offshore.
The clear solution to these problems is to reshore manufacturing. Supply chain resilience starts at home. When we localize everything from component part and material sourcing to manufacturing and shipping, international backlogs become less problematic. Additionally, domestic manufacturing supports American jobs, American communities, and the American economy.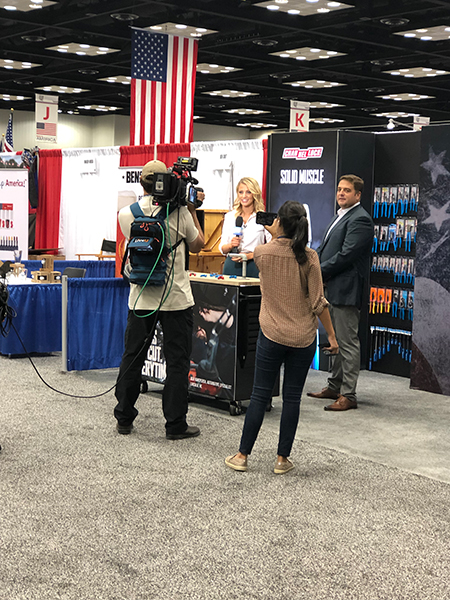 Made in America Event Unites Manufacturers and Buyers
As more manufacturers and buyers come to realize these benefits, there's been a surge in interest for this year's Made in America 2021 event. It's the nation's only trade show devoted to showcasing American-made products. Manufacturers, buyers, and consumers are invited to the event at the Kentucky International Convention Center in Louisville, Kentucky from October 1 (National Manufacturing Day) through October 3. Louisville is the perfect location because it is home to more than 1,300 manufacturing companies and it's within easy driving range of several major manufacturing hubs.
During the event, manufacturers can showcase their products to purchasing agents, corporate buyers, retail consumers, and the media as they network with one another. They will be able to take orders and sell products at the showcase.
Buyers from QVC, HSN and many other major US retailers will be seeking new brands to feature. Some brands, including Wellborn Cabinets and Red Gold Ketchup, will be showcasing products and looking for new suppliers. Red Gold Ketchup representatives attended the 2019 event. Its Senior Vice President Tim Ingle said exhibiting at the Made in America Trade Show is an excellent opportunity. "I can tell you that our family ownership and entire company has seen the value almost immediately and that momentum and energy has propelled our business further. We have made so many friends, partnerships, and business opportunities that I never imagined possible," he noted.
A wide variety of manufacturing exhibitors will demonstrate their products. They include tools, heavy machinery, vehicles, auto suppliers, plastics, foundries, technology, packaging, apparel, textiles, accessories, sporting goods, recreational equipment, food and toys.
The Made in America event generates significant media interest. Major outlets including Forbes, CNBC, Comcast, and Fox covered the last Made in America event and generated more than 3 billion media impressions.
The Official Made in America Website is Hosting the Event
MadeInAmerica.com is hosting the trade show. The organization's goal is to inspire people to innovate, build and buy American-Made. American-Made products are the backbone of America's economy. As Americans, we should take great pride in our ability to deliver exceptional products.
The Made in America event is an excellent opportunity to take advantage of the renewed interest in reshoring supply chains. The federal government announced in January that its buyers should focus on spending American taxpayer dollars on American-made goods noting that this will help create well-paid jobs and boost the economy. Additionally, major companies are realizing how important it is to support American manufacturers.
Research from Consumer Reports shows eight in ten American consumers would rather buy an American-made product than an imported one. Plus, more than half of them said they're willing to pay a premium for American products. That's good news for people who work in manufacturing. For every one person employed in manufacturing, there are another five employees hired elsewhere in the community. The cycle ripples through local economies, state economies and the national economy as manufacturing leads to job creation in other sectors, such as transportation and business services. According to the National Association of Manufacturing, every dollar spent in manufacturing adds $2.74 to the economy.
Register to Attend the Made In America Event
Registration is now open to attend or exhibit at the Made in America Trade Show. Veteran-owned American manufacturing businesses get a 20% discount on trade show booths. There are also discounts available for schools and nonprofit organizations. The deadline to register to exhibit is August 15th.
Event sponsorship and program advertising opportunities are available. Anyone interested in upgrading their event exposure by sponsoring the Made in America conference should call 888-299-7260. To learn more, visit the Made in America Official website.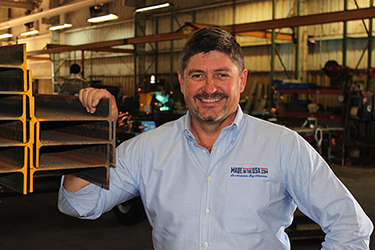 Don Buckner is CEO of MadeInAmerica.com and founder of the Made In America trade show. He is an American serial entrepreneur and innovator who advocates for American manufacturers by encouraging everyone to buy American.