By Sylvain Guyoton, senior vice president of research at EcoVadis
Pressure from investors, advisors, consumers and other stakeholders for better business practices is mounting around the world. As evidenced by the Business Roundtable's new statement of purpose, the business community is responding, with companies across every industry and size leveraging sustainability initiatives to transition to a more responsible operating model.
Data shows manufacturers, especially those in the heavy and advanced sectors, are farther along in this journey, and tend to address sustainability issues more proactively than their counterparts in other industries.
Quick analysis: Sustainability performance across manufacturing
The 2019 EcoVadis Global CSR Risk and Performance Index, which evaluates the supply chain sustainability performance of more than 30,000 companies based on over 40,000 assessments, indicates heavy and advanced manufacturing companies outperformed the all-industry averages for both small and large company sizes.
The index scores are based on companies' performance against 21 criteria across four themes – environment, labor and human rights, ethics and sustainable procurement – and awarded on a scale of zero to 100. Scores above 64 represent outstanding performance, above 45 engaged, between 25 and 44 medium risk, and below 25 high risk.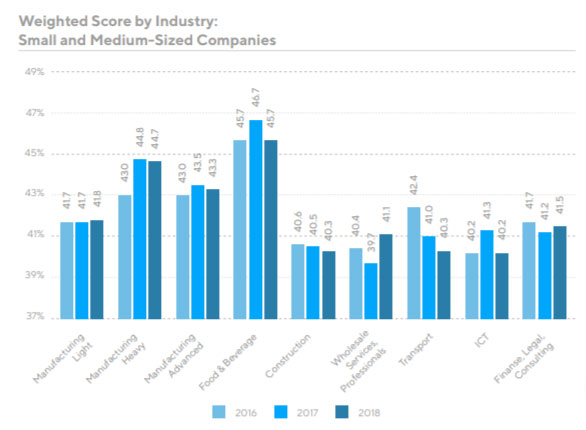 With the global benchmark at 42.1 for small-and-medium-sized businesses and 41.3 for large, companies in both sectors – large, advanced (45.2), small, advanced (43.3), large, heavy (44.9) and small, heavy (44.7) – scored well above average, signaling these firms are at least engaged on sustainability issues.
Light manufacturing organizations also performed strongly, with large companies in this sector (42.0) landing above the average. Small light manufacturing organizations (41.8) came very close to surpassing the benchmark for their peer group. Overall, the data indicates the light sector still faces challenges in addressing significant risks compared to heavy and advanced peers. The sector is still highly fragmented and often composed of very small companies operating in high-risk environments, as it was sadly illustrated on December 8 by a fire that killed dozens of workers in a factory bag in Delhi, India.
Trends driving manufacturers to act sustainably
Manufacturing processes by nature present significant risk to people and the environment due to the extreme energy consumption and greenhouse gas emissions generated in both the production process and once these products reach the market.
Out of the four index themes on which companies are assessed, heavy and advanced manufacturing organizations tend to be more mature in environmental and labor and human rights performance due to intense stakeholder pressure and regulations around employee safety and their environmental footprint.
For instance, in China more than 30,000 business have been penalized during a major campaign against environmental violations with companies worldwide feeling the impact, especially manufacturers of textiles, heavy metals, coal and gas, automotive and consumer goods. The first inspection was conducted as a pilot project in 2015 in Hebei, the most polluted province in China. Since then, a team of 5,600 inspectors was deployed to 30 provincial-level regions in four batches over 2016 and 2017.
Take the automotive industry for example, where consumer demand for more sustainable options is increasing, or the chemical sector where employee safety is a high priority, considering companies handle very hazardous materials. External expectations have driven higher levels of proactivity in addressing key sustainability issues and more responsible actions – comprehensive policies, better reporting and clear improvement plans — from these companies, resulting in scores two to three points higher than all-industry averages for the past three years. This trend indicates heavy and advanced manufacturing organizations tend to have more mature CSR management systems.
While labor and human rights performance has strengthened globally across all industries, ongoing labor exploitation, and ecological impacts of fiber production and deforestation in the light manufacturing sector, are still critical risks – and can shed a negative light on companies involved in downstream activities if not addressed properly. Companies in the light sector need to prioritize initiatives and improvement plans that incorporate alternative sources of raw material, recycling programs and transparency with partners on the working conditions across locations.
An eye toward improvement in 2020
Manufacturing organizations should celebrate the fact they're leading the way in sustainability – but also understand there's still work to be done to build off the success.
Companies globally are lagging when it comes to sustainable procurement performance. Out of the four themes, it remains the lowest performing area year-on-year, emphasizing the need for companies to engage more and collaborate with their trading partners to drive progress. It's also the area with the greatest impact on the bottom line, with companies that engage in sustainable procurement practices experiencing a 5-20% uptick in revenue, 9-16% reduction in costs, and 15-30% boost in brand value.
With most enterprises spending 50-70% of revenue in the supply chain, the supply base is arguably the most natural foundation for driving any major change – and the best measurement of a company's sustainability performance. As such, proactive, regular assessments are critical for driving long term value: Over 75% of companies that were re-assessed on supply chain sustainability maintained or improved their overall score in this year's index.
Manufacturing is off to a great start in the race to more sustainable business – and by continuing to proactively invest in the supply chain, firms across all industry sectors will elevate performance and drive positive outcomes that benefit both the business and the communities in which they operate.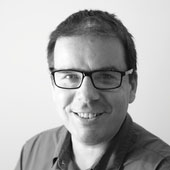 Sylvain Guyoton brings to EcoVadis 16 years' CSR experience along with eight years in supply chain, mostly at KPMG working with multinationals in the U.S. and Asia. He holds an engineering degree from UTC, an M.S. in Industrial Management from Cranfield University and an MBA from INSEAD.