As the industry adjusts to digital transformation – those who capitalize on new technologies and efficient processes will come out on top.
By Maziar Adl, Co-Founder and Chief Technology Officer, Gocious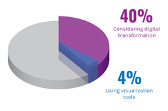 The Fourth Industrial Revolution is upon us. Progress, historically, has been somewhat linear: new techniques or processes create a more efficient workflow for the humans manning the line. But this isn't history. This revolution is one of automation, a democratization of information between humans and machines or, more likely, machines and other machines.
It's still early in the process, but we're quickly reaching the point of no return, a time where those who fail to plan may one day fail to exist. According to a recent survey conducted by Gocious around complexity and disrupting the product delivery process, 40% of manufacturers are already considering digital transformation, in part or in whole. Yet only 10% of these manufacturers are actually taking advantage of the tools that will one day help to visualize and automate the processes responsible for getting products out the door.
The low rate of usage is a bit surprising, especially as costs continue to fall for the types of technology that could not only boost their bottom line, but ensure that they're leveraging digital, data-based technologies that move manufacturing processes from design, to development, to production in a matter of weeks or months… not years. These are the technologies that allow companies to rapidly plan releases, gather feedback, and adjust to market needs, all in record time.
It's disruptive, a change to the status quo that smart executives are planning for already. And though the coronavirus pandemic may have slowed progress in some areas, it's moved entire markets into uncharted territory in record time.
The manufacturing industry as a whole will continue to face disruption, even after the COVID-19 pandemic. The way we work has drastically shifted in recent months, and will continue to evolve in the months that follow. Collaboration tools, those hosted in the cloud that facilitate planning and communication, are increasingly important as we try to steer not only employees, but entire production processes in the same direction.
It's this complexity that leads to apathy, a general distrust of change and a failure to take action. Complexity is one of the most common reasons these businesses aren't just failing to adapt, but failing to plan. Half the survey respondents report having a growing product line (10 or more products) with new layers of complexity with each product release cycle. To make matters worse, 43 people, on average, are involved in the product planning process, and each of these processes needs approximately 33 people for first or second stage approvals.
The ability to rapidly prototype, iterate, and ship new products is no longer an option that's nice to have; it's crucial. In the digital economy, speed and efficiency aren't just beneficial for your bottom line, they could be the key differentiators between you and the competition. Ultimately, these two factors, when coupled with the quality of your products, and the trust associated with your reputation, become reliable indicators at who will gain ground, who will lose it, and who might not be around in the next decade.
The Fourth Industrial Revolution is a great differentiator. The most successful companies during this transition aren't going to be those who reinvent the product lifecycle, necessarily. It will be those who can seize an opportunity to turn massive amounts of data into actionable, meaningful, and insightful information that propels their business, and their employees, forward.
It's these times of change that elevate the market leaders of tomorrow. And those who succeed are going to be those who work smarter, not harder. They'll be the companies playing chess while others are still moving checkers around the board.
It's too late to put the genie back into the bottle. The Fourth Industrial Revolution is here. And a failure to adapt, or a failure to plan, is akin to running in place while waving to your competitors as they pass you by.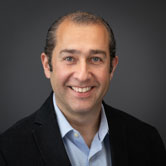 Maziar Adl is Co-founder and CTO of Gocious, a product planning software for manufacturers that empowers better product innovation for industries that include auto/mobility, industrial equipment, and high tech, where he oversees end to end design, implementation, and development of products.