Read on for a complete beginner's guide to marketing your product in 2020.
Your product is your main generator of sales, profits, and business. When you're trading your product online and in stores, you'll find that a combination of sales and marketing will help to boost your exposure, your web traffic, and your registered orders.
This article will look at how you'll boost your sales through effective marketing, making use of the latest breakthroughs in digital marketing, and older forms of marketing that continue to drive sales for businesses across the world. Read on for a complete beginner's guide to marketing your product in 2020.
Hire Experts or Outsource
Marketing requires many different skills and a team of creatives and technical experts who work together to realize your marketing vision. You'll need, for instance, professionals who are able to:
Design the visual elements of your adverts or marketing materials, including illustrations, photographs, animations, and videographers.
Write your advertising copy: this is usually done by expert copywriters with SEO experience and a background in corporate writing and marketing.
Use technical products like CMS systems and other content processing software to produce your marketing content, and to share it across the web.
If you're a relatively large firm, you'll likely already have some professionals in your team who are able to turn their hands to marketing. If you're a smaller firm, you might want to consider hiring professionals to help you with the following marketing strategies, or else, find an agency of experts to whom you'll outsource your marketing duties.
Use Social Media Wisely
Your first port-of-call when it comes to marketing your new product is social media. It's here where you'll first connect with your friends and family, and then to consumers in your local area who've been following your project with interest. Over time, you'll earn more and more followers, and this will increase if you're able to produce viral marketing material, or if your paid marketing content is particularly good at pulling in followers. Use the following social media platforms to pull in the most followers, likes, and sales:
Facebook: here you have the largest spread of age groups, with young people as well as consumers who are 50+ in age.
Instagram: primarily a young person's platform, you'll use Instagram for your visual marketing materials.
Twitter: this platform is great for sharing your press releases. Well-known celebrities and social media start-ups might re-tweet your best posts, bringing you further exposure.
TikTok: more and more brands see TikTok as an important element in their social media marketing. Use it to access the youngest consumers — predominantly the under-twenties.
Social media is your bedrock online and the place where you'll share much of your marketing material to your followers.
Pay for Smart Advertisements
By smart advertisements, we mean targeted ones. Targeted adverts look at the digital footprint of each web user online, and tailor your adverts to be shown to only those footprints that match your target user. For instance, if you're looking to advertise to web users who are over 30 years of age, you'll certainly be able to do that with paid advertisements.
The same can be said for ever-narrowing features of your target consumers like the websites that they tend to visit, the products that they've bought in the past, and the character profiles that they've exhibited across their social media profiles and the websites that they use the most.
Use this kind of advertisement to boost your sales and profits in the short-term, especially when you've just launched a new product that you're looking to get seen right away.
Text Messages into Inboxes
The trusty SMS message is one of the oldest forms of communication in the mobile phone era. With the rise of digital messaging apps, many companies have neglected the SMS text message as a marketing vehicle. But those firms that continue to use this straight-to-inbox form of marketing can see huge returns on their investment.
It's recommended that you go with trusted and well-regarded providers of this service — like the SMS specialists at Tatango — who'll be able to outfit you with the campaign materials that you need to drive sales directly through the inboxes of consumers. Remember that over 95% of consumers in the West own a mobile phone, so your exposure through this form of marketing can be huge if you engage with it correctly.
Use the tips outlined in this article to find the right marketing strategy for your firm, slowly altering your marketing output so that you and your firm can enjoy the highest possible return on your marketing investments.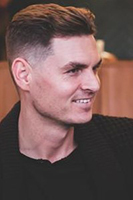 Content marketing and inbound marketing expert, Steve Conway is passionate about discovering new tech which will enhance his already well-honed digital marketing skills.