The food industry is one of the biggest ones across the globe, with even some of its subcategories making billions of dollars in revenue. This is thanks to the fact that it appeals to both need and desire; people enjoy food a lot but also need to eat for survival. So even if you can't afford 5-star meals every night and don't have the time to prepare complex meals, there are still options easy and delicious options available for consumption. This is where the frozen food market comes into play. It has been a steadily growing market since the 1960s and the trend is expected to continue. Allied Market Research from Portland Oregon published a study called "World Frozen Food Market" – Opportunities and Forecasts, 2014–2020," which predicts that the worldwide frozen food market will become a $306 billion by 2020. Also referred to as "The ready meals market" includes all ready-to-eat foods and is expected to account for the highest sales value of $112.7 billion in this timespan. 72% of this revenue is predicted to come from the North American and European markets, but developing markets are also expected to see a significant growth in sales and demand during this period.
Within the ready meals market, frozen meals hold the largest portion of the overall sales value. Frozen meals are expected to continue to lead in this manner thanks to their long-lasting nature and the freedom this affords the consumer. The frozen food market also extends beyond home use into the commercial realm, a trend which is expected to continue to increase. The business and food-service industry, and fast-food restaurants in particular, have been a staple of Western culture for decades and there is an increasing reliance on these restaurants for meals and this trend is seeing rapid growth in developing markets across the world. Since the North American and European markets are being supplemented by the food service industry, these developing markets are being lead by a number of Asian and African countries. It's expected that by 2020 the Asia Pacific region, Europe, Africa, and the Middle East will account for 35% of the sales in this market due to an increase in prepared and semi-cooked meals.
Most likely as a result of reliance on frozen foods, healthy frozen meal and snack options have seen a rise in popularity throughout the past couple of years, and the demand continues to grow. Consumers are calling for products like organic soups, organic fries, and other healthy and easy snacks. Even now, frozen fruits and vegetables make-up about 14% of the overall revenue in the frozen food market. This desire for healthy alternatives will eventually also find it's way to the developing markets.
The issue with a market as large as frozen foods becomes how to regulate it and ensure the safety of the consumer. Each country has their own rules on what is allowed to be sold for consumption and what ingredients need to be changed, but there are a couple thing that are agreed upon. This is the case with metal fragments. The idea of concern over metal in food might sound strange to some people but it is a reality that this industry fights against on a daily basis. The ready meals market increasingly relies on automation for efficient work, and so from raw ingredients to transportation to preparation to packaging, the food comes in contact with machines often throughout the process. What the industry has done to combat this potential hazard is develop Food Grade Metal Detectors which have the ability to find any fragments in the food that could potentially harm the consumer.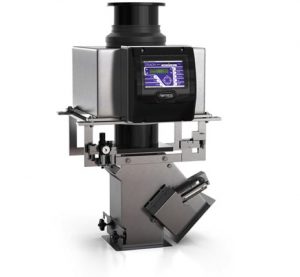 These industrial metal detectors benefit everyone involved. They protect the consumer from harm which is their ultimate goal, and by doing this they also provide insurance for the company's reputation and finances. In 2011 Grocery Manufacturer Accusation published a study that found over 58% of food companies had experienced at least one recall in the previous 5 years due to potentially hazardous foreign objects in the packaging. These recalls are costly for the company and also see a negative change in public perception of the company.
Industrial metal detectors for the frozen food industry generally fall into one of two categories. The more common one is a system which depends on a general purpose head. This kind can detect nearly any kind of fragment, whether it is metal or glass, in frozen and non-frozen products. The second kind of metal detectors have systems with a ferrous-in foil search. These are more limited in their scope, only being able to find magnetic metals within foil-wrapped fresh products. They are effective at what they are able to do though, the company just needs to be able to find the detector that is best for their product. In the end all of this is done in the hopes of protecting consumers in a rapidly growing industry.
Emma Brito is a content writer based in Toronto. Thanks to her long-held an interest in design and technology she is currently working to complete a Master's of Design.