September 3, 2019
By Frank Kenney
Electronic data interchange (EDI) continues to be the de facto standard within the manufacturing industry for exchanging purchase orders, invoices, shipment notices and other common documents. However, legacy EDI translators and value-added networks (VANs) are increasingly cost-prohibitive due to antiquated transaction fees that are difficult to predict. Manufacturers can further balance the delicate dance of optimizing operations, innovating for differentiation and cutting costs by taking a proactive approach to EDI integration and ecommerce.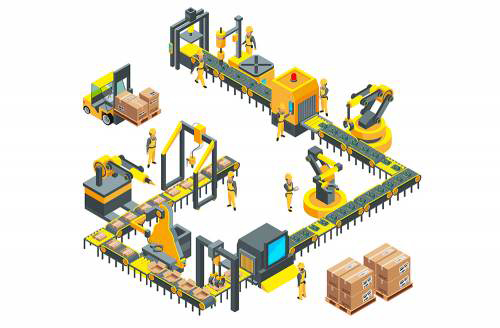 What is modern EDI?
Legacy EDI refers to the use of uncoordinated standalone technologies to facilitate an EDI process. An EDI translator is a perfect example of legacy EDI. Outdated EDI translator technology needed to be manually configured and connected to partners and backend systems using custom scripts and batch processes. All the benefits of having a standardized way of communicating with your partners were lost in the brittleness of manual data integration.
Modern EDI systems take the capability of EDI translators and add the critical capabilities of advanced coordination, integration and monitoring. This brokering approach has the benefit of not only handling any type of EDI interaction and integration with speed, agility and consistency, it can also handle any type of complex or simple syntax transformation. Also known as any-to-any EDI file transformation, this allows manufacturers to integrate between multiple file formats.
Manufacturers are always looking optimize operations and cut costs when possible. Modern EDI is the key to success in that regard and can be implemented by taking the technology that manufacturers already understand and can easily operate and expanding it to a wide variety of use cases including application integration, API-based integration, file-based integration and data validation.
Modern EDI benefits for manufacturers
Manufacturers must interact with a complex ecosystem of various businesses, retailers and logistics companies, among others. The solution of modern EDI is essential for manufacturers, as it allows for faster and more automated interactions within their complex ecosystem.
In a complex ecosystem, increased speed means competitive differentiation, and increased automation means increased operational efficiency. Taking it even further, the manufacturer's ability to perform modern EDI in order to effectively work with various trading partners will enable them to do the following:
Reduce the time it takes to connect to suppliers, logistics partners and distributors
Reduce chargebacks for data exchange errors
Increase monitoring and visibility across their global ecosystem
Reduce costs for operational maintenance and annual support of legacy and end-of-life solutions
When it comes to EDI integration and modernization, being more proactive allows manufacturing companies to regain control of their critical data exchanges, gain visibility into the processes and stop worrying about the cost of fluctuating transactions. There are multiple benefits that manufacturers can gain from being proactive when it comes to embracing and optimizing modern EDI, including:
Increased business efficiency through automated transaction workflows
Reduced dependence on manual data entry and a reduced number of data errors
Cost savings through reduced chargebacks, SLA violations and fluctuating transaction volumes
Expedited order-to-cash, procure-to-pay, and load-tender-to-invoice processes
Regained control of data exchanges
Why manufacturers should upgrade to modern EDI
If a manufacturer is trying to modernize their ERP system, updating their EDI process is the most cost-effective and resource-effective means to modernization. Modern EDI refers to more than just a standardized document or format; it's a B2B data exchange mechanism that also includes the processes surrounding governance, partner onboarding, data orchestration, SLA management and visibility.
The ability to simply submit and receive purchase orders, invoices and other EDI transaction sets is no longer enough for manufacturers to remain competitive these days. Manufacturers stand out when they can bring on new business faster, embrace responsiveness and agility and proactively troubleshoot errors. Because of this, modern EDI integration is essential for manufacturers who are looking to streamline how they communicate with customers, trading partners and other members of their digital ecosystem.
Modern EDI is a critical facet of a successful digital transformation strategy that can also streamline effective communications through automation – freeing up manufacturers to focus on more important tasks like product innovation, quality control, and customer service.
Modern EDI doesn't have to be a pipedream for manufacturers, but unfortunately many manufacturers treat modern EDI as a tertiary consideration due to the belief that they've already made the most of their current EDI system. But learning how to leverage hybrid cloud integration to speedily onboard new partners and applications, reduce integration bottlenecks, and strengthen connections with suppliers, logistics partners, and retailers can help bring manufacturers up to speed with even their most innovative competitors. Many leading manufacturers are already embracing modern EDI, and others who wish to remain competitive in the age of Industry 4.0 should do the same.