COLUMBUS, Ohio (November 29, 2018) – Strategic planning is a powerful driver of growth for middle market firms. It accounts for nearly 15 percent of revenue growth and companies with well-defined strategies report a 26 percent higher growth rate than companies who focus less clearly on mapping their future. Despite those obvious benefits, nearly 40 percent of middle market businesses lack a clearly defined strategy to guide their business.
The new report, Strategic Planning for Growth: How Middle Market Companies Map Their Future released today by the National Center for the Middle Market (NCMM), documents the strategy practices of high-performing middle market firms and provides a series of questions that companies can use to build, refine and improve their strategic efforts to ensure success.
The research, which surveyed 400 financial decision makers at middle market companies across a range of industries and geographies, sheds light on how strategic planning can accelerate business growth and profitability. The report finds that organizations with a well-defined strategy have annual growth rates reaching almost 10 percent compared to approximately seven percent for those with less-defined strategies.
The report reveals three key characteristics of strategy development and execution in fast-growing firms:
A clear-eyed assessment of their capabilities and the obstacles they face, as well as the resources needed to reach their goals
Inviting input from all employees across the organization and from outside sources
Communicating the strategy to all employees and translating it into specific targets, plans, budgets and incentives
"Middle market companies that take a strategic approach are more confident in their business because they know the direction it's heading. They also are able to clearly communicate their businesses value – both critical factors for success," said NCMM Executive Director Thomas A. Stewart. "It's evident from our analysis that the most effective process challenges management's assumptions to strategy planning and allows bottom-up ideas to surface."
A successful strategy depends on a rigorous and inclusive strategy-development process and, equally, on a way to ensure that all employees can see how their work connects to the company's goals.
"That means aligning budgets, incentives and bonuses, and key performance measures to the strategy," said NCMM Managing Director Doug Farren. "It's important for companies to know that a strategy is only as good as its execution. Even a skeletal plan is better than none—but a great plan with no follow-up won't get you anywhere."
About the National Center for the Middle Market (NCMM)
The National Center for the Middle Market is a collaboration between The Ohio State University's Fisher College of Business, SunTrust Banks, Cisco Systems, Inc., and Grant Thornton LLP. It exists for a single purpose: to ensure that the vitality and robustness of Middle Market companies are fully realized as fundamental to our nation's economic outlook and prosperity. The Center is the leading source of knowledge, leadership, and innovative research on the middle market economy, providing critical data analysis, insights, and perspectives for companies, policymakers, and other key stakeholders, to help accelerate growth, increase competitiveness and create jobs in this sector.
Housed at The Ohio State University's Fisher College of Business, the National Center for the Middle Market is the first center of its kind in the nation. The Center enthusiastically serves middle market firms, students, academic researchers, policy makers, the media and other key stakeholders with interests in the health and well-being of the middle market. The Center is fully committed to funding and distributing the most credible open-sourced research, dynamically creating new knowledge, providing programs that drive value for middle market companies, and offering a well-informed outlook on the health and future of the middle market via the Middle Market Indicator.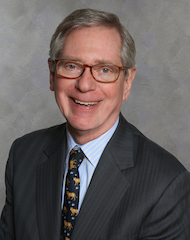 Thomas A. Stewart
Executive Director
NATIONAL CENTER FOR THE MIDDLE MARKET
Thomas A. Stewart is the Executive Director of the National Center for the Middle Market, the leading source for knowledge, leadership and research on mid-sized companies, based at the Fisher College of Business at The Ohio State University. Stewart is an influential thought leader on global management issues and ideas: an internationally recognized editor and publisher, authority on intellectual capital and knowledge management, and a best-selling author.
Before joining the National Center for the Middle Market, Stewart served as Chief Marketing and Knowledge Officer for international consulting firm Booz & Company (now called Strategy&), overseeing the firm's intellectual agenda, major research projects, and strategy + business magazine. Prior to that, he was for six years the Editor and Managing Director of Harvard Business Review, leading it to multiple finalist nominations for a National Magazine Award. He earlier served as the editorial director of Business 2.0 magazine and as a member of the Board of Editors of Fortune magazine.
His new book, Woo, Wow, and Win: Service Design, Strategy, and the Art of Customer Delight (co-authored with Patricia O'Connell), was published by Harper Business in November 2016. He is also the author of Intellectual Capital: The New Wealth of Organizations and The Wealth of Knowledge: Intellectual Capital and the Twenty-first Century Organization, published by Doubleday Currency in 1998 and 2003, respectively. He has contributed chapters to four other books and published articles in Harvard Business Review, strategy + business, Fortune, Business 2.0., Inc., Financial Times, The Hill, Industry Week, Ad Age, and elsewhere. A twelve-time participant in the World Economic Forum, he has delivered lectures and seminars across the U.S. and in more than two dozen countries worldwide.
Stewart is a summa cum laude graduate of Harvard College and holds an honorary Doctor of Science degree from Cass Business School, City University London.
Strategic Planning Report: https://www.middlemarketcenter.org/research-reports/strategic-planning-for-growth