As the supply chain experiences disruption during COVID-19, learn how one manufacturer, NSA, is pivoting production to support the fight.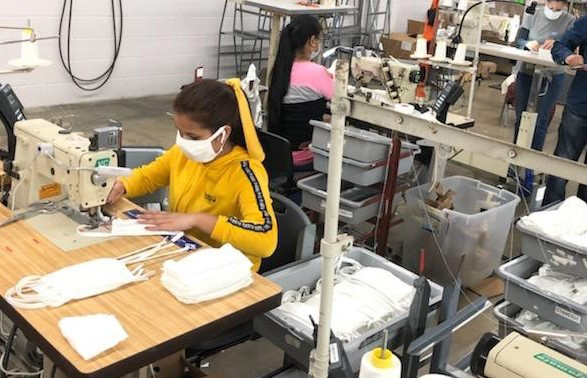 By Sal Geraci, COO, National Safety Apparel, and Paul Magel, President, business applications division, CGS
Across the nation, manufacturers are facing unprecedented supply chain stress resulting from the global COVID-19 pandemic. Lack of resources, sick employees and an interruption in receiving and transporting materials have completely disrupted their business models. Yet, for some manufacturers this situation has also presented a chance to give back to their communities and improve their ability to plan and forecast for future crises.
With the CDC officially recommending in early April the use of cloth face coverings for every individual, many members of the general public were left searching for facemasks for protection while working or traveling on essential outings. To meet this demand, several coalitions of USA textile companies and small- and medium-sized apparel manufacturers came together to help make personal protective equipment (PPE). National Safety Apparel®, a manufacturer of high-quality industrial safety and military apparel, is one of the many manufacturers that embarked on this journey.
Allowing for such a major shift in production does not happen overnight. NSA had to retool its facilities, train its staff and leverage new technologies to make this possible. Other manufacturers can learn from the company's pivoting strategy, enabling them to embrace a digital supply chain, keep their workforce active and support their community.
Disruption and Operational Challenges: The Manufacturing Reality
With demand for products and normal supply chain access in flux, many manufacturers are re-evaluating their business processes to determine how best to continue supporting their workforce during this time and beyond. The National Association of Manufacturers recently surveyed manufacturing leaders to examine the economic and operational effects of COVID-19. According to the findings, 53.1 percent of manufacturers anticipate a change in operations and 35.5 percent are facing supply chain disruptions. Additionally, 78 percent of manufacturers anticipate a financial hit, making it essential for many manufacturers to strategically shift their business during this time.
For NSA, the decision to pivot their business was unquestioned. While the shift in activity contributes to a global demand, it also contributes to a need closer to home – NSA employees could remain employed and productive during this time. NSA is in the process of doubling its operators committed to COVID-19-specific PPE production at its Cleveland facility, and has also repurposed operators to this focus at its Chicago facility. Simultaneously, the company is continuing to produce industrial safety apparel for longstanding customers in essential businesses, which includes electric utilities, the armed forces and the U.S. Postal Service.
NSA's Success Story: How Technology Enabled Fast and Impactful Pivots
While some manufacturers have the facilities and tools to provide production of PPE materials, most need to adjust their operations. Even though NSA had the expertise and resources in place to support production, the business still needed to quickly adapt some of its production lines. To shift from protective apparel for essential industries and the armed forces to making face masks, the company had to closely track and control the production process to make the right equipment and resource adjustments. For example, bringing in twin needle cover-stitch sewing machines allowed NSA to produce the masks in accordance with Health & Human Services (HHS) guidelines.
Having on-demand supply chain visibility through the CGS BlueCherry® Shop Floor Control (SFC) solution allowed NSA to equip managers with the ability to pivot quickly and effectively. The SFC solution provided real-time analytics into overall efficiency and operator productivity, allowing NSA managers to be more proactive and adjust, where needed, as challenges arose. NSA worked with CGS to implement this solution in a matter of days, with NSA's Cleveland operation initiating the use of the technology beginning on April 27.
Evaluating the operational challenges, NSA also needed to ensure its staff had a safe workplace environment. To accomplish this, NSA moved sewing operators to be at least six feet apart, adjusted its machinery to utilize new gauges and tensioning devices and expedited the use of technology to keep operations humming. For other manufacturers considering operational pivots, rethinking safety should heavily factor into any decisions.
Real-Time Supply Chain Visibility: Essential for the Post-COVID-19 World
The COVID-19 pandemic has highlighted the absolute importance of real-time, agile supply chain visibility. Manufacturers that have not innovated with tools to automate and track production activities on the factory floor will need to adopt new technologies to be better prepared for changes in the future. Visibility into operations will improve production efforts and meet heightened demands in the post-pandemic world. It will also provide agility in the future when any business crisis occurs.
The "new normal" requires more digital support throughout the supply chain. Implementing a comprehensive digital supply chain management solution can allow for efficient operations. Technologies that allow for quick pivoting and enhanced supply chain visibility will be an asset for manufacturing companies – now and in the future.