Adhering to OSHA regulations doesn't have to be a headache – there are many ways employers can maintain a safe work environment.
For the last 50+ years, OSHA standards have made a significant difference in the safety of workers across America. Since its inception in 1970, the injury rate has dropped from 11 per 100 workers to less than 3 per 100, and fatalities per year have dropped from 14,000 to 5,000, even though the number of workers has doubled in that time. However, there is often an implicit bias on job sites that these regulations, which are proven to be effective, still create too much red tape and workflow interruptions. Much like saving for a rainy day, though, putting in the effort to create a safe work environment has a massive impact long term, and it is imperative that as an industry, we band together to create a culture that prioritizes the safety of every team member. And from a bottom-line perspective, injuries on the job cause delays and additional costs for mitigation, and can create a culture where employees feel undervalued, leading to turnover. Ensuring OSHA compliance can seem daunting at first, but there are many ways employers can maintain a safe work environment. First, it is important to understand what is covered by OSHA and how it might impact your facility.
Who is covered by OSHA regulations?
OSHA regulations cover most private sector employers and their employees, either directly through the federal OSH Act or by an OSHA-approved state job safety and health plan. Workers for state and local government agencies are typically not covered by OSHA, except in those states which require it; neither are the self-employed. A common misconception is that smaller companies are not covered by OSHA; although some of the reporting rules change depending on the number of employees, all private businesses (even those not in construction) are required to comply with the regulations.
Facilities Requiring OSHA Compliance
Aside from the stereotype of construction workers in hard hats and neon safety vests, OSHA regulations apply to a wide variety of business areas. These include:
Assessments of existing conditions in facilities such as manufacturing plants, university labs, and water treatment plants – any facility that isn't run by the state or local government
During the design phase of construction, ensuring that safety criteria such as means of egress, loading areas, ventilation, and materials storage are properly planned for to avoid mid- and post-construction changes that are costly and inconvenient
Addressing employee concerns and determining mitigation strategies before an accident occurs
Development of a Health and Safety Plan (HASP) and Emergency Action Plan (EAP)
OSHA regulations in action: A case study
On March 9, 2018, the Massachusetts governor signed a bill into law requiring counties, municipalities, state agencies, and other state & local workers to be protected under OSHA law. As a result, we were solicited to provide an assessment of a water treatment facility. The facility already satisfied most regulations, as the supervisor had taken the OSHA 10-hour certification course for general industry and had a good working knowledge of the regulations. The assessment included reviewing a plethora of regulations, as the facility had everything from an in-house chemical lab to cranes to welding equipment, and we identified those areas which were deficient. Examples ranged from the mundane – manholes without a cover, machinery without the proper guards, missing fire extinguishers – to the more critical – a roof leaking onto the electrical generator, a cabinet full of outdated, unlabeled hazardous chemicals. Most critically, the employer was made aware of their responsibility to regularly train employees, so they are aware of what hazards are present on the job and what to do if they encounter an issue.
As a result of the assessment, the employer was able to prioritize which deficiencies were creating a safety hazard, and which were considered de minimis violations, which have no direct or immediate relationship to safety or health. This effective prioritization of safety considerations helps minimize disruptions to the workflow and keeps workers operating in a safe environment, which, at the end of the day, is what OSHA is all about.
Adhering to OSHA regulations doesn't have to be a headache. Taking the time pre-construction to fully understand and establish safety measures allows employers the opportunity to train their employees and ensure safe practices, keep work moving without delays or hassle, and retain employees who can rest assured their health and well-being is being valued.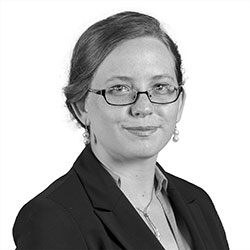 About the author:
Kelley Lax, PE is a structural engineer at Jensen Hughes. Her experience in safety consulting includes structural analysis, OSHA hazard assessments, and building plan review.